John Legend & Rita Ora Addressed All *Those* Macy's Thanksgiving Day Parade Comments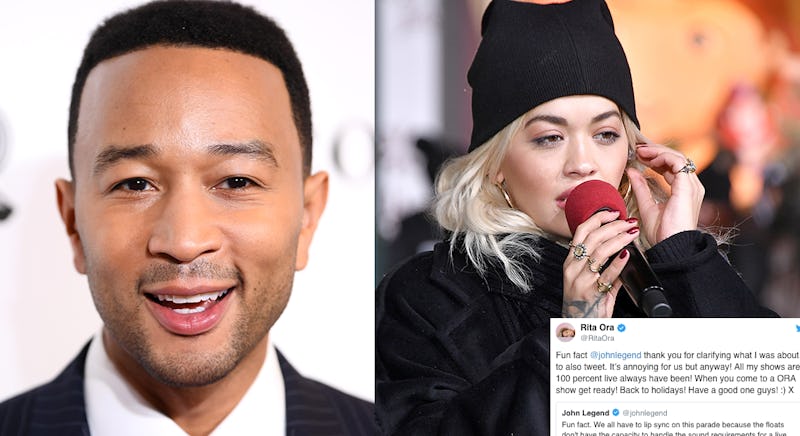 Dimitrios Kambouris/Getty Images Entertainment/Getty Images; Michael Loccisano/Getty Images Entertainment/Getty Images; RitaOra/Twitter; Bustle/Screenshot
Parades should be fun. Unfortunately the Macy's Thanksgiving Day Parade drew a lot of criticism and even some questions. Were John Legend & Rita Ora lip-syncing at their Macy's Thanksgiving Day Parade? Ora's performance caused a stir due to fans suspecting she was lip-syncing, but Legend jumped in to defend the fellow singer via Twitter, saying he too was lip syncing during his performance.
Following the performance, Macy's tweeted an explanation from the store's official account. The tweet read,
"During today's NBC broadcast of the #MacysParade several recording artists experienced technical difficulties that negatively impacted their performance. We apologize and want fans to know these issues were out of the artist's control."
Legend posted a more detailed explanation about the lip syncing snafu on his own Twitter account. The Grammy winner explained,
"Fun fact. We all have to lip sync on this parade because the floats don't have the capacity to handle the sound requirements for a live performance. Hope y'all enjoyed it anyway. Know that if you come to my shows, the vocals are 100% live!"
That actually makes a lot of sense. How are they supposed to have a consistent sound system on float that's moving around in an open space with a ton of people? It's just strange that this technical difficulties happen so often, yet fans still flip out when they see blatant lip syncing.
Ora responded to the tweet from Macy's by saying, "Thank you and I appreciate the honesty and I hope everyone still had a great time!" Everyone did. Even so, the lip syncing "issue" gives everyone something to talk about instead of awkward small talk with very distant family members.
A lot of people hate on lip syncing under the assumption that the artists are not singing. However, Legend explained in another tweet that he actually was belting out the notes, even though no one could actually hear him performing.
The truth is that popular artists have been singing forever. At least for the most part. Sometimes it is just not actually possible for them to sing live due to event logistics. It doesn't mean that they are not capable of singing and it doesn't diminish their talents.
Everyone knows John Legend is a phenomenal singer. He has even fought to sing live during events where it is not the norm. Legend revealed that he sang live during a Soul Train appearance, even though other artists at the time did not do that on the show.
Ora also took to Twitter have the highly critiqued parade performances. She concurred with Legend's tweet about the sound requirements on parade floats. She also insisted, "All my shows are 100 percent live and always have been!"
Ora insisted that lip syncing is not at all a part of her normal routine in response to a fan.
Even though Ora, Legend, and Macy's had plausible explanations for the less than perfect performances, they had plenty of fans who stood up for them on social media. See, there are more than just haters on Twitter!
A fan stated the obvious via tweet. John Legend is so talented. Why hate on him for something that is out of his control.
No one with a sense of hearing can deny Legend's signing abilities. This should really be a non-issue. One of his fans pointed out that "literally everyone lip syncs." Yes, they do. Or at least a lot of people do, especially when they have big outdoor events like this.
One person at least tried to find the humor in the tepid scandal. Why not just crack a joke instead of being mean about this?
John Legend can sing. Rita Ora can sing. They are both very capable performers. This is not their problem. It's a parade problem and we can just leave it at that and move on. Be thankful that they gave us all something to chat about.