There's A *Shocking* New Theory That Julia Faked Her Death On 'Bodyguard'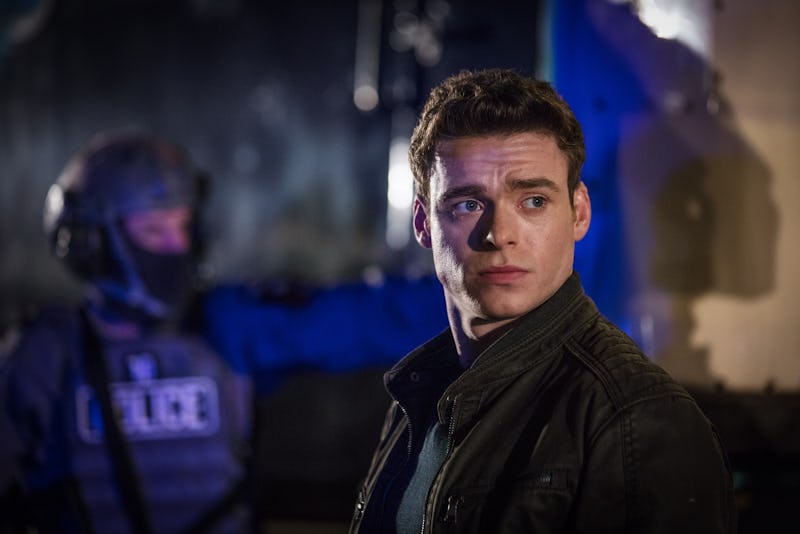 BBC/World Productions/Sophie Mutevelian
You might not believe it, but there are only two episodes of The Bodyguard left. Yeah, I don't know how this much drama has happened in just four episodes either. As has been the norm for the past four weeks, shocking Bodyguard theories are rife on social media and in the press. And actor Stuart Bowman, who portrays MI5's Head of Security Stephen Hunter-Dunn, did nothing to quell them during an interview with Good Morning Britain. Warning to fans who haven't caught up yet — there are spoilers ahead for the first four episodes of the series.
Speaking to Piers Morgan and Susanna Reid, Bowman swerved questions over whether or not Home Secretary Julia Montague died in that explosive finale of episode three. I'll admit, I was closely studying Bowman's face as Piers asked him the penultimate question. "You don't really want to know. People offer their theories then just look at me," Bowman explained. Hmm intriguing. The actor also kinda offered his views on the failed suicide of David... I say kind of, he just told Piers that he had a "great theory." But do the actor's comments offer fans any genuine hope?
I mean, you never actually see her die as Digital Spy points out, as Julia is "officially still alive" when she arrives at the hospital. And even when it was revealed on Sunday night that she had died from her injuries, there wasn't a shot of Julia in the hospital bed to further confirm the news.
Good. Point.
I was so fully behind these theories... yeah, was. Then creator Jed Mercurio decided to shatter my dreams to reveal that Julia's early death was his plan for the series all along.
"Keeley would have been available for the whole shoot, if we'd wanted her," he told the Radio Times. "But I'd already written the character to die after three episodes, that's what I wanted to do." Wait, what?
"I think there's a certain expectation with series TV that it will always orbit around an equilibrium, in which nothing much changes for the main stars, and there are no drastic changes to set-up, especially now things tend to run for several series," Mercurio says.
"But with my work, I like to try to do things that move the story on, and with Bodyguard I wanted to have this event mid-series that would completely alter the dynamic."
Even though I'm fuming at Mercurio for being so blasé about Julia's death while I've been sat here theorising for who knows how long... I think he's right.
TV can sometimes be just too predictable. You know you're watching a fantastic show when you're already getting some incredible cliffhangers and reveals within the first three episodes, especially when that includes the sudden death of a main character.
It demonstrates that the people you're watching are not as invincible as you once thought, which marks a serious change from so-called "can't-die" characters, as Mercurio explains: "I remember watching TV as a kid and, whenever there was some sort of jeopardy involving the hero, I could reassure myself that they were what I'd call a 'can't-die' character, so everything would be okay."
But then again, the fourth episode saw David putting a gun to his head and seemingly pulling the trigger. Mercurio can't exactly kill David off as well, can he? It's called Bodyguard after all and David is, well, the bodyguard. But I suppose the title doesn't refer to just David. The series could easily move its focus to a different bodyguard and their principle, but I doubt this'll happen with just two episodes left.
Could it happen in a a second series of Bodyguard? There's no confirmation that there'll be another run as yet, but Mercurio seems up for it if the BBC are. "I have got some ideas for a second series," he told The Mirror, "but it is worth waiting until the run is finished to see from the research which bits worked and which bits didn't work for the audience."
Whatever the outcome may be, the last two episodes of Bodyguard are not to be missed.
Bodyguard continues at Sundays at 9 p.m. on BBC One