Kid Rock Is Being Accused Of Breaking Campaign Finance Laws & His Response Is Biting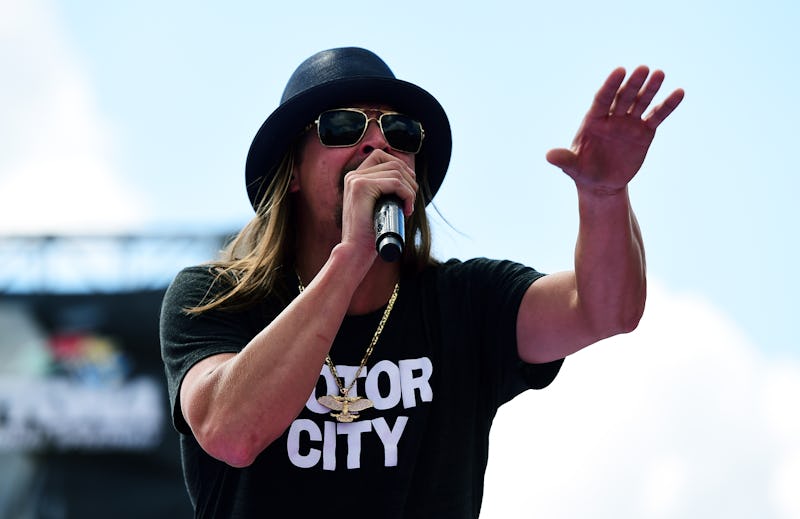 Robert Laberge/Getty Images Sport/Getty Images
Kid Rock's Senate campaign may be in trouble before it's even officially begun. A nonpartisan watchdog group known has Common Cause filed a complaint with the Federal Election Commission (FEC) and the Department of Justice on Friday, accusing Kid Rock of violating federal law. But while the rapper still won't confirm his intent to run for a seat in the Senate, Kid Rock is firing back at the watchdog group accusing him of violating federal election law.
"I have still not officially announced my candidacy," the musician said in a statement. "Go f*** yourselves."
In their complaint, Common Cause alleges Kid Rock, who began teasing a possible Senate run earlier in the summer, has been violating federal election laws by continuing to act as a candidate while failing to register his candidacy, comply with contribution restrictions, or publicly disclose any campaign contributions received.
"Regardless of whether Kid Rock says he's only exploring candidacy, he's selling 'Kid Rock for Senate' merchandise and is a candidate under the law. This is campaign finance law 101," Paul S. Ryan, Common Cause's vice president for policy and litigation said in a statement released by the group. Ryan argues Kid Rock "can't reasonable claim to be merely testing the waters of candidacy and thus exempt from candidate filing requirements" given his recent activities, which reportedly include selling campaign merchandise and urging supporters to "donate to the campaign."
"He is a candidate and is obligated to abide by all the rules and make the same disclosures required of everyone else running for federal office," Ryan said. Along with filing a complaint with the FEC, Common Cause has urged the Department of Justice to launch an investigation into whether Kid Rock stands in violation of the Federal Election Campaign Act.
Kid Rock, whose real name is Robert Ritchie, began fueling speculation on whether he had political ambitions roughly two months ago when he confirmed the legitimacy of a website teasing a Kid Rick 2018 Senate campaign. "I have had a ton of emails and texts asking me if this website is real…kidrockforsenate.com The answer is an absolute YES," the singer and rapper said in a tweet posted July 12. "Stay tuned, I will have a major announcement in the near future," he wrote in a follow-up tweet.
Kid Rock is expected to give fans "exclusive insight" into his political views and aspirations for his home state of Michigan during a Sept. 12 concert at Little Caesars Arena in Detroit.