UM, Lauren B. Met Arie Before 'The Bachelor' Even Started & It Changes EVERYTHING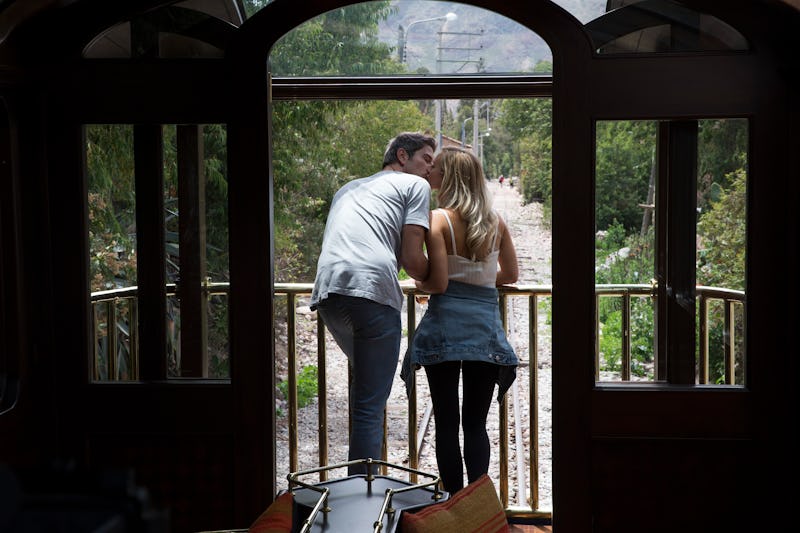 Paul Hebert/ABC
In the Mar. 5 Part 1 episode of The Bachelor finale, a bomb was dropped. One of Arie's finalists dropped a comment that has Twitter reeling. Did Lauren B. and Arie meet before The Bachelor? A previous history could explain a lot about why she's in the final two.
Bachelor Nation has been, uh, skeptical about the strength of the relationship between Arie and Lauren B. She's by far the most reserved contestant of this season, and yet she's made it to the bitter end. And of course, fans at home only see a fraction of the interactions between her and Arie and her and the rest of the women. But still, she seems to be holding back a lot. How did she and Arie establish such an apparently strong connection? Well, it may be because the opening night of this season perhaps was not the first time that Arie and Lauren laid eyes on each other.
During one of their conversations during the first three-hour block of the two night finale, the pair seemed to discuss a pre-Bachelor meeting. Here's how that talk went down:
Arie: "It feels like it's been forever since I saw you step out of the limo."
Lauren: "I can still picture the first day ... me walking up to you and you forgetting that you met me in Dallas."
Wait, what?? What happened in Dallas? Did Lauren and Arie have a steamy affair in Texas once upon a time? Has this entire season been a lie?
While neither Lauren or Arie have spoken out specifically to confirm if, when, or where they may have previously met, this comment threw fans watching from home into a tizzy. Obviously, we want to know everything. Part of the fun of The Bachelor is being a fly on the wall while an entire relationship plays out. We don't like it when stuff happens when we're not watching. Also, how did this not come up until now? Where were the producers on this one? Bachelor Nation feels cheated, and Twitter cannot deal:
It would require more than a little detective work to find out when exactly this alleged Dallas meeting occurred. So I can't give you an exact date. But a crafty Reddit user seemed to anticipate this reveal. Four days before the first part of the finale, dancealexturner posted this in The Bachelor Reddit message board:
"In the first episode Lauren barely gets a limo exit intro and yet there's this pic showing that she brought a framed photo to show Arie. When you zoom in it looks exactly like Arie and Lauren posing for a picture together. Do you think maybe Lauren watched Emily's season and was a huge fan of Arie? It could explain why she has fallen for him so hard if she has had a crush on him for five years."
Arie is a semi-public figure, seeing as he was a Bachelorette finalist and also had a racing career before he moved on to real estate. It wouldn't be that difficult to put yourself in front of him, if you were so inclined. And it seems that perhaps Lauren was. Producer Robert Mills tweeted an explanation during the finale. Apparently, Lauren met Arie at a race in Dallas, which is probably where they took the photo together.
So that's that mystery solved. But I have to wonder whether Arie remembered meeting Lauren that first time or not. She joked that he had no idea who she was when she arrived at the mansion, but of course it's possible that he was either pretending to not know or that he realized who she was later. That had to have been an overwhelming night for him. Regardless, Lauren and Arie laughed about it later, and whatever their ending will be, their first meeting makes a strong case for fate.