12 Subtle Ways Melania's Booklet Is Actually Different From Michelle Obama's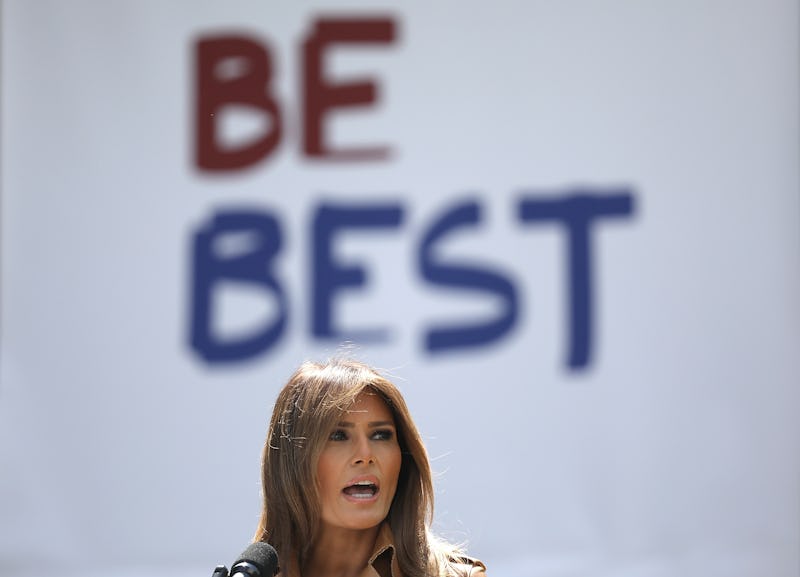 Win McNamee/Getty Images News/Getty Images
First Lady Melania Trump launched her first big initiative since the start of her husband's presidency on Monday. Naming the program, "Be Best," Trump has decided to focus on children and many issues they face. To that end, she and the FTC put out a brochure on the best online habits for children. But many have pointed out Trump's brochure is the same as Michelle Obama's. There are a few differences between the two, but otherwise, everything else — literally everything — is exactly the same.
To be fair to Trump, who has been accused of plagiarizing Obama in the past, notably with her speech at the Republican National Convention, it's like that neither first lady wrote the brochure. That was probably left to the FTC, which is the government agency that's in charge of protecting consumers — including children using or buying services online.
In a heated statement from her communications director, Stephanie Grisham, Trump responded to the allegations of plagiarism, stating that they are "baseless." Grisham said in her statement:
After giving a strong speech that was met with a standing ovation and positive feedback, the focus from opposition media has been on an educational booklet, "Talking With Kids About Being Online" produced by the Federal Trade Commission (FTC) in 2009. Mrs. Trump agreed to add Be Best branding and distribute the booklet in an effort to use her platform to amplify the positive message within. As she said in yesterday's speech, she is going to use Be Best to promote people and organizations to encourage conversation and replication, and helping the FTC distribute this booklet is just one small example.
Trump's Be Best website details why her focus on social media and cyberbullying are so important. "Mrs. Trump believes that children should be both seen and heard, and it is our responsibility as adults to educate and reinforce to them that when they are using their voices — whether verbally or online — they must choose their words wisely and speak with respect and compassion," the site reads.
Here's what did change in the new version of the pamphlet.