There's A Glaring Difference Between Obama & Trump Pulling People's Security Clearances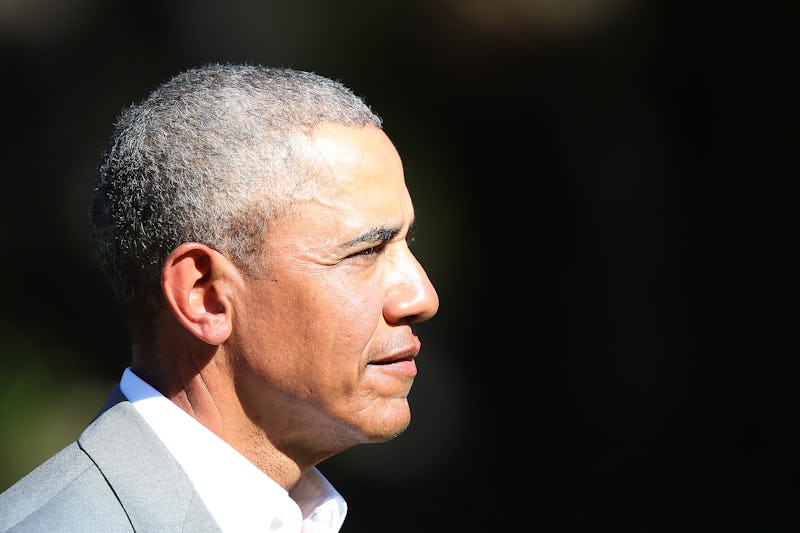 Hannah Peters/Getty Images News/Getty Images
Although President Donald Trump has denied reports that he considered stripping former President Barack Obama of access to intelligence briefings, the current administration has threatened similar actions more often than its predecessor. Obama did revoke security clearances on occasion, but typically after a national scandal brought issues within the intelligence community to light — not after someone publicly criticized his actions.
Trump's Twitter feed has become a standard way for the president to air his grievances, including threatening former Obama administration officials who still have security clearance. On Monday, for instance, he claimed former CIA official Phillip Mudd "is in no mental condition to have such a Clearance" after Mudd denied using his clearance for his own financial benefit during an appearance on CNN. The president later denied a New Yorker report that claimed his advisers were worried he would try to revoke Obama's access to intelligence briefings, which are typically available to all former presidents.
It's normal for a sitting president to revoke security clearances; what's not normal is regularly threatening to revoke security clearances from large numbers of officials who served in the previous administration without obvious cause, as Trump has done. For instance, when the Obama administration recommended altering the security clearance process and evaluating who had been cleared in 2013, the move was in response to a Navy Yard shooting carried out by an IT contractor who had security clearance, according to FCW.
Later that same year, the Obama White House questioned whether the nearly 5 million people with security clearance needed access to government secrets after Edward Snowden, a National Security Agency contractor, leaked top-secret surveillance programs to the press, according to Politico.
Security clearances also came up in relation to specific people during Obama's tenure. Gen. James "Hoss" Cartwright — once considered "Obama's favorite general" — was stripped of his ability to see classified information in 2013 while the Justice Department investigated him for potentially leaking information about planned cyberattacks against Iran, per Foreign Policy. Cartwright denied leaking the sensitive information but later pleaded guilty to a charge of making false statements during the investigation. Obama pardoned him days before leaving the White House.
The Obama White House's other major security clearance overhaul took place in 2012, when action was taken against 11 Secret Service agents for allegedly bringing prostitutes back to their hotel in Colombia during a state trip. Their clearance was revoked while they were on administrative leave, Reuters reported.
President Trump's approach is much different, however. His decisions to strip people of security clearances typically involve former Obama officials, including former CIA Director John Brennan. The White House revoked Brennan's clearance last week after months' worth of critical tweets about the current president.
"Mr. Brennan's lying and recent conduct characterized by increasingly frenzied commentary is wholly inconsistent with access to the nation's most closely held secrets," Trump said in a statement read in the White House briefing room by Press Secretary Sarah Huckabee Sanders, according to CNN.
Trump said in a statement that he was considering taking similar action against other former White House officials, too. His list included former FBI Director James Comey, former CIA Director and National Security Agency chief Michael Hayden, former Deputy Attorney General Sally Yates, former National Security Adviser Susan Rice, and former Deputy FBI Director Andrew McCabe, per CNN.
While all presidents have the power to revoke security clearances, the Trump White House has routinely held that fact over the heads of Obama's allies. On Monday Aug. 20, Trump welcomed a lawsuit from Brennan, signaling that the fight over security clearances is far from over.