The Obama Administration Used Tear Gas At The Border, Too — Here's What To Know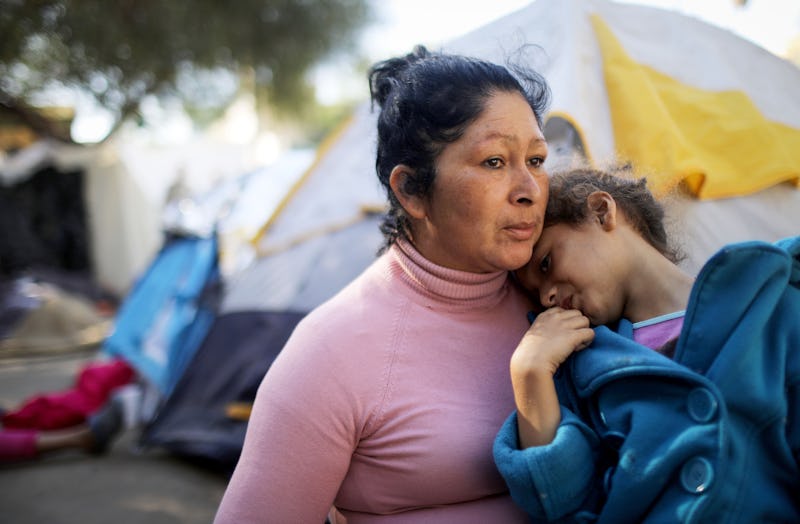 Mario Tama/Getty Images News/Getty Images
President Trump drew heavy criticism after images surfaced of U.S. troops using tear gas against immigrant children at the Mexican border. In a press conference Tuesday, White House Press Secretary Sarah Huckabee Sanders defended border troops' actions by noting that Barack Obama also used tear gas at the border.
"Lets also not forget that this isn't the first time non-lethal force like this has been used," Sanders said. "In fact, tear gas was used on average once a month during the Obama administration for very similar situations."
That exact number is debatable: Data on tear gas use at the border isn't available for Obama's first term, so it's impossible to arrive at any sort of average for Obama's presidency, as Sanders has. But broadly speaking, she's right: Tear gas was frequently used at the border under Obama.
According to data from U.S. Customs & Border Protection, border troops used 2-chlorobenzylidene malononitrile — the official name for tear gas — at the U.S-Mexican border at least 79 times during Obama's presidency. Pepper spray, another substance commonly used to disperse crowds, was deployed by U.S. troops at the border at least 434 times when Obama was president, according to the agency.
Although CBP data does reveal how often these gases were used, that's about all it reveals. The circumstances under which the Obama administration deployed tear gas at the border are entirely unclear; crucially, there's no information about how many people, if any, were injured in the deployments. And although the CBP told Newsweek that its troops began using tear gas at the border in 2010, it didn't provide data for years before 2012, making it impossible to conclude anything about how exactly the substance was used during Obama's first term in office.
It is worth noting that, although Trump hasn't yet been in office for two years, he's ramped up America's use of tear gas at the Mexican border. During 2016, Obama's last full year in office, U.S. troops used tear gas at the border only three times; the next year, border agents used it 18 times. Moreover, Trump set the record in 2018 for the most tear gas deployments at the border, according to Newsweek, with a total of 29 incidents so far.
Sanders' claimed that Obama used tear gas at the border "on average once a month." That's true regarding his last few years in office, and is in fact a bit of an understatement: Tear gas was used at the border an average of 15.8 times per year between 2012 and 2016. But the CPB said that no tear gas was used at all in 2009, and there's no data available for 2010 and 2011, so it's unclear whether that average is true for the entire Obama presidency.
In all likelihood, Trump has drawn more scrutiny than Obama for using tear gas at the border because, unlike Obama, he's demonized immigrants throughout his political career and proposed draconian, possibly unconstitutional policies to punish immigrants.
When confronted about the image of women and children fleeing from tear gas at the border, Trump told reporters Monday that "the tear gas is a very minor form of the tear gas itself."
"It's very safe," he added.