'The Crown' Raises Questions About Prince Philip's Fidelity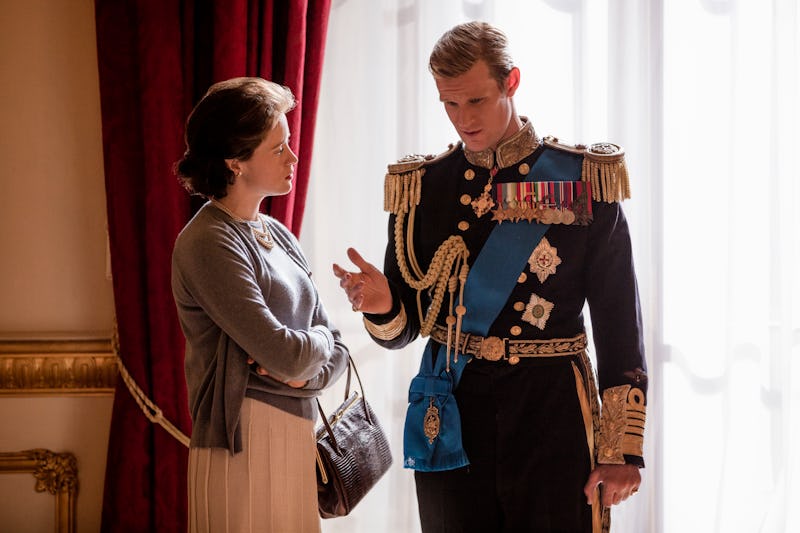 Robert Viglasky/Netflix
In the recently premiered Season 2 of The Crown, many of the episodes focus on the union on Prince Philip and Queen Elizabeth II and just how strong it is. The series appears to suggest that Philip was not faithful to Elizabeth. But did Prince Philip really cheat on Queen Elizabeth during his travels? Bustle has reached out to the royal family for comment.
As portrayed in the series, there's no doubt that Philip and Elizabeth love each other, but Philip just can't handle the fact that his wife will always come before him. Tradition dictates that a man is the head of a household, and Philip feels that it should be so. Unfortunately, that's not really the case when your wife is the Queen of England and the Defender of the Commonwealth. Philip happened to marry the woman would become queen, and he has trouble with the notion that she will always have more power than he is.
In early episodes of The Crown Season 2, Philip is away on official duties, on a ship full of men and his best friend, Mike Parker, whose own marriage is a shambles. Between Mr. Parker cheating on his own wife and Elizabeth's finding a photo of a very beautiful ballerina in Philip's luggage, it doesn't look good for Philip's fidelity. The audience never sees an act of adultery, but the signs and pieces are there.
In an interview with Vanity Fair, Matt Smith, who plays Philip on The Crown, said, "I made a choice about what I thought he had or hadn't done. I suppose the man in me thought it's the more interesting dramatic choice [for Philip to cheat]." He continued, "And also, when you look at the information and you talk to people, it feels like that's what happened, so I tried to play the truth as I saw it, right or wrong I think it's important to recognize that I don't judge him either way. I love Philip, do you know what I mean? . . . But the audience will make its own decision. We'll see how they judge it. I'm a bit nervous about it, really."
In real life, many, as Vanity Fair points out, have speculated about Philip's faithfulness to his wife. The pair just celebrated their 70th wedding anniversary, and there has never been concrete public proof of Philip having an affair. But Smith noted in the same interview, "It's the royal family... I think they're quite good at silencing things when they need them to be silent."
According to Town & Country, the most notable woman that Prince Philip was linked to in real life was Pat Kirkwood, "a stage performer in the 1930s and '40s whose legs were once notably called 'the eighth wonder of the world' by critic Kenneth Tynan." Though the two met more than a handful of times, Kirkwood denied that their relationship was intimate, and she begged Philip and Buckingham Palace to do the same. He never did, saying there was "nothing to be done."
As written in The Independent, when asked recently about his alleged infidelities, Philip said, "Good God, woman. Have you ever stopped to think that for years, I have never moved anywhere without a policeman accompanying me? So how the hell could I get away with anything like that?" The real Mike Parker also denied that Philip had ever been involved with other women, telling The Telegraph, "Philip has been 100 percent faithful to the Queen. No ifs, no buts. Take it from me, I know."
Without concrete evidence, there is no saying whether or not for sure Prince Philip ever cheated on Queen Elizabeth. Smith told Newsweek, "There's rumors about the royal family, and there are the facts that we know, and then it's all fictionalized and interpreted by us lot."
There are rumors, as there are with any public figure, but the only person who truly knows his faithfulness is Prince Philip himself.