Rachel McAdams Has Reportedly Welcomed A Baby With Boyfriend Jamie Linden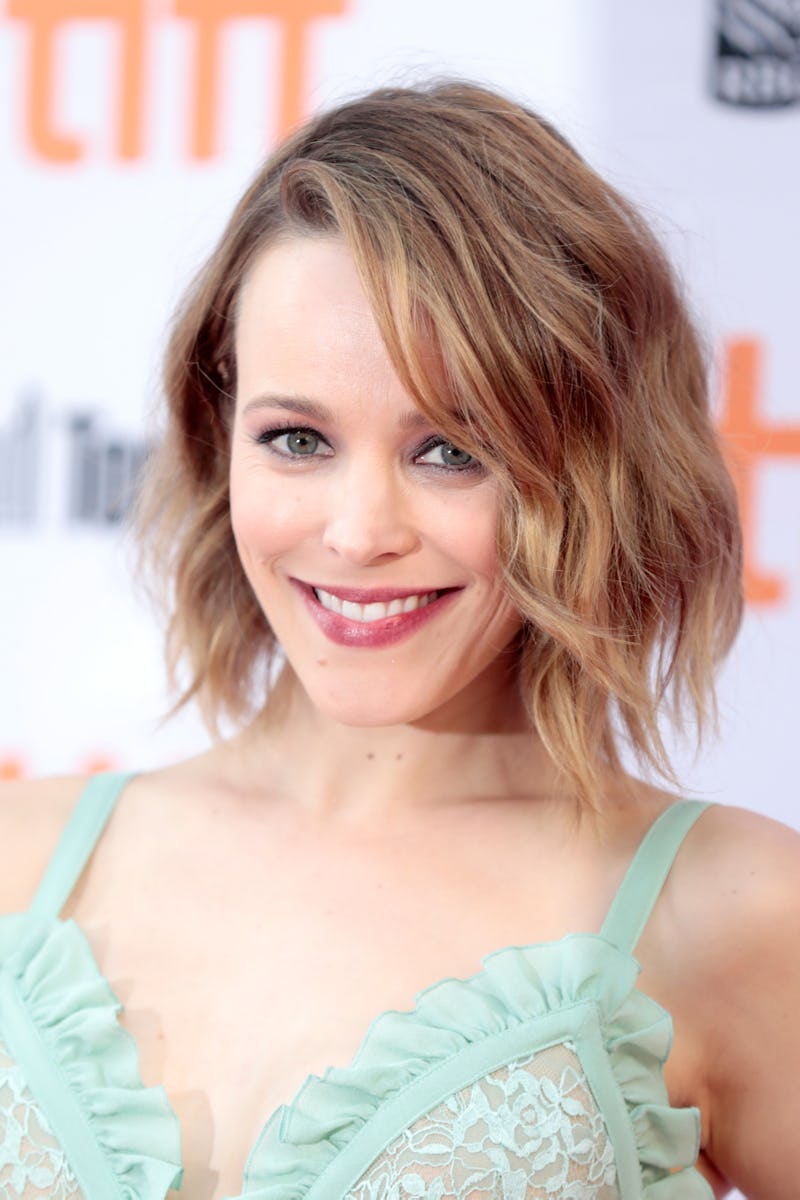 Brian de Rivera Simon/Getty Images Entertainment/Getty Images
Remember those previous reports Rachel McAdams was pregnant? Well, did Rachel McAdams have a baby? According to a report from the Hollywood Pipeline, it seems like the actor has welcomed her first child into the world.
The site released a photo of McAdams out for a hike, alongside her boyfriend, Jamie Linden, who could be seen holding what could be the pair's "infant son." Hollywood Pipeline went on to report that the couple were overheard saying that the child is "a good baby" and about what a "good sleeper he is." While this report does sound exciting, the Mean Girls star has not confirmed anything herself as of right now (and hadn't even confirmed that she was pregnant in the first place). Bustle reached out to a rep for the actor for comment, but did not receive a response at the time of publication.
The last time McAdams attended a public event was in September 2017, when she promoted her film Disobedience at the Toronto International Film Festival. The star did not appear on the red carpet for her most recent film, Game Night, on Feb. 21, the film's premiere date, per E! News. Her absence at the film's red carpet premiere came only one day before reports emerged that she was pregnant. Her lack of public appearances, as of late, lent itself to the speculation that the actor was expecting her first child.
Previously, multiple publications, including E! News and Life & Style, reported that McAdams was pregnant with her first child in late February. On Feb. 22, Life & Style reported a slew of details about the actor's pregnancy. The publication stated that the pregnancy itself wasn't the only surprising part of the news. In their report, they detailed that the Spotlight actor was "at least seven months pregnant" around the time of the article's publication, according to one of the sources in the piece.
McAdams was reportedly out to dinner with her boyfriend, Linden, when an eyewitness spotted the actor's growing baby bump. Yet, as previously stated, she did not confirm that she was expecting when the reports first emerged in February.
Considering that the actor has not confirmed her pregnancy, her relationship status with Linden, or this most recent report about the birth of her child, it's safe to say that McAdams is dedicated to keeping her private life private. In the past, she has made it crystal clear that she wants to keep some things about her life to herself. In an interview with People in 2009, she refused to comment on her current relationship status and said, "I'm sorry but I don't talk about my personal life." So, it's not surprising that she's stayed mum on these recent reported life updates.
In the same People interview though, she did reveal a very telling wish for her future. She said, "Having a few [kids] would be great." She also said that she's "looking forward to it [parenthood] someday." Well, if these reports are indeed true, it looks like the actor now will be able to experience parenthood thanks to the newest addition to her family.
This would be the first child for McAdams, who has reportedly welcomed the child with her longtime beau Linden, a screenwriter who has written films such as Money Monster and Dear John. The two have been dating since June 2016, according to Us Weekly. The publication reported that the two were in a relationship together after they were spotted at a Virginia wedding.
Fans will have to wait and see as to whether McAdams decides to confirm any of this happy news, or whether she'll continue to keep everything in her personal life private.