Did Sean Spicer Star Staffer Phone Checks?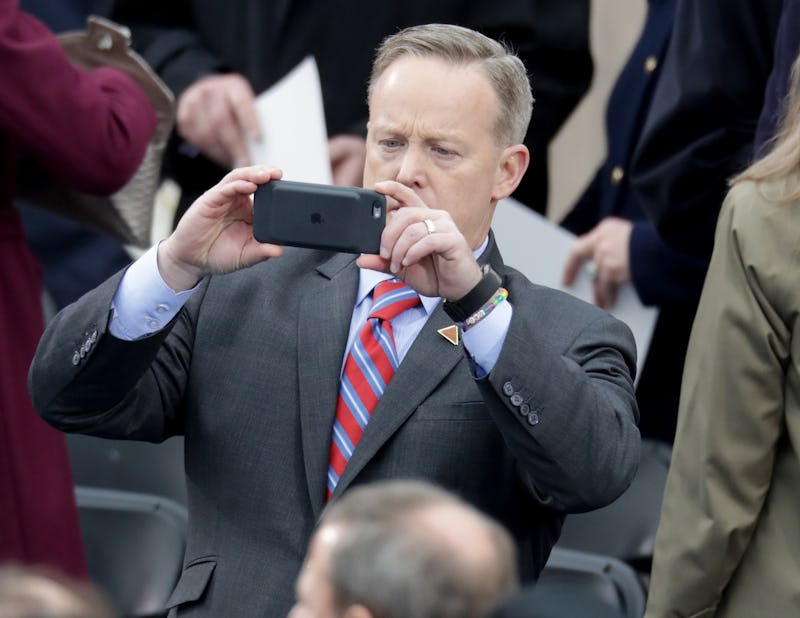 Chip Somodevilla/Getty Images News/Getty Images
According to a report published this past weekend in Politico, Donald Trump's press secretary, Sean Spicer, has checked the cell phones of his staff to ensure they were not leaking information. Spicer declined to comment to Politico, but the story cited multiple sources who were reportedly present for the "random phone checks." Spicer's reported phone checks are just on of the latest accounts of Trump's communications team struggling to crack down on leaks.
According to Politico, the alleged checks of White House communications staff members' business and personal cell phones occurred last week. It came on the tails of Spicer's discovery that information from a planning meeting with a relatively small group of communications staffers had been been leaked to the news media.
Spicer consulted with White House counsel Don McGahn, according to the Politico account, and subsequently called the same group of staffers into his office for an "emergency meeting." According to the staffers in the room who spoke with Politico, Spicer apparently instructed his staff to place their phones (and other electronic devices they had) on a table for a phone check "to prove they had nothing to hide," as reporters Annie Karni and alex Isenstadt wrote.
Fox News corroborated Politico's findings after speaking with two senior administration officials. Fox News also found that staffers were instructed to place their electronic devices on a table for inspection and were warned by Spicer that the alleged "initial search would be 'recess' compared to what awaits staffers in round two of the investigation, if the leaker – or leakers – aren't discovered."
CNN reported in its account of the Spicer phone checks that he warned staffers that "use of encrypted texting apps, like Signal and Confide, was a violation of the Federal Records Act."
The White House has been slammed with a stream of leaks in recent weeks that suggest not only chaos in the Trump administration but also potentially unethical or even illegal behavior. One of the biggest was the New York Times report that officials had discovered Trump campaign aides had been in contact with Russia during the election season.
Trump has not hesitated to slam reporters and news outlets for publishing the leaks. Last week while speaking at CPAC, he attacked outlets for using anonymous sources.
However, the president also attacked the FBI after an account was published of how the White House tried to convince the FBI — unsuccessfully — to challenge a story that Trump aides had contact with Russian intelligence officials. "The FBI is totally unable to stop the national security "leakers" that have permeated our government for a long time," Trump began in a multi-tweet criticism last week.