Teddy & Owen's 'Grey's Anatomy' Relationship Was Even More Complicated Than You Remember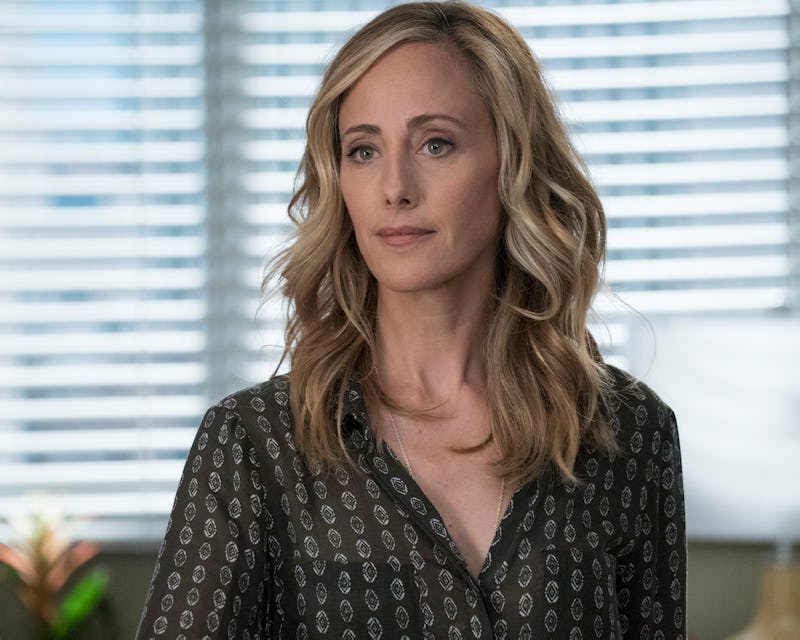 ABC/Richard Cartwright
Teddy Altman, cardiothoracic surgeon extraordinaire, is back at Grey Sloan Memorial Hospital, and it is glorious. She's smacking sense into her old pal Owen Hunt and advocating for his long-lost sister Megan's best surgical options. She's even getting kissed by Owen on park benches, and immediately shutting it down because, good lord, you're married, Owen! Owen and Teddy's romantic connection has always been a bit of a blur, especially given the number of seasons the drama spans, so let's dissect it — did Teddy and Owen ever date on Grey's Anatomy?
Teddy first appeared in the ninth episode of Season 6, and was a little taken aback to see that Owen had moved on to another woman after breaking up with his former fiancée, Beth. Remember Beth? The sad and confused woman whom Owen neglected to tell he was back from his deployment? Beth definitely got the short end of the stick. And, Teddy seemed to think she was next in line if that relationship fell apart, and she wasn't afraid to tell Owen that — while also forgiving him for not being on the same page.
"It's OK, Owen. It's OK," Teddy told him as they perched on a bench outside the hospital one night after she arrived. "I clearly made up this whole story. It was a good story. It was all tortured and Bridges of Madison County. It's alright. Now I know, and I can let that story go." Owen seemed surprised by this confession, leading viewers to believe that, though they endured unspeakable events together in the Army, the relationship had previously been strictly platonic. But, as fate would have it, Owen had felt the same way during their deployment, he revealed an episode later, and was frustrated that she'd never said anything during the years they spent overseas.
"I always had feelings for you, Teddy, for years, but you never gave me anything," Owen said, while Teddy argued back that she kept it under wraps due to his engagement.
"I have loved you, forever," Teddy tearfully told him. "I have loved you when I was coupled up. I have loved you when I was single. I have loved you every second of every day." Owen obviously still had some kind of feelings for Teddy, but in the end told her he was in love with Cristina.
Teddy and Cristina quickly developed an intense teacher-student relationship, though it was often riddled with both personal and professional tension. Teddy was the "cardio god" that Cristina desperately wanted to learn from, but Teddy's feelings for Owen always bubbled under the surface. It came to a head one night when Cristina infamously tried to stop Teddy from leaving the hospital by saying she could "take" Owen if she wanted him.
Ouch. Things after that got rocky with Cristina and Owen, as they tended to do, and Owen and Teddy also weren't in a great place. Their friendship was on the rocks and neither could seem to get past the possibilities of what could have been. Cristina eventually asked Owen if he loved her or if he loved Teddy, and when he hesitated, she said she was done. That also happened to be the same day an angry gunman entered the hospital, which, as you can imagine, complicated things.
Cristina was inside the hospital when the chaos erupted, and was still inside after Teddy and Owen had made their way outside. "It's OK," Teddy told him before he ran back inside for Cristina. "It's OK to choose."
After that, any possibility of Teddy and Owen making a life together seemed to dissolve into thin air. She moved onto flings of her own, briefly dating Mark Sloan — R.I.P. — and the trauma counselor who was brought in after the shooting. She eventually found Henry, the patient she married so he could use her insurance. They fell in love and were happy for a while, but, in true Shonda Rhimes fashion, he was tragically ripped away from her (but we still get to see him on Scandal).
In the end, Owen and Cristina embarked on what would be a failing marriage. Teddy left the hospital after Owen fired her so she could pursue her dream job without guilt, and the possibilities of a Teddy/Owen romance were scattered to the wind — until now.
Teddy's made her way back to Seattle, and the timing still somehow isn't right. Owen's in another unhappy marriage, this time to Amelia, who we now know has a serious brain tumor. Something tells me Owen isn't the type to run out on a sick wife, no matter how estranged they may be, and Deadline reported that actor Kim Raver, who plays Teddy, is only signed on for a "guest arc." So, despite the kiss Owen planted on Teddy last week and the fact that she seems to be the only one who truly understands him, fans may never get to see the kind of future they could have together.