Another Day, Another Clue That Bryan Wins 'The Bachelorette'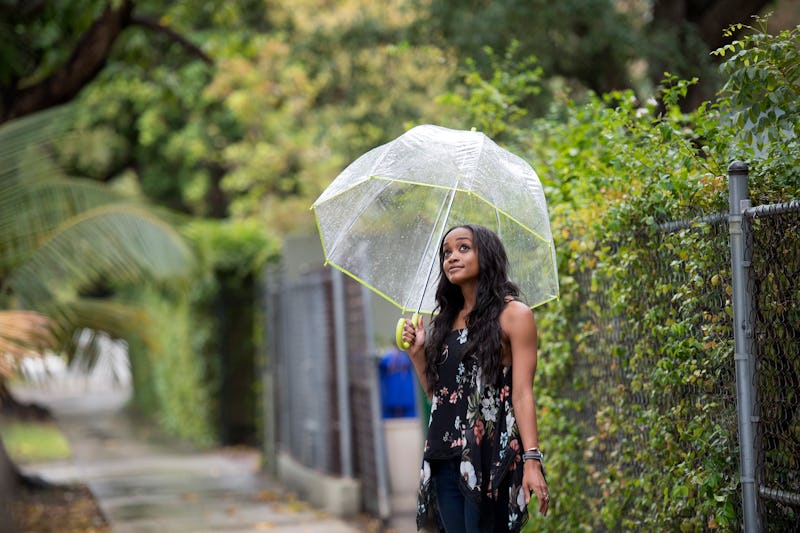 Rodrigo Valera/ABC
One thing Rachel has made clear this season is that family means everything to her. She is very close to her parents and sister, and has expressed a desire to start a family of her own. Knowing this, it was a little odd to see that Rachel's dad was not part of the large crew that met Bryan, Peter, and Eric on Monday night's episode. But did Rachel's dad meet her Bachelorette guys? Bryan may have dropped a clue that he did, and the ladies of Bustle's Will You Accept This Podcast? think that's a pretty major revelation.
Sam Lindsay is a pretty important federal judge, who either has to avoid appearances on reality TV in order to remain professional or simply didn't have the time to commit to a full hometown date. But, we know he's super important to Rachel, and likely wouldn't want to miss his chance to meet the three men she's been dating on national television. So, it would make sense that he would choose to meet each of the men in private, rather than on camera.
At least, that's what Bryan hinted at. The smooth-talking Miami native posted a shower shot to Instagram, sharing that he might have gotten up from the table during Rachel's hometown date for reasons other than avoiding an awkward question from her family.
The full caption reads:
Post show deep Shower thought: did I really walk away from the dining table without answering such an important question?? 🤔 #imprettysureim100%positiveIgushedaboutRachel #igotuptogotalktoherdad#thebacheloretteabc#thebachelorette
Aha! Bryan has spilled the beans in hashtag form, revealing that he did in fact speak with Rachel's dad off camera. And if Bryan did, it's highly likely that the other two men got a shot at impressing Mr. Lindsay as well. But, hey, maybe Peter and Eric didn't get to meet him, and this was something Rachel reserved for her top choice. In that case, Bryan revealing that he met Rachel's dad could be a major clue that he wins in the end — because Rachel would definitely want her frontrunner to meet her dad.
In the end, though, we won't know how his conversation went, whether the other men also got to meet Papa Lindsay, or how that might impact Rachel's ultimate decision. But, it's still comforting to know that Rachel was able to introduce the men (or man) to someone who is clearly so important to her.
This exact situation happened when Rachel was on The Bachelor. Though Mr. Lindsay didn't appear during Rachel's hometown, Bachelor Nick Viall confirmed that he met Rachel's dad off camera. This little tidbit makes it extremely likely that each of the guys had their turn in the hot seat with the judge, it just wasn't televised.
Listen to this week's episode of Bustle's Will You Accept This Podcast? above to hear more about these possible off camera meetings, that tearful Fantasy Suite date with Peter, and the rest of this week's Bachelorette.