Jared Kushner Is Facing Backlash For A Potential Conflict Of Interest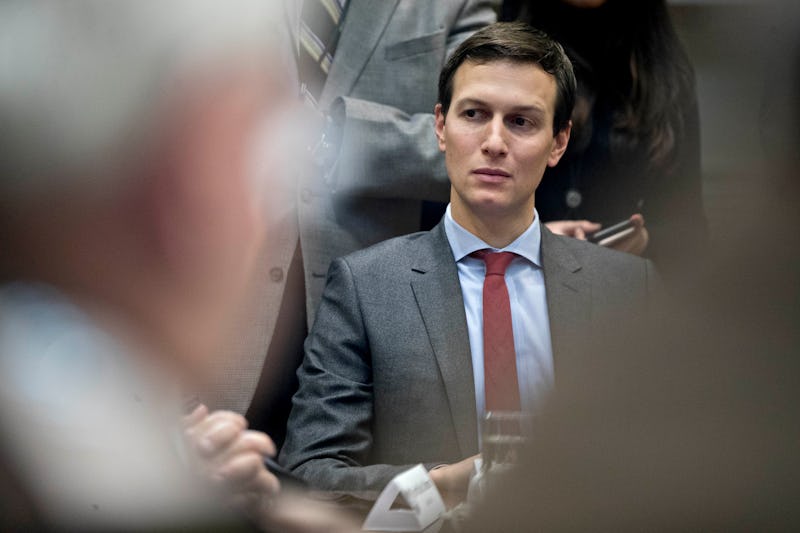 Pool/Getty Images News/Getty Images
The Trump administration has been under scrutiny in recent months for the potential conflicts of interest for Trump's daughter Ivanka and her husband Jared Kushner, both of whom are involved in business ventures and hold high-profile roles in the White House. While both deny that they are personally benefiting from their ties to the president, the New York Times reports that Kushner's sister told Chinese investors at a hotel conference in Beijing on Saturday that investing thousands of dollars in Kushner Companies can gain Chinese investors a U.S. visa. Bustle has reached out to the White House and Kushner Companies for comment.
"Invest $500,000 and immigrate to the United States," a Kushner Companies brochure reportedly advertised at an event hosted by the Chinese company Qiaowai, the Washington Post reported. Kushner's sister, Nicole Meyer, spoke at the event in an effort to solicit $150 million in financing for an upcoming Kushner Companies Jersey City housing development, One Journal Square.
According to the Times, Meyer told the room of over 100 Chinese investors that the project "means a lot to me and my entire family," and she reportedly mentioned that her brother was chief executive of the company before resigning to play a role in the Trump administration. A Kushner Companies spokesperson said the statement was intended to make clear that Kushner was not involved in the company, rather than as a ploy to raise money. "Kushner Companies apologizes if that mention of her brother was in any way interpreted as an attempt to lure investors," the spokesperson said. "That was not Ms. Meyer's intention."
Meyer was promoting the controversial (though legal) EB-5 immigrant investor visa program, which gives foreign investors a path to citizenship if they invest at least $500,000 in American development projects. In the past, the program has been described as "citizenship for sale," and has been entangled in fraud and abuse scandals, according to the Center for Immigration Studies organization.
But the most problematic aspect of this business pitch is the potential conflict of interest that it poses for Kushner, who currently serves as a senior advisor to President Trump. Although he claims to have divested his interests in One Journal Square (at least, according to attorney Blake Roberts, who advises Kushner on ethics issues), his sister's mention of his role in the administration while seeking investments has caused many to interpret this deal as having the potential to sell access to Kushner, and in turn, the White House. The company has denied this interpretation.
But this is just the latest example of a business decision made by Trump's family members that has raised more than a few eyebrows about the administration's ability to fully separate business from politics. In April, it was reported that Trump's daughter Ivanka secured trademarks in China for her retail brand the same day she dined with Chinese President Xi Jinping with her father at Trump's Mar-a-Lago resort.
While these incidents raise questions about whether or not Kushner and Ivanka are profiting from their White House roles, we might not get answers anytime soon.