Did Steve Bannon Actually Resign, Or Was He Pushed? The Timing Is Super Suspicious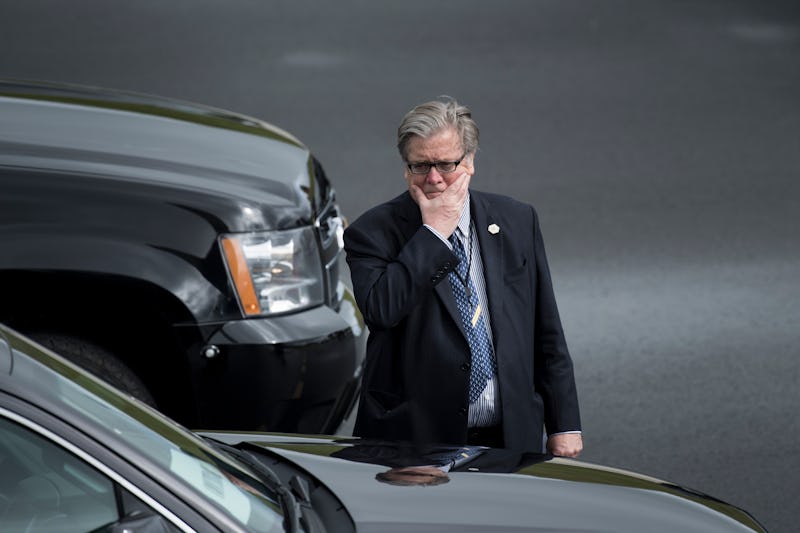 BRENDAN SMIALOWSKI/AFP/Getty Images
On Friday, outlets including Drudge Report and The New York Times broke the news that Steve Bannon will be leaving Trump's administration. But did Donald Trump fire Steve Bannon? According to the Times, Bannon and administration officials have different stories about what lead to Bannon's exit: A Bannon source emphasizes to the Times that Bannon had resigned of his own accord pre-Charlottesville, whereas administration officials say that Trump had decided to remove Bannon.
Trump has been under a significant amount of pressure from Democrats and moderate Republicans to fire Bannon, but as of earlier this week, he still seemed reluctant to do so. Trump was reportedly concerned that firing Bannon would lead the former Breitbart executive to turn on him — especially after Breitbart played an important role in getting Trump elected.
When he spoke to reporters on Tuesday in New York City, Trump cast doubt on Bannon's job security at the White House but still described him as a "good man" and "not a racist." The Times reported that as recently as Friday morning, Trump and senior administration officials were still debating Bannon's future — and whether or not that future would be at the White House.
However, an unnamed source close to Bannon contradicted this report, which came from two administration officials. The source told the Times that Bannon had filed his resignation on Aug. 7 and intended for it to be announced at the beginning of this week, but this announcement was delayed in light of events in Charlottesville, Virginia.
White House Press Secretary Sarah Huckabee Sanders released a brief statement about Bannon's departure, indicating that Bannon and Chief of Staff John Kelly mutually agreed that Friday would be the chief strategist's last day working for the Trump administration. However, it is unclear whether this was decided on Aug. 7 — which is what the person close to Bannon implied — or whether this decision came about as a result of Trump's discussions with senior aides this week.
A different source suggested to Reuters that Bannon intended for the White House to fire him, because he would not resign of his own accord.
"Bannon is going to make them fire him," the source told Reuters. "He's not going to officially resign. He's still been doing the work. He's been working on projects."
Following the ouster of Reince Priebus, who was replaced by Kelly as chief of staff, Bannon didn't have many allies left at the White House. He has also had a tumultuous relationship with Lieutenant General H.R. McMaster, Trump's national security adviser, inciting speculation that Trump would demote Bannon and possibly give McMaster a different position. Now that Bannon is leaving the White House, however, Trump's new concern will likely be retaining the nationalist voter base brought on board by Bannon — voters who believe that Bannon was largely responsible for Trump's victory back in November.