Did Trump Once Pay His Son's Boy Scout Registration Fee With Charity Money?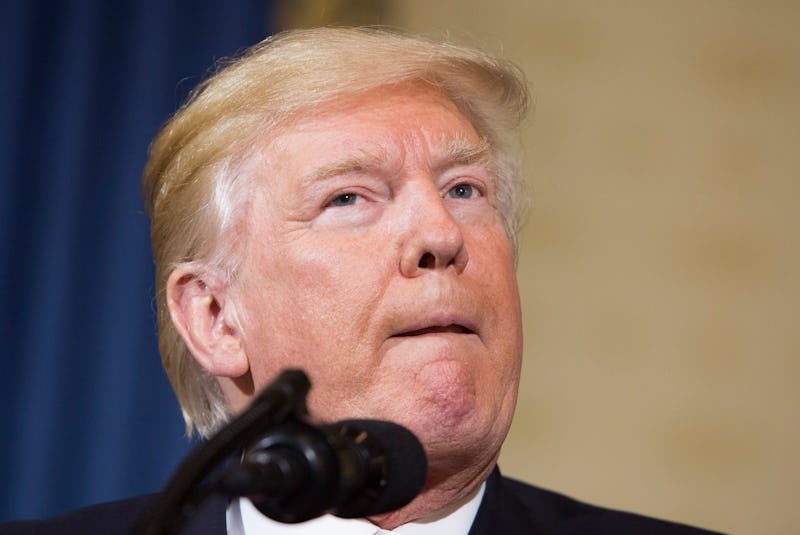 Pool/Getty Images News/Getty Images
On Monday, the president gave a speech to the National Scout Jamboree. As has come to be expected of Donald Trump, his appearance was a controversial one. Not only did he break from tradition by touching on partisan issues such as the currently-stalled Obamacare replacement plan, but he also insulted former president Barack Obama and his campaign rival Hillary Clinton. And, adding another stain to his presence at the event, the story of Trump possibly paying his son's Boy Scout registration fee with $7 from his own charity, the Trump Foundation, has gained new traction.
"In 1989, @realDonaldTrump apparently used a charity's money to pay his son's $7 registration fee for the Boy Scouts," tweeted Washington Post reporter David Fahrenthold, linking to an October 2016 report in which he looked into Trump's philanthropy record, which the businessman regularly boasted about in public.
According to Fahrenthold, the donations Trump publicly promised to make — including his pledges to make personal contributions to charities picked by Celebrity Apprentice contestants and to donate Trump University's proceeds — would have amounted to millions of dollars, but only thousands could be confirmed.
Over the years, no other organization or charity has received as much financial support from the president as the Trump Foundation, with the largest donation amounting to $264,631 — the cause being renovating a fountain at the Plaza Hotel, one of his properties. The smallest donation dates back to 1989 — when Donald Trump Jr. was 11 years old — was the $7 Trump seemingly used to pay for his oldest son's Boy Scouts registration fee.
Trump did not respond to The Post's question as to whether or not the $7 were indeed used to register his young son for the group. The paper noted, however, that this was the exact fee the Boy Scouts charged for registering at the time.
Some on social media pointed out the strangeness of the millionaire using his own charity's funds for such a meager fee. "Of all the bizarre instances of cheapness and basic theft you found, this remains the most bizarre. SEVEN FREAKING DOLLARS!" tweeted one user.
The Boy Scouts of America distanced itself from the president's divisive speech following the backlash, insisting his participation in their Monday event was merely part of tradition and not an endorsement of any political position or policy. "The Boy Scouts of America is wholly non-partisan and does not promote any one position, product, service, political candidate or philosophy," the group said in a statement. "The invitation for the sitting U.S. President to visit the National Jamboree is a long-standing tradition and is in no way an endorsement of any political party or specific policies."