Trump Met With The Philippines' "Butcher" President & Barely Mentioned The Country's Human Rights Abuses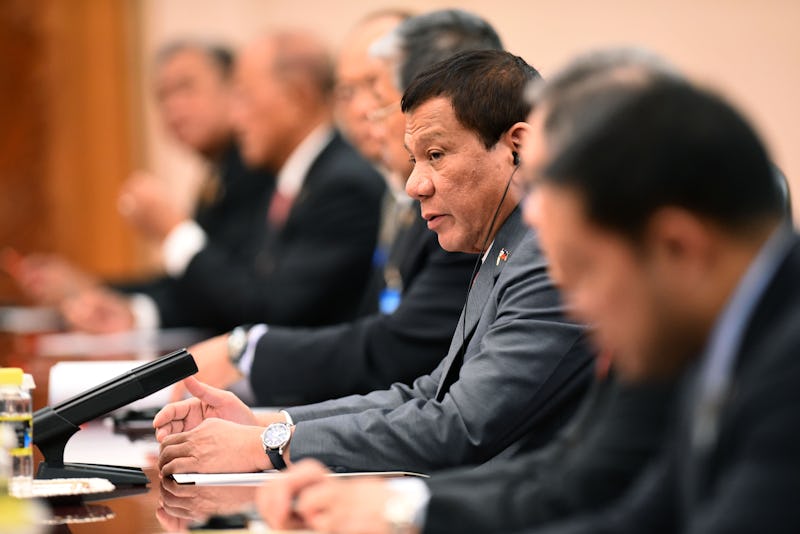 Pool/Getty Images News/Getty Images
As part of his Asian trip, President Trump met with Philippine President Rodrigo Duterte. After that, the details get fuzzy, specifically when it comes to what they actually discussed at the meetings. News of serious human rights abuses has been coming out of the Philippines during Duterte's tenure as president, and yet three conflicting reports about Duterte and Trump's discussion of human rights have come out.
A Philippine spokesman said that "there was no mention of human rights, no mention of extra-legal killings." White House Press Secretary Sarah Huckabee Sanders, on the other hand, said specifically that "human rights briefly came up in the context of the Philippines' fight against illegal drugs." An official statement from the White House Press Office, then, had another take on the matter:
The two sides underscored that human rights and the dignity of human life are essential, and agreed to continue mainstreaming the human rights agenda in their national programs to promote the welfare of all sectors, including the most vulnerable groups.
"It is disappointing that President Trump might have ignored the opportunity to raise the horrifying human rights abuses in the Philippines, and left a proper discussion off the table," Rachel Chhoa-Howard, a researcher for Amnesty International in the Philippines, tells Bustle. "President Duterte's policies are responsible for thousands of unlawful killings, including dozens of children and the extrajudicial execution of many others, which may constitute crimes against humanity."
Trump, for his part, claimed that he "had a great relationship" with the Philippine president, who stands accused of having ordered hundreds of extra-judicial killings in the name of fighting a war on drugs. Earlier this year, Trump even invited Duterte to the White House, without consulting anyone from the State Department on the matter first.
Duterte has described himself as a "butcher," saying in public comments made earlier this year: "I might go down in the history as the butcher." Only days before meeting with Trump, he bragged that he had "already killed someone" at age 16. Duterte has received international criticism for the human rights situation in the Philippines right now, from Filipinos (although many do like him), human rights organizations, and various governments alike — including President Obama. At the G20 summit in September of 2016, Obama said that Duterte needed to "to engage in that fight against drugs in a way that's consistent with basic international norms." In response, Duterte lobbed a series of insults at Obama and America more generally.
With Trump, however, Duterte seems more in his element. "The relationship appears to be very warm and very friendly," said Philippine spokesman Harry Roque about the rapport between the two presidents on Monday. "They've been very candid in their dealings, and it's very apparent that both of them have a person who they consider as not their best friend. They have similar feelings toward former U.S. President Barack Obama."
Despite their apparent disagreements about what actually went on in the meeting — or, at least, the disagreements between Trump's people and Duterte's people — the two also seem to have a similar stance on the media. After Trump ignored a question about whether human rights would factor into their discussion, Duterte responded to a question with the answer that there would be no more questions. "This is not the press statement," he told the gathered reporters. "We are in a bilateral meeting. Maybe the press conference would follow." Trump also laughed as Duterte called the reporters there "spies."
To Chhoa-Howard, Trump's position on Duterte actually could have been a boon for the human rights cause. "President Trump could have used his self-described 'close relationship' to put pressure on President Duterte and his administration to change their deadly approach to the anti-drug campaign to a policy based on health and human rights," she tells Bustle. "He could also have mentioned that future US assistance was contingent on the Philippines government, initiating proper investigations into all alleged unlawful killings by police and other armed persons."
Instead, Trump effusively praised Duterte, thanking him for his hospitality and for putting on a successful Association of Southeast Asian Nations summit. Previously, Trump also praised Duterte's handling of the war on drugs, saying that Duterte was doing an "unbelievable job." This raised red flags for many, especially because Duterte is far from the only dictatorial leader whom Trump has complimented. This backdrop makes the conflicting reports from their most recent meetings all the more confusing. Trump has never expressed any concerns with Duterte's human rights record in the past, nor would he answer any questions about whether he would bring up the topic in the previous meeting — and yet the White House twice stated that the topic did indeed come up. For now, the conflicting reports are the only answers that anyone will get.