More Than 100 Politicians Are Begging James Mattis For Answers About The Trans Military Ban In A Letter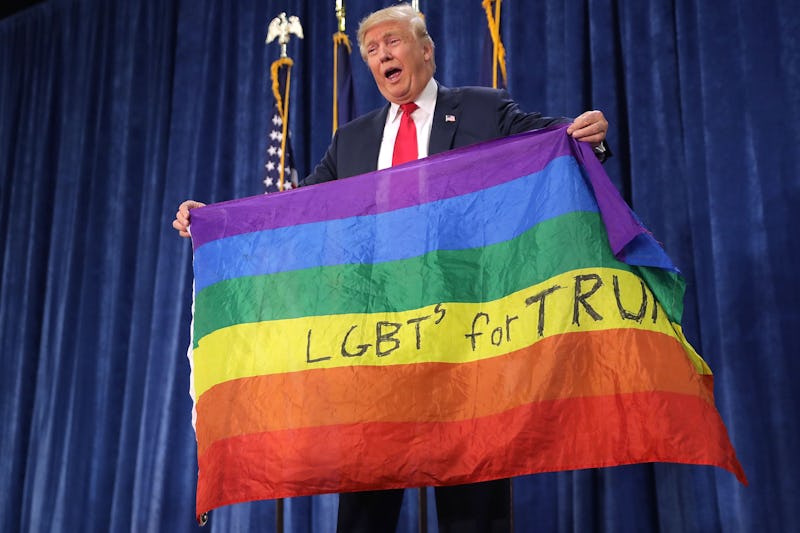 Chip Somodevilla/Getty Images News/Getty Images
In August, Donald Trump signed a memo that barred transgender men and women from further becoming members of the United States' military. The memo was sent to the Pentagon which gave Jim Mattis, Secretary of Defense, the option to deliberate and determine whether current transgender military members would continue providing their service. It was an explosive memo that led to widespread outrage and criticism from progressive activists and Democrats who viewed the memo as a sign of political regression from the administration. Now, a congressman penned a letter to Trump demanding proof of transgender ban consultation with the military.
The letter was shared on Twitter by Rep. Barbara Lee of California and was penned by congressman Donald McEachin of Virginia. Bustle has reached out to Lee for comment on any reaction from Trump's administration and will update if they respond. The document demands that the president provide proof of mutual consultation between him and the military on the subject of transgender military members and their presence in the army.
In Trump's memo, the ban was to, among other things, purportedly alleviate structural costs of accommodating transgender soldiers. The presidential memorandum read, "In my judgment, the previous administration failed to identify a sufficient basis to conclude that terminating the departments' longstanding policy and practice would not hinder military effectiveness and lethality, disrupt unit cohesion, or tax military resources, and there remain meaningful concerns that further study is needed to ensure that continued implementation of last year's policy change would not have those negative effects." The memo also stated that the ban would involve terminating "resources to fund sex reassignment surgical procedures for military personnel."
While addressing Mattis, McEachin wrote that the signers of the letter "request information about what discussion or correspondence between the White House and the Pentagon, if any, led president Trump to make his assertion." It went on to say, "If senior military or Department of Defense personnel asked that the president ban transgender individuals from military service, we request access to any letters, emails, telephone transcripts, meeting logs and minutes, or other materials that document such requests."
Trump's focus on military resources supposedly allotted for transgender members was criticized by Democrats. One Democratic senator, Tammy Duckworth, cited a study that highlighted the estimated amount spent on transgender health service, which was at $5.6 million. Duckworth compared it with the military's expense geared toward Viagra, which is reportedly at $40 million, according to a study from July. ""If you want to talk about costs," Duckworth said, "there are other places where you could cut."
This isn't the first time that Democrats have expressed their criticism toward Trump's transgender ban. More than 50 House Democrats signed a letter to Trump and asked him to reconsider his memorandum.
The letter, just like Lee's shared address, was directed at Mattis and Joint Chiefs of Staff chairman Joseph Dunford. The address declared that the Democrats "not only express our strong opposition to President Trump's recent tweets seeking to ban transgender individuals from the military, but to remind you not to comply with any unconstitutional directive which may ultimately be issued."
McEachin's letter carries significance as it could reveal possible internal consultation between Trump and Pentagon members. At this moment, there is no proof of any collaboration between both parties. But if the Trump administration responds with proof of communication between the entities, the conversation transgender civil rights could get much more complicated.
In contrast, if the Trump administration or Mattis offer no proof of consultancy, the letter notes that it would like to zero in on the possibility of "a breakdown" in correspondence because "you know, clear communication between the White House and the Pentagon is essential to our nation's security."