Zayn Malik's New Tattoo Looks Like Gigi Hadid's Eyes & The Internet Can't Deal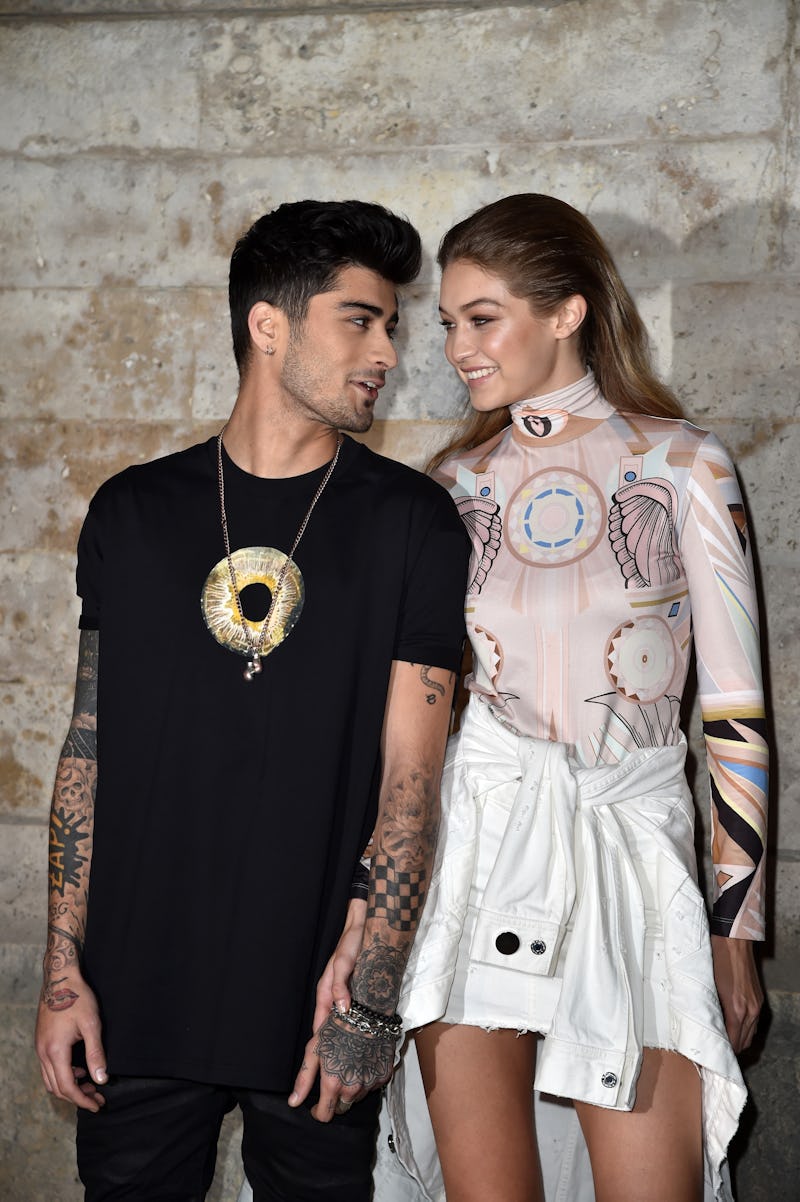 Pascal Le Segretain/Getty Images Entertainment/Getty Images
Most tattoos make a statement and hold important meaning for the person wearing the ink. Singer Zayn Malik has decorated much of his body with tattoos, but it's his latest chest piece that has fans and the internet losing their minds. Zayn Malik may have gotten a tattoo of girlfriend Gigi Hadid's eyes and Zayniacs and Directioners so cannot handle it. They have taken to social media to express their many opinions about the matter, as well.
Here's the deal. Malik celebrated his 25th bday on Jan. 12 and his supermodel lady love marked the occasion by sharing a Boomerang video of the ex-One Direction singer doing a happy dance.
Actually, she labeled it the "Birthday Boogie" and he grooved while wearing a checked blazer minus a shirt, jeans, and Tommy Hilfiger undies.
It was a super playful way for him to publicly celebrate hitting that quarter century mark, right?
However, fans quickly noticed a tattoo of a pair of smoldering, beautiful eyes that look eerily similar to Hadid's smack dab in the middle of his chest.
The worldwide web is wondering when Malik got the tattoo and if they are indeed Hadid's peepers.
Go ahead and have a look at Malik doing the bday boogie and showing off his chest piece in the black and white clip below.
There it is! Even with Malik doing a little a pelvic thrust, you can still focus on the eyes and they certainly look like an artistic homage to his girlfriend of over two years.
Still not sold that those eyes belong to Hadid? Well, perhaps one of many internet theorists and Zigi stans will help you along.
This user provided a visual that truly makes a case for those eyes being Hadid's. The resemblance is uncanny.
They really do...
So, yeah, the internet is pretty convinced of the source of inspo.
Here is one more visual comparison for reference. It's pretty hard to argue at this point.
Last one — with a bunch of images of Hadid's eyes for further analysis. Yeah, we're going to wager that those are Hadid's eyes on Malik's sternum.
Fans seem blown away by the inking.
Others were quick to point out that Malik previously got a tattoo of his former fiancee, Little Mix singer Perrie Edwards, on his arm.
Clearly, the Zigi tattoo is weighing on Twitter's mind for a variety of reasons. Will this inking spell the end of Zigi as we know it?! Gasp!
Many believe that getting a tattoo of your significant other's name or face is the kiss of death of a relationship. Twitter wasn't shy about making mention of this fact.
This reaction is beyond understandable. It is. But perhaps Malik and Hadid will go the distance. Maybe he got the tattoo because he knows things between them are right.
This Zayniac reminded the Twitterverse that he already has Hadid-related ink.
Another Zayn supporter had a sweetly sentimental point of view regarding Gigi's eyes in ink form. It's not about whether or not they break up and he'll be stuck with this tattoo on his chest forever or until he has it covered up. Rather, she will always have been a part of his life even if they eventually part ways.
Such romantic perspectives were few and far between, though! The majority of the Twitterverse struggled to wrap its head around the tattoo because Malik has had a girlfriend-related tattoo in the past and because these tattoos are often seen as a bad omen for a relationship's future status.
Here's to hoping that Zigi's relationship doesn't victim to the tattoo curse and keeps going strong!