Diners Confronted Mitch McConnell At A Restaurant And Called Him A Traitor — VIDEO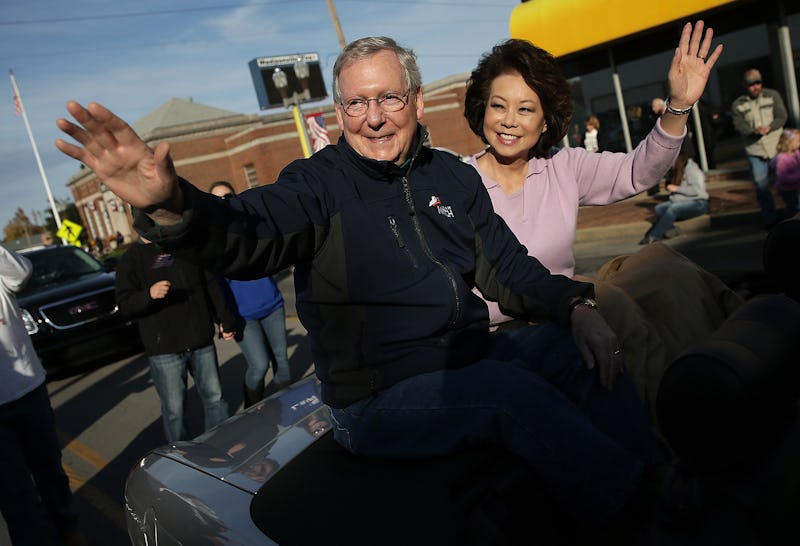 Win McNamee/Getty Images News/Getty Images
It's a tough time to be a Republican lawmaker trying to get a bite to eat. In the latest incident of frustrated voters publicly challenging members of Congress, Senate Majority Leader Mitch McConnell was confronted by angry diners while eating at a restaurant in Louisville, Kentucky, late Friday. According to TMZ, which obtained video of the incident, one man demanded McConnell and his wife, Transportation Secretary Elaine Chao, leave, spurring other diners to speak up in the senator's defense.
"The leader and Secretary Chao enjoyed their meal in Louisville last night and they appreciate those who spoke up against incivility," a McConnell spokesperson told CNN affiliate WLKY. "They hope other patrons weren't too inconvenienced by left-wing tantrums. As the leader often says, the Senate will not be intimidated by the antics of far-left protesters."
According to TMZ, McConnell and Chao were dinning at Havana Rumba when a man approached their table to confront the senator. "Why don't you get out of here? Why don't you leave the entire country?" the man yells at McConnell in cellphone footage shared by TMZ.
In the video, McConnell does not appear to acknowledge or engage with the man. Meanwhile, a table of nearby diners can be heard telling the man to "leave him alone" and gesturing for him to shoo while someone else in the restaurant yelled, "ditch Mitch."
The patron who took the video told TMZ that the man had banged his fists on McConnell's table, grabbed the Kentucky politician's bag of leftovers, and chucked it out the restaurant's door prior to her hitting record.
Another diner confirmed that account to BuzzFeed News, but added that the man seen in the video wasn't the only diner to confront McConnell that night. Todd Bird told BuzzFeed News that a woman approached McConnell shortly after he and his wife had been seated and yelled, "You're a traitor to this country!" Bird said McConnell did not address the woman but that his wife told her to leave them alone.
The woman who filmed one of the incidents told TMZ that the man who confronted McConnell appeared to be upset with the senator's recent statements about Social Security and health care. Earlier this week, McConnell voiced a desire to cut benefit programs like Social Security, Medicare, and Medicaid, saying these "entitlements" were "the real drivers of the debt."
While the staff at Havana Rumba eventually stepped in and asked the man yelling at McConnell to leave, the restaurant said Saturday that it deeply regretted what had happened. "We deeply regret the incident that took place at our restaurant this weekend," Havana Rumba said in a statement issued Saturday via Facebook. "We strongly believe everyone should feel welcome and safe in our restaurants." The restaurant said its staff "was caught off guard as the incident developed quickly" but that once they were aware of what was happening they "acted quickly and efficiently to assure that everyone was safe."
But this isn't the first time voters have confronted politicians. So far this year, Department of Homeland Security Secretary Kirstjen Nielsen, then-EPA head Scott Pruitt, White House Press Secretary Sarah Huckabee Sanders, and Texas Sen. Ted Cruz have all been confronted while dining out.