Director Bryan Singer Is Reportedly Being Sued Over Allegations Of Sexual Assault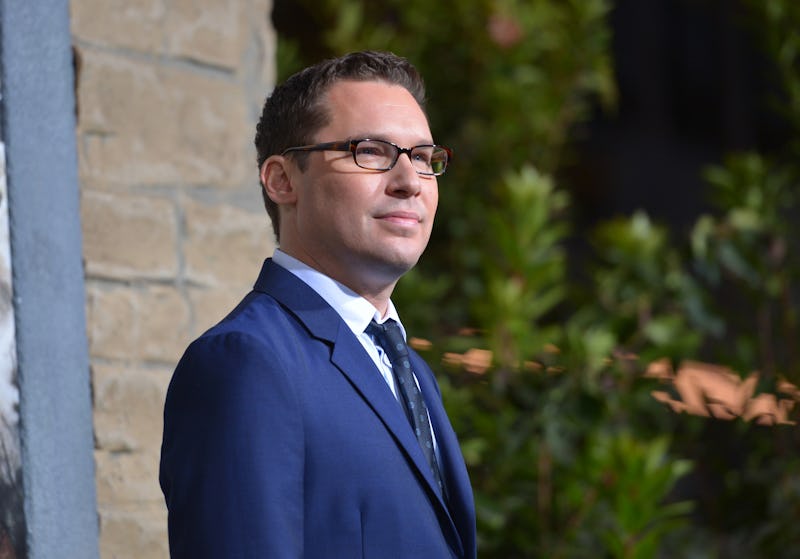 Alberto E. Rodriguez/Getty Images Entertainment/Getty Images
Among the numerous powerful men in Hollywood who are being accused of sexual assault, there was a name that started trending on Twitter: director Bryan Singer. As allegations against other Hollywood figures came to life, many believed Singer, who has been accused of sexual misconduct in the past, would find himself in the news again. (The director has previously denied all allegations of sexual misconduct.) On Thursday, Dec. 7, TMZ reported that Singer is being sued over allegations of sexual assault, involving a 17-year-old boy. According to TMZ, Singer "categorically denies" these claims. (Bustle reached out to his rep for comment, but did not receive an immediate response.)
UPDATE: A representative of Singer released a statement to Bustle, denying the allegations. It reads, in part:
"Bryan categorically denies these allegations and will vehemently defend this lawsuit to the very end. Cesar Sanchez-Guzman [the plaintiff] apparently claims that he did not remember this alleged incident from 2003 until now. Significantly, when Sanchez-Guzman filed for bankruptcy only a few years ago, he failed to disclose this alleged claim when he was supposed to identify all of his assets, but conveniently, now that the bankruptcy court discharged all of his debts, he is able to recall the alleged events. The attorney behind this lawsuit is the same lawyer who represented Michael Egan, the convicted felon who sued Bryan Singer in 2014. In the end, Egan was forced to dismiss that case once the facts came out and his story completely fell apart."
The statement added, "We are confident that this case will turn out the same way the Egan case did. And once Bryan prevails, he will pursue his own claims for malicious prosecution."
EARLIER: TMZ is reporting that the alleged incident happened in 2003 on a yacht. According to the publication, the lawsuit claims that Singer allegedly invited the plaintiff, who was 17 at the time, for a tour of the yacht, but then they went into a room. While there, the suit claims that Singer allegedly thrust his body onto the boy, allegedly forced him on the floor, allegedly shoved the boy's face into his crotch, and allegedly demanded he perform oral sex. The rest of the allegations, including claims of forced oral sex and anal penetration, only get more graphic.
In a statement to TMZ, a rep for Singer claimed, "The lawsuit was filed by the same lawyer who represented Michel Egan. Those claims were dismissed by Egan himself, and he later went to Federal prison for lying in a fraud case." Egan is a former child model, who also sued him for allegations of sexual misconduct. (More details on that below.)
The disturbing allegations of sexual misconduct against Singer date back 20 years. In 1997, Devin St. Albin, a 14-year-old extra, filed a lawsuit against Singer that claimed that on the set of the film Apt Pupil "the filmmakers had ordered him and other minors to strip for a scene that was shot in the showers of a school locker room," according to Entertainment Weekly. Two other extras — 17-year-old Ryan Glomboske, and 16-year-old David Stockdale — supported the claims made by St. Albin and in turn alleged "trauma from the experience, charging the filmmakers with, among other things, infliction of emotional distress, negligence, and invasion of privacy."
At the time, the film's production company Phoenix Pictures stated to Entertainment Weekly that, after conducting "a thorough investigation, including speaking to everybody who should be spoken to… [we are] completely convinced there was no wrongdoing." According to The Daily Beast, the Apt Pupil lawsuit was later dismissed due to lack of evidence.
In 2014, Singer was sued for alleged sexual abuse of minor that took place in 1999. In a civil suit, former child model Michael Egan III alleged that, when he was 17-years-old, Singer sexually abused him while in Hawaii. In the lawsuit, Egan claimed the abuse started two years prior as part of a Hollywood sex ring "led by another man convicted of luring minors across state lines for sex." He claimed that he was "given drugs and promises of a Hollywood career while being threatened and sexually abused in Los Angeles and Hawaii" by Singer. After the allegations, Singer released a statement to The Hollywood Reporter calling the allegations "outrageous, vicious and completely false." He also claimed that he was in Toronto filming the first X-Men movie at the time of the alleged abuse.
Singer's lawyer Martin Singer (no relation) also released a statement to The Hollywood Reporter questioning the merits of the allegations:
"The minute I learned of Michael Egan's allegations I thought they were fabricated because I knew that Bryan was shooting a movie out of the country during the period of time alleged in the complaint. Based on concrete and indisputable evidence, we will prove that Egan's claims about Bryan are entirely made up."
Egan would later withdraw his lawsuit, according to Page Six, because he could not find a lawyer to represent him. But, that same year, Singer was accused in another lawsuit of sexual abuse. The case filed by a U.K. citizen, who chose to remain anonymous, accused Singer and Broadway producer Gary Goddard of sexually assaulting him when he was 17-years-old, claiming the incident took place in 2000 after the London premiere of Superman Returns. At the time, Singer denied the allegations, saying he was the victim of a "sick, twisted shakedown." According to The Guardian, the case was dismissed by a Los Angeles court, which said there was "no legal basis" for the lawsuit.
While both cases didn't go to trial, serious questions were raised against Singer as a result. Shortly after Egan's allegations BuzzFeed wrote an exposé called "Inside Bryan Singer's Wild Hollywood World," that delved into the parties the director, or Marc Collins-Rector (a convicted sex offender), often threw, parties which Singer attended that included young men between the ages of 18 to 20 years old. (In 2000, Egan, along with several other young men, filed a lawsuit against Collins-Rector, Chad Shackley, and former child actor Brock Pierce, who appeared in The Mighty Ducks, accusing them of sexual and physical abuse. The plaintiffs won $4.5 million from Collins-Rector and Shackley; Pierce reached a settlement, according to The Hollywood Reporter.)
In the piece, Buzzfeed spoke with "six people who have gone to them, including one friend who said he helps introduce Singer to younger men the director would otherwise be too 'shy' to meet." The report claimed that what Singer was allegedly doing, according to those who had known the director, toed the line between being legal and illegal. At the very least, Time argued in 2014 that Singer's behavior has "led to accusations the director was exploiting young men who simply wanted to break into the movie business."
Before the release of this latest report, Singer was fired from the Queen biopic starring Rami Malek. According to The Hollywood Reporter, it was originally believed that Singer was fired due to a fight with Malek, which resulted in him not returning to set after Thanksgiving. Fox later released a statement saying it was actually due to an "unexpected unavailability" of the director, who has gained a reputation for disappearing during filming. Most notably, Singer went missing during the filming of 2006's Superman Returns, which led the film to go over-budget, according to Indie Wire. Warner Bros. did not ask him back for another Superman film and instead relaunched the series again in 2013 with director Zach Snyder.
In a statement released by Singer through his lawyer, he explained that he was fired from the Queen biopic because he needed to take care of a sick parent. "Unfortunately, the studio was unwilling to accommodate me and terminated my services," he wrote in the statement obtained by Variety. "This was not my decision and it was beyond my control." Entertainment Weekly recently announced that Dexter Fletcher is taking over as director of the project.
If you or someone you know has been sexually assaulted, call the National Sexual Assault Telephone Hotline at 800-656-HOPE (4673) or visit online.rainn.org.