There's An 18-Stop BOURBON TRAIL At Disney & The Pics Look Ridiculously Delicious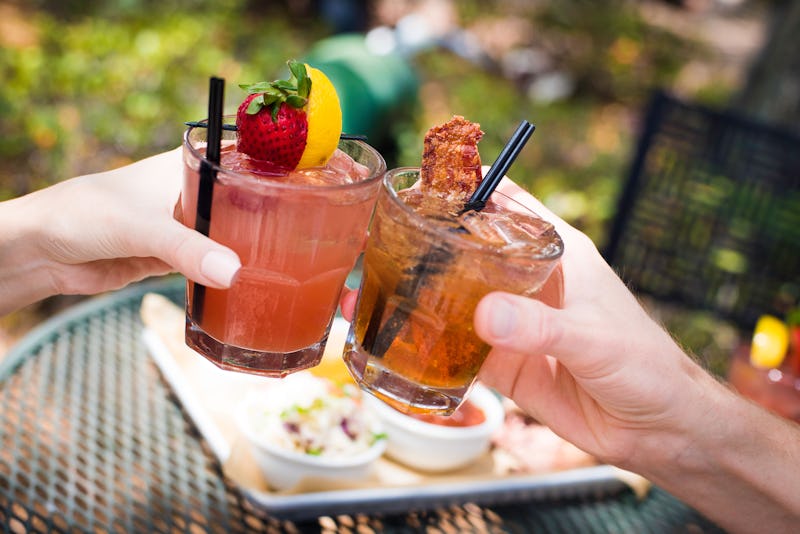 Disney Parks Blog
One of the things Walt Disney stipulated when creating his theme parks was that he wanted them to be alcohol-free — apparently his vision of wholesome family fun did not include drunkenly stumbling onto Peter Pan's Flight, as entertaining as that is. But today's Disney parks do have dedicated drinking sections, including at Walt Disney World's shopping and dining complex, Disney Springs. And for a limited time, Disney Springs will be hosting a Bourbon Trail, so you can fuel up on Old Fashioneds before setting yourself loose in Epcot.
Disney Parks announced the Bourbon Trail at Disney Springs on their blog last week, noting that the fun starts May 1 and ends on June 17. Attendees 21 and older can sample bourbon-inspired beverages and paired bites at 18 locations in the complex, plus you can pick up a Bourbon Trail passport to ensure you hit all the hotspots. Some highlights include the House of Blues Restaurant, where you can score a Fine and Mellow (Knob Creek Bourbon, St. Elder, lemon juice, strawberry, and rhubarb bitters), a Hurry Sundown Old Fashioned (Maker's Mark Bourbon, Benedictine, butter pecan syrup, bitters, and caramel pecan bacon), brisket and pulled pork sandwiches, and homemade bread pudding. IT ALL LOOKS SO GOOD.
At the Splitsville Dining Room, bourbon enthusiasts can swig the Trifecta, comprised of Old Forester 100, Carpano Antica Vermouth, Benedictine, and Pimento Dram. More importantly, there's this delectable-looking BBQ chicken pizza that goes with it:
OH BUT THERE'S MORE. At Bongos Cuban Cafe, you can score a bourbon-filled mojito (?????) along with a Cuban Style Churrasco steak, which sounds like a combination that will kill my stomach but raise my spirits. YeSake is offering a Strawberry Bourbon Sour Slushie, made with bourbon, sweet strawberry puree, and lemonade, along with a citrus salmon bowl/wrap. Italian eatery Enzo's Hideaway will serve a Bourbon Swizzle with Bulleit Bourbon, lemon juice, ginger syrup, and bitters, alongside a tasty-sounding meat and cheese board.
And over at the Edison, there's candied bacon, in addition to a Southern-sounding Peach Tree Downs, made with Knob Creek Bourbon and Old Camp Peach Pecan Whiskey. BUT LOOK AT THE BACON.
Other highlights include a Kentucky Sunrise and Argentinian skirt steak at Paradiso 37; a Woodford Reserve Bourbon at The Ganachery, a Gold Cup (Bulleit Bourbon, Jameson Black Barrel Irish Whiskey) and potato wedges with cheese dip at Raglan Road Irish Pub & Restaurant; an Orlando Pride (Old Forester Bourbon and homemade blackberry citrus purée) and calamari at the Boathouse; sangria and a pork chop at Paddlefish; and a pig sandwich and something called a "Winner's Circle" at the Polite Pig, which is a great name for a restaurant.
I am also very enthusiastic about this burger and smoked bourbon gelato shake at D-Luxe Burger. This thing is MONSTROUS, but in a good way:
The full list of food and drink is on Disney's blog.
Though this wasn't in Walt Disney's OG vision for his park empire, drinking at Disney theme parks is an absolute delight. I went to Disneyland with a friend of mine a few years ago, and after spending way too much time waiting on line for the Indiana Jones ride, we defected to California Adventure, where alcohol is permitted. There, we drank super sweet margaritas (mistake!) and surprisingly well-priced California beers, and proceeded to ride (and re-ride, and re-ride, and re-ride) the Little Mermaid ride, in which you hop onboard a "slow-moving clamshell" and travel through various scenes from the titular film. It is not technically a sing along ride, but you can't stop two margarita-filled 24-year-olds from belting out "Part of Your World," it's just a scientific fact.
In conclusion, alcohol is good, Disney is good, rides are good, and bourbon is definitely good.