Disney's New Merch Specifically For Foodies Just Combined Your Two Greatest Loves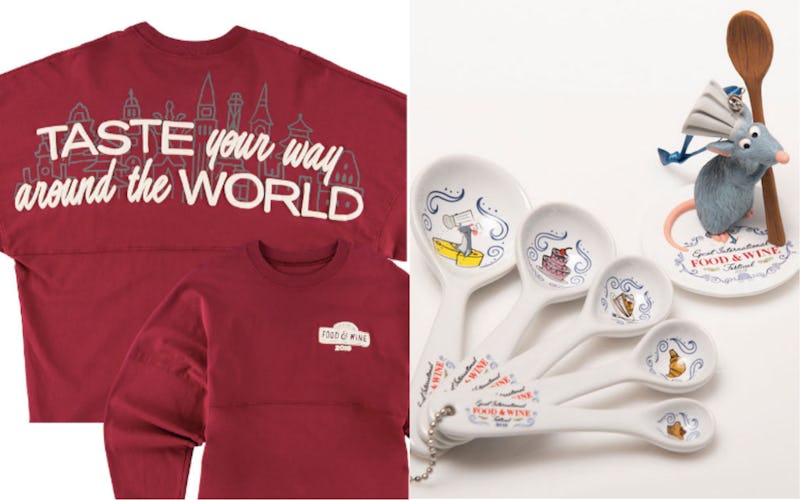 Disney Parks Blog
The popular event kicked off on August 30, and now, Disney fans far and wide can check out the new merchandise for this year's Food & Wine Festival at Disney. The new apparel, accessories, and homeware were shared on the Disney Parks blog, and while there are plenty of collectibles in the mix, a lot of the items are very practical for everyday life as compared to Mickey and Minnie ears. (A special edition of those are available, too. Don't worry.)
The selection is definitely aimed at home cooks, which makes sense seeing as this is for the Food & Wine Festival. There are also some items specifically for wine and beer lovers. Cathy Dawson, the Product Developer for Merchandise Special Events, told the blog, "Products are both commemorative and functional. These items will assist guests with recreating the tasting-around-the-world experience at home especially when paired with a Festival cookbook." Ah, yes, there is a cookbook, too.
So, what's on the menu when it comes to this year's merchandise? As far as kitchenware, there's Ratatouille measuring spoons, a Mickey ceramic pie plate, a Disney pepper mill, a serving dish shaped like Mickey's head (his ears are where you can put dip), and a cutting board shaped like a wine bottle, among other items.
Moving on to apparel, they've got spirit jerseys. They've got T-shirts. They've got hats. They've got three different Dooney & Bourke bags in a Disney print.
For those who are looking for adult beverage-themed merchandise, how about a Brews Around the World hat or shirt? What about a wine bottle ornament? Or a Minnie Mouse headband that looks like it's made out of cork? Disney has them all.
Now, a few of the items are only available to Annual Passholders and many of them are only available in the actual park. The Disney Parks blog notes that products can be found at the "Festival Center located adjacent to Mission: SPACE, and in select merchandise locations throughout Epcot." If you are looking to get 2018 Food & Wine Festival merchandise and aren't actually attending the 2018 Food & Wine Festival, that is still possible. The Disney online shop has a number of items available for purchase: shirts, hoodies, jewelry, figurines, and more.
The Epcot Food & Wine Festival is an annual event that started back in 1995. This year, it runs from August 30 to November 12 and, as always, will allow visitors to taste new dishes, try food and drink pairings, meet celebrity chefs, and listen to live music, all while enjoying everything else Epcot has offer. There is not a separate ticket for the Food & Wine Festival — it's included with Disney World admission — but visitors will have to pay separately for the food and the wine.
Whether you choose to attend the festival or just buy a Mickey wine glass online to sip from while you stream Moana for the fourteenth time and make your own food and wine pairing, Disney has you covered.