Disney Is Recruiting People To Live & Work At Disney World For An Entire Year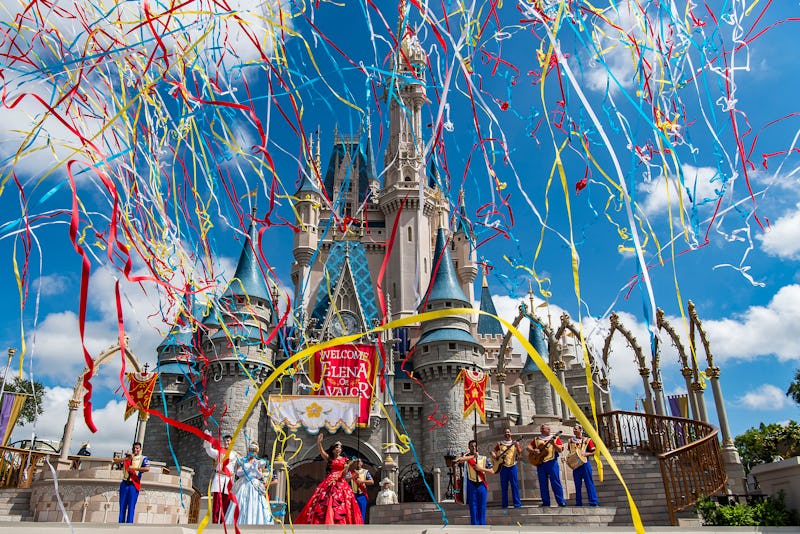 Handout/Getty Images Entertainment/Getty Images
If you've ever dreamed of living and working at Disney World, well, dreams really do come true. Now, you can apply to live and work at Disney World for a year to make all of your childhood fantasies a reality, Apartment Therapy reported. However, like all good things that sound too good to be true, there's a catch. While there are plenty of ways to turn your Disney dreams into a reality, this specific opportunity from Disney's Cultural Representative Program is only open to candidates who can "authentically represent" countries that have been recreated in a Disney's resorts, pavilions, and theme parks, according to the program's website.
If you have a connection with Brazil, Canada, China, France, Germany, Italy, Japan, Mexico, Morocco, Norway, Southeast Asia, sub-Saharan Africa, or the United Kingdom, you can apply for this dream job. Similar to having a paid internship, you'll gain real-world skills — like leadership, business, and customer service knowledge — that you can use in your career after your Disney year is over. The best part is that once you're on board, you can help develop a a customized guest experience for those you interact with and share your culture and heritage at the same time.
Cultural representatives will also live together, kind of like in college or on The Real World, but at Disney World. If you're having major FOMO because you don't qualify for this gig, there are other ways to live your best Disney life, including Disney's Academic Exchange Program. Pursuing a career in entertainment, customer service, or hospitality? This opportunity combines education with hands-on experience in fields like performance, costuming, merchandising, and more.
If you're pursuing a career in education, and you've already been toying with the idea of spending a few years abroad teaching English, you can also do that Disney style. The Disney English Program will send you to China to teach English, which you'll do by sharing Disney stories and teaching students about your favorite Disney characters. In your free time, you'll have time to explore everything from the Great Wall of China to the Terracotta Warriors to Disneyland Shanghai. You'll also get the opportunity to travel to places like India and Japan. If it's a pirate's life for you, you can apply to work aboard the Disney Cruise Line. While these jobs won't make you rich, they do allow you to travel the world while still earning a paycheck so you can cross some destinations off of your travel bucket list.
For aspiring chefs, you can apply for Disney's International Culinary Training Program. This paid internship allows you to learn from the culinary experts responsible for creating Disney's favorite food and drinks, like those new boozy ice-cream floats.
If you've already committed to that whole adulting thing and gotten the dreaded "real job," that doesn't mean you can't still live your best Disney life. There are literally eleventy-million Disney job opportunities around the world in fields like entertainment, media relations, hospitality, music, fashion, and more. There's even a department called "Imagineering." Scoring this gig is worth the title alone so you can tell people at parties that you're an imagineer for Disney and you get to imagine for a living. For some reason, taking on grown up responsibilities is often conflated with resigning yourself to a boring job that brings in a steady income and slowly sucks your soul dry until you're a shell of your former self.
The thing that no one tells you is that you actually can do what makes you happy and succeed like a boss. If you live and breathe everything Disney, there's no reason you can't swaddle yourself in the comfort of your favorite characters every single day, make a decent living, and travel the world on Disney's dime. Because, Disney dreams aren't just for kids. Make that your new mantra, and start your new Disney life now.