Disney Parks Launched 10 New Holiday Churros & The Pics Will Make You Drool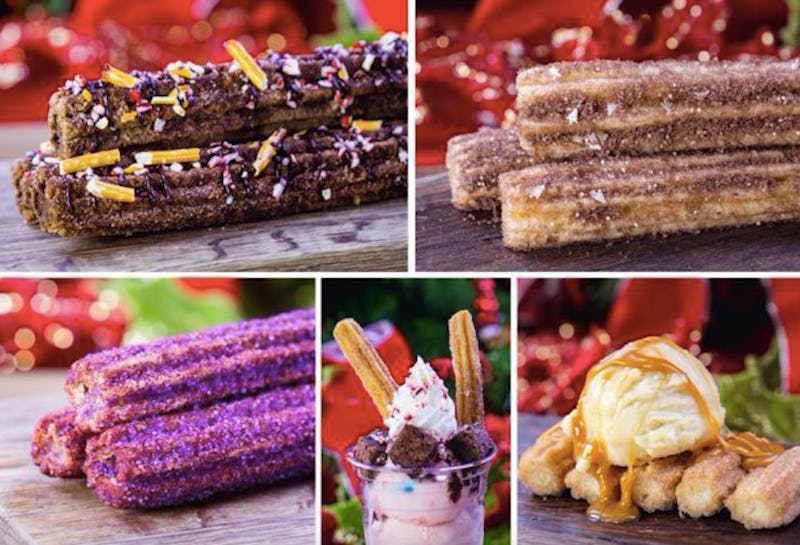 Disney Parks Blog
Desserts at Disneyland Parks are getting a bippity-boppity-boo, Cinderella style makeover. Disney's holiday churros for 2018 have a new fantastic point of view — if you know what I mean — on the fried pastry. You'll want to get in the car or hop on your magic carpet to get a taste of the magic being whipped up at Disneyland Park in Anaheim, California.
We know churros as a cylindrical Mexican pastry rolled in a cinnamon-sugar concoction and dipped in chocolate. This is also known as heaven. Disneyland, not known for doing anything less than imaginative, has taken this fan favorite fried delight and transformed it into many magical versions of itself. Each churro is infused with holiday flavors like gingerbread, peppermin,t and sugarplum, making each bite one of cheer.
There are a whopping ~10~ Disney holiday churro flavors, which is reason alone to venture to Anaheim. These treats, and the amount of them, make Disneyland a foodie's amusement park. Because it's not just churros that are getting dressed up for the holidays.
Alex Dunlap, Disney Park's Food and Beverage Content Relations, Coordinator writes on the Disney Park's blog, "Did you know that there's SO MUCH MORE festive food at all of our parks and resort hotels? That's right, we've got everything from candy cane beignets and gingerbread men to eggnog and holiday cocktails." According to the Disney Parks Blog, you can start celebrating the holiday season at the most magical place on Earth on Nov. 9. Please excuse me as I quickly browse Google Flights and carefully pack my glass slippers into my carry on luggage.
Let's dig into where we can find these churros at the Disney parks and what we can expect from them. At Disneyland Park, churros served by Buzz Lightyear Astro Blasters will be "Sour Apple Churro with option to add side caramel sauce." By Big Thunder Mountain Railroad you can expect a churro with crushed pretzels and peppermint. Hanging out by Sleeping Beauty's Castle? Grab a gingerbread churro before you get grumpy or sleepy. A sparkling purple sugarplum candy churro awaits you outside the Haunted Mansion.
If you're taking a break from the thrill of the rides and are ready for a sit down meal, holiday churro desserts will be added to a few menus. Find a churro sundae complete with "Peppermint ice cream and a cajeta-filled churro garnished with chocolate brownie crumbles, chocolate sauce, and whipped cream" at The Golden Horseshoe. At the Hungry Bear Restaurant, dig into "Churro Bites with eggnog gelato and caramel sauce." And, guys, your churro adventure is just getting started. There's more.
At Disney California Adventure Park you'll find peppermint churros with crushed candy canes and chocolate and vanilla icing, gingersnap churros and pumpkin spice churros with a cream cheese dipping sauce, and a churro with red and green sugar. Excuse me once again as I fill a stocking with sugary tears. This is the most generous early holiday present and I am so grateful.
While waiting in line for any and all of these churros would be worth it. You don't even have to. Thanks to Disney being imaginative — they are the park that built Tomorrowland after all — all you need is to download an app to skip the wait. According to the blog, "many of these seasonal items are available for mobile ordering through the Disneyland App! Mobile ordering makes it easier than ever for you to order, pay and pick up fresh food while spending a day at the parks."
With that, it's official, it's a whole new world of goodies at Disney parks. And while there are a lot of holiday specials to enjoy at the parks this season, these churros are sure to be the ~Belle~ of the ball.