Disney Launched A '90s Collection That Will Make You Want To Redo Your Whole Apartment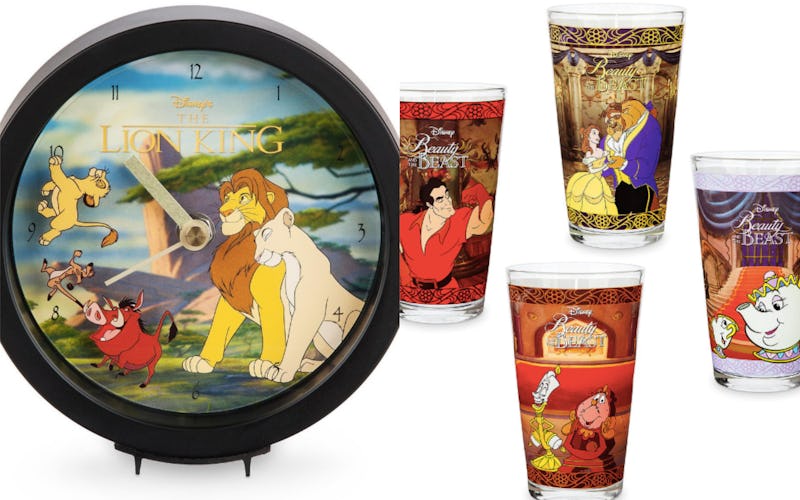 shopDisney
There is a lot of Disney merch out there. A lot, a lot. There's all the stuff available in the theme parks, plus everything available on the many pages of the online store. But yet, if you're a Disney fan, this new collection will probably get you excited for new merch once again. As noted by BuzzFeed, the Disney store has a new '90s collection, and really, people outside of the most passionate Disney fans might like this one, too, because it's a real throwback to the days of VHS tapes.
The collection is a collaboration between Oh My Disney (a Disney news site for fans) and Shop Disney. (Both of which are part of Disney itself, but hey, they're calling it a collab, so...) The Oh My Disney '90s Flashback Collection, includes products related to hits of the decade like The Lion King, Hercules, A Goofy Movie, and Aladdin, among others.
And there's a lot going on in this collection. There are T-shirts. There are records. There are notebooks. There are mugs. There are pens with an "E". There are pins with an "I". There are Charlotte Olympia-esque clutches that look like VHS cases. The list goes on and on. Here are some of the items Disney fans can get their hands on now... if they can handle being hit with a wave of pure nostalgia.
1. Hercules Mugs
2. Beauty & The Beast Cups
3. Rainbow Pens
4. VHS Journals
5. Vinyl Records
6. Keychains
7. Clocks
8. Enamel Pins
9. Lunchboxes
In addition to all of these, the Disney store has a ton more options from the '90s collection, too, so be sure to check those out whether you're looking to buy a gift for a Disney fan or need to fill the hole that's been in your heart since you donated all your '90s Disney stuff to Goodwill back in 2005.