This Adorable Celeb Baby Is The Real Star Of The 2017 VMAs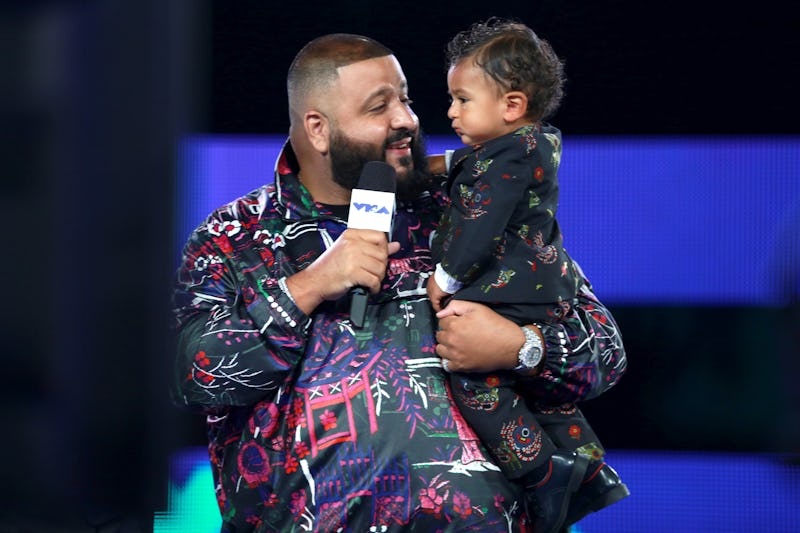 Rich Fury/Getty Images Entertainment/Getty Images
Musicians like Taylor Swift and Kendrick Lamar might've been the ones walking away from the 2017 MTV VMAs with trophies, but there's no question about it: it was DJ Khaled's baby son, Asahd, who really won the show. The 10-month-old appeared several times throughout the night, in the arms of his famous father and rocking a seriously cool look. The DJ might've been the one nominated for a handful of awards, but it was most certainly Asahd who came out the winner thanks to his handful of scene-stealing appearances.
It's no surprise that Asahd stole the spotlight during his time at the VMAs, considering how popular he already is on social media. The baby has over a million followers on Instagram, due to his seriously adorable posts showing off his impressive fashion sense, fun family activities, and red carpet appearances. Between the VMAs, the BET Awards, and more, Asahd is undoubtedly a pro at posing for paparazzi and keeping his cool when being brought on stage by his celebrity dad.
Fans watching the VMAs were obsessed with Asahd, both for his look and his hilariously unimpressed demeanor when he showed up on stage. The baby may not even be a year old yet, but he's already clearly a star in the making.
Hanging without headphones? Clapping for Fifth Harmony? This kid's a total pro. At this point, it's really only a matter of time before Asahd gets a reality show of his own, or at least a modeling contract. This little dude is bound for the spotlight, and as shown by his attitude and look at the VMAs, he'll be totally prepared when that moment eventually comes.