DNCE Says Their Nicki Minaj Collab Is "Infectious"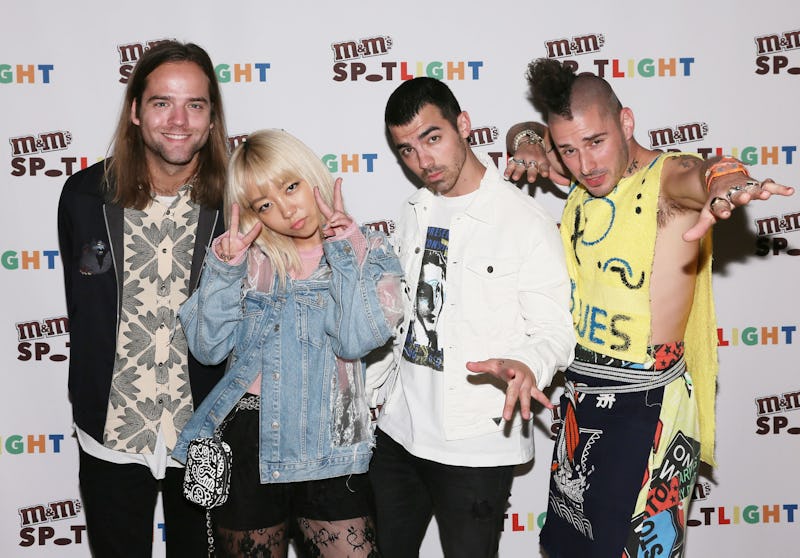 Topping something as catchy as "Cake By The Ocean" might seem impossible, but DNCE is hopeful that their newest project can do the trick. "Kissing Strangers," DNCE's collaboration with Nicki Minaj, is set to drop Friday and it just might become your newest guilty pleasure. It's the band's first single since they released their self-titled debut album last November, and DNCE is hopeful their new collab will get fans dancing all over again.
"We're just glad to get more music out there," lead singer Joe Jonas tells me before the band's M&M's Spotlight concert in Brooklyn. "I think [the song has] got similarities to 'Cake By The Ocean' where it's infectious, and hopefully it annoys people in the way where they can't stop singing it." Jonas even admits that the song has been getting stuck in the band's head, so it sounds like fans don't stand a chance.
DNCE's sound is all about bringing funky, retro vibes to modern pop, and "Kissing Strangers" is no exception. "It's kind of a throwback style song, and we wanted the visuals to kind of remind you of something in the '70s or '80s," Jonas says of the video that will be released for the single. "There's nods to iconic films, and if you've seen them, you'll pick up on them."
Snaps from the video shoot have been posted online, and one steamy picture with Jonas and Minaj has caused some serious hype. Fans are going wild over the photo, and Jonas is a little speechless himself.
"I didn't expect her to post that," Jonas says. "It's a genuine reaction. I was like, 'Oh my god, Nicki Minaj is very close to me. I love this. Don't make this stop.'"
Minaj captioned the picture on Instagram, saying she "roughed him up a lil bit," and Jonas agrees. "I'm still getting over it," Jonas says with a laugh. "No, it was really fun. She's a pro and beautiful and sexy and she does such a great job."
Minaj's presence worked perfectly with the eccentric and bold style of the band, according to DNCE's bassist Cole Whittle. "She's such a dynamic, larger-than-life character and personality, and that fits with us," says Whittle. "We don't ever play it safe, from our songs to our fashion to how we live everyday is kind of in the same way. It's fun and quirky, and I think that's the reason it worked so well."
As for what's after this collaboration, the band says they're taking things a day at a time. "It's all about what song we write or where we are in the world or where we're on a tour," Whittle says. He adds that fans can expect their recent shows in Korea and Japan to influence their music in the future.
The band recognizes that it has come a long way from holding surprise concerts for friends two years ago. Since then, DNCE has won the Best New Artist award at the VMAs and they're currently on an international tour, but they remain humble.
"We just want to play as much music as possible, do as many concerts as possible, and keep people dancing," Whittle says. With everything they have going on, one thing is clear: DNCE isn't slowing down anytime soon.