I Tested Out 5 AI Skin Apps To Find Out Whether They're Worth The Hype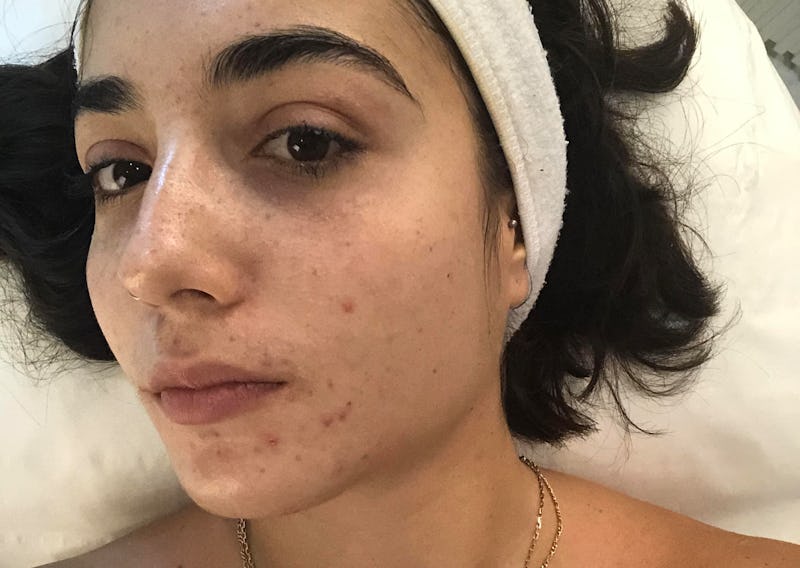 Courtesy of Fani Mari
Artificial Intelligence is already a force to be reckoned with in business, security, the financial sector, and more. But now it's beginning to make its way into other industries, including beauty. Over the past few years, a number of AI apps and websites have popped up, all claiming to help you self-diagnose your skin when it comes to breakouts, acne, skin ageing, eczema, and more. I tested some of them out to see if they live up to the hype.
In the UK, the options for those with skin concerns are pretty limited, and that's predominantly down to two things: money and time. In London, for instance, a dermatologist appointment can cost up to £100 per hour, sometimes more. And if you go in to visit your GP, they will most likely refer you to a specialist; a process that can end up taking months to get sorted.
For the last few years, AI apps have been used in beauty to allow consumers to, for example, try on lipstick, or try out a new hair colour. Sephora have a Virtual Artist, Harrods has Magic Mirrors that allow you to virtually try on makeup. But these only deal with colour cosmetics. Now the technology is taking on skincare.
I first noticed AI skincare apps when La Roche Posay, one of the most well-respected brands for acne-prone and sensitive skin, came out with an online tool, SpotScan, earlier this year. I tried it out, as well as a few other websites and apps with a similar focus, wanting to see whether they could really help with a skin condition from the comfort of my sofa.
As a brief background, I am acne-prone and have had acne for more than 10 years. I was lucky enough to visit a dermatologist who prescribed medication as needed throughout the years, but I know not everyone is able to do so.
Read on for the app analysis and my thoughts as well as expert comment from skincare professionals.