Donald Trump Jr. & Paul Manafort Have Run In Similar Circles For Quite Some Time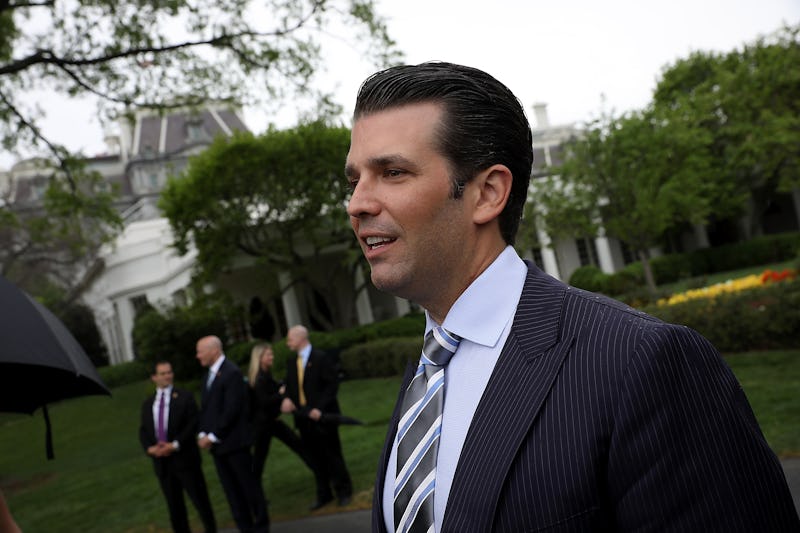 Win McNamee/Getty Images News/Getty Images
Donald Trump Jr. is set to testify on Wednesday before the congressional panels investigating possible collusion between the Trump campaign and Russians during the 2016 election. Though former Trump campaign manager Paul Manafort had his subpoena withdrawn on Tuesday, both he and Trump Jr., alongside Jared Kushner, raised eyebrows after reporters learned they attended a meeting with Kremlin-associated lawyer, Natalia Veselnitskaya, in June 2016. So, you may be wondering if Trump Jr. and Manafort know each other.
The short answer is yes, they do know each other. And it ultimately, their familiarity with each other led to the three men attending the same June 2016 meeting with Veselnitskaya.
Earlier this year, The White House downplayed Manafort's role within the campaign. Press Secretary Sean Spicer said in March that Manafort "played a very limited role for a very limited amount of time." This was particularly emphasized when investigations into potential Russian interference in the election brought up Manafort's various connections to the Russian government.
However, Trump Jr. himself had gone on-record praising Manafort for his extensive work within the campaign in the past, telling the Associated Press last July:
We couldn't be more happy with the work that he's doing, the way he's tackling these things, the way he's handling the organization of everything going forward.
Manafort's history with the Trump family didn't start with the election, though. As Business Insider noted in its exhaustive explainer of Manafort and his Russian probe connections, Manafort has been connected with the Trump Organization since the 1980s when they first hired his lobbying firm. From there, Trump Sr. befriended Manafort's partner, Roger Stone, who eventually led to Manafort getting the campaign chairman gig. (Manafort also owns an apartment at Trump Tower with his wife that they stay in while in Manhattan.)
While there isn't a whole lot written on Trump Jr. and Manafort's relationship during the campaign, it can be assumed that — at least at the time of the emails and the meeting with Kushner and Veselnitskaya — that they were conversationally and professionally in touch.
Particularly, as Trump Jr. initially stated that the meeting was about the 2012 Magnitsky Act and Russian/American adoptions, one would assume that discussing that cause (or allegedly incriminating information) put them in similar circles, at the very least.
As both Manafort and Trump Jr. both reached deals to avoid public hearings this week — by instead supplying documents and sitting down for private interviews with committee members — it may be a little while longer before America knows the full story.