The FDA Actually Says This Sleepwear Can Make You Sleep Better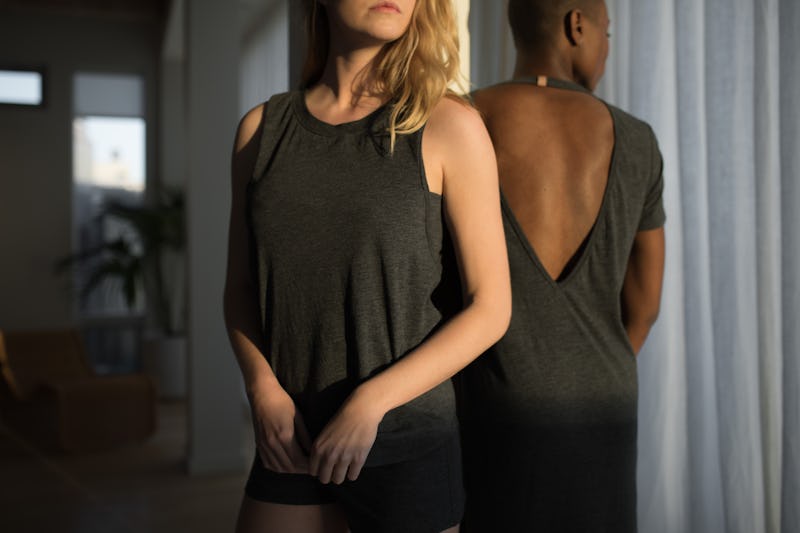 Courtesy Lunya
There is nothing better than a good night's sleep. I've gone to great lengths to sleep better. I'm talking essential oils, lotions, and shutting down screens an hour before bed. Nothing was fool-proof — until I found these pajamas. Lunya creates sleepwear that is FDA tested to help you sleep. I tested them out for a week and couldn't believe how much of a difference the clothing made.
According to the brand, the fabric is made of Celliant fibers that absorbs and coverts body heat into infrared energy. It then reflects the energy back into the body to help you sleep better and more comfortably while increasing your energy and helping you recover from workouts. Basically, it recharges your body just like you do your phone every night.
"The clothing you wear to bed has a huge impact on how you sleep - just think about how disruptive it is to be awoken by a twisted spaghetti strap, pants that are riding up, or fabrics that don't breathe," Ashley Merrill, founder of Lunya, tells Bustle.
As crazy as this sounds, Lunya's pajamas really do work. After about a week of rough sleeps, dealing with the time change, and long nights, I was excited to try the sleepwear out. I didn't change anything about my sleep routine excpet for wearing the pajamas, and I genuinely got a better sleep than I had been getting before. It couldn't be a coincidence.
The fabric was first approved by the FDA in 2017, according to PR Newswire. Since then, it's been used in workout gear and even sheets, but this is the first time that a brand is using it in pajamas to help people sleep. Lunya is already known for its luxury sleepwear made from sustainable and eco-friendly fabrics, but this is an entirely new level of sleepwear.
"As women we understand these everyday problems, and Lunya was launched to make women feel comfortably confident with thoughtful smart design and quality fabrics," says Merrill. "With our Restore collection's new FDA regulated technology, we are taking another exciting step in helping women improve their sleep. Our goal with this collection is to enable women to wake up feeling reinvigorated by a restful night's sleep."
This sleepwear does what it says it will do. Not only did I sleep through the night and feel better in the morning, but I fell asleep faster. The clothing is comfortable, doesn't have tags, and stays in place all night.
You can shop all the styles on the Lunya website right now. The brand created a pair of shorts, crewneck, tank top, and sleep dress in gray and navy blue. The price ranges from $62 to $188, and it's worth every single penny.
When I explained to my boyfriend how the FDA regulated technology worked, he mentioned how it sounds a lot like the recovery workout gear that he's heard of. Upon doing a little research, I realized that, well, he was right.
According to the fabric brand's website, Celliant is branded as workout gear that combines physics and biochemistry to make for comfort. Lunya just went one step further and made it into sleepwear that's actually practical for the everyday person.
"Restore sleepwear doesn't require special care or laundering," Merrill says. "This functionality is embedded into the core fibers of the fabric so that it cannot wash or wear out. The technology is not based on a coating or an application, so the benefits of the technology last the life of the fiber and the products - so wash, dry, sleep repeat!"
This might look like your average pajama sets, but it's something special. Plus you can toss it in the washer and not have to worry about the better sleeping magic falling out of it.
If you think you've tried everything to get a better sleep, think again. There are tons of gimmicks and trends out there, but this is one brand that will always be in style.
UPDATE: An original version of this story stated that Lunya sleepwear was FDA-approved. The fabric is FDA tested and regulated, but not approved.