A Deep-Dive Into Melania & Ivanka Trump's Complicated Relationship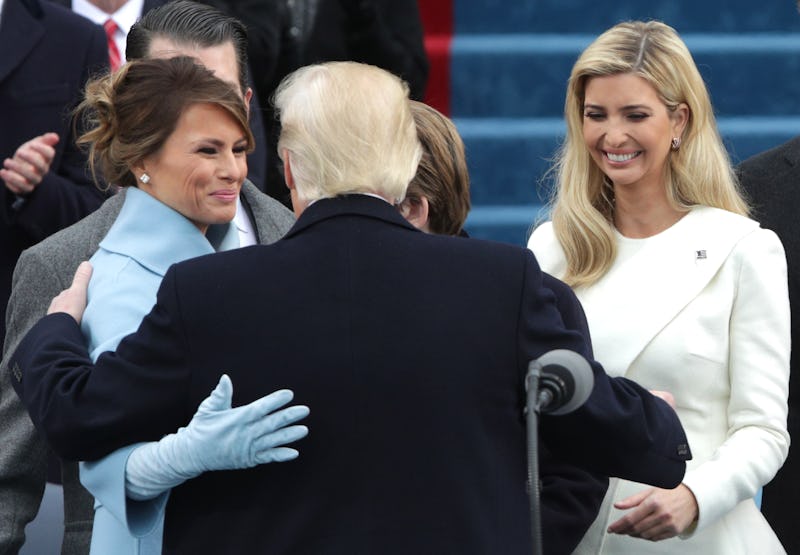 Alex Wong/Getty Images News/Getty Images
A lot has been written about Donald Trump's relationships with the various women in his life. Less attention, however, is paid to how those women orbiting the president relate to one another, especially the two closest to him — his wife and eldest daughter. And so, it begs the question: Do Melania and Ivanka Trump get along? It's a difficult answer to pin down.
From the outside, it often seems as if Ivanka and Melania occupy two very different spheres in Trump's life. Melania is known for avoiding the spotlight and devoting much, if not most, of her energy to her and Trump's son, Barron. Ivanka, however, is an adviser to her father, and has an office near his in the West Wing off the White House. In other words, Melania appears to occupy a more domestic realm, and Ivanka tends to position herself as more business-oriented.
Melania has historically said as much, herself. "I am a full-time mom; that is my first job. The most important job ever," Melania told Parenting when Barron was 6 years old. "I started my business when he started school. When he is in school I do my meetings, my sketches, and everything else... Sometimes I have obligations, but I also think children need to see a parent do what her passion is."
Still, Melania is married to Ivanka's father, and both live in Washington, D.C., though Ivanka (and her two brothers, Donald Trump Jr. and Eric Trump) do not necessarily need parenting from a stepmother. Melania said she recognizes this.
"They are grown-up," Melania told Harper's Bazaar in January of 2016. "I don't see myself as their mother. I am their friend, and I'm here when they need me."
Ivanka has offered similar platitudes about Melania over the years. "Melania is an unbelievable mother," she told People in July of 2016. "It's pretty uncommon for wives of candidates to not be on the campaign trail every day. And she made a decision I totally respect which is that she has a young son, he needs stability, he needs routine."
She went on to describe Melania as "an unbelievably consistent, loving, and reliable figure in Barron's life."
While the two have tossed gentle compliments about each other's parenting techniques, several unnamed sources who work in "fashion and media" told Vanity Fair in May of 2017 that there was a "frostiness" between the two. (Melania's spokesperson, Stephanie Grisham, flatly denied this, telling the magazine that Ivanka and the first lady "have always shared a close relationship, and that continues today.")
While the president has a storied reputation for giving candid interviews and tweeting his personal opinions out into the world at a breakneck pace, Melania and Ivanka have demonstrated a more measured approach. Each has quietly and calmly tackled any of the several scandals which have cropped up in their lives, deferring largely to either silence or politesse.
This was the case when the internet accused Melania of plagiarizing a speech from Michelle Obama, which Trump's camp denied. It was also the case when retailers started to drop Ivanka's namesake brand from their shelves, which Ivanka's team appeared to more or less shrug at, telling Elite Daily that the brand "continues to expand."
Melania and Ivanka both have their own children and their own marriages to attend to (and Ivanka her career in government as well), so it's reasonable that they might not spend an excessive amount of time together. But their ability to handle the press and maintain a shroud of privacy around their personal lives makes it difficult to gauge precisely how warm or cold their relationship actually is. Chances are, unless they individually choose to divulge what it's like between them, this is a mystery that will remain, at least relatively, unsolved.