The Pence Kids' Opinion Of Trump Is A Mystery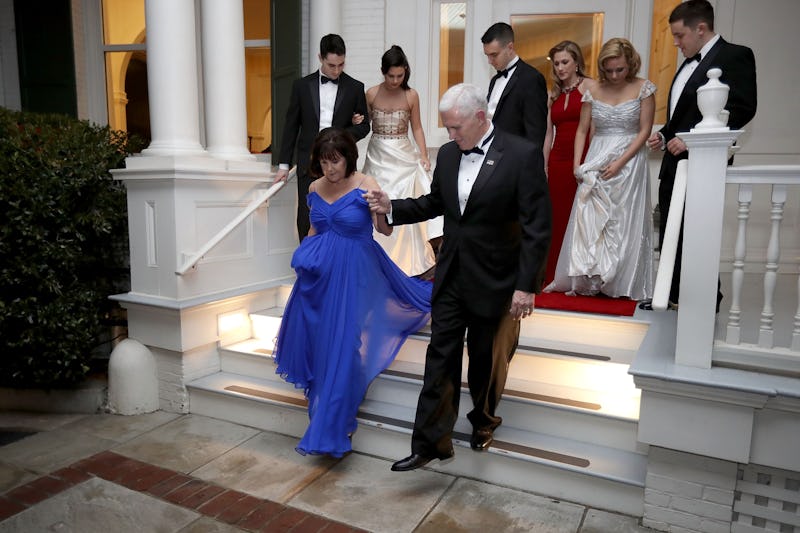 Chip Somodevilla/Getty Images News/Getty Images
The vice president's political career has always been a family affair. His wife and three kids — two daughters and one son — have stood by him throughout his time as the a U.S. representative and as the governor of Indiana. But as holiday tables across the country have proved, his boss has the ability to divide even the tightest of family bonds. So, do Mike Pence's children support President Donald Trump?
Pence's youngest, Audrey, made waves on the campaign trail when it was revealed that she considered herself socially liberal. That's clearly at odds with her father's brand of politics: he was the target of myriad think pieces when, as governor of Indiana, he signed a religious freedom act into law that would allow businesses to refuse service to gay people based on their religious beliefs. He's also signed into law some of the strictest abortion laws in the country.
It's safe to say that Audrey didn't get her socially progressive attitudes from her dad. But though she described herself in 2013 as "politically independent, socially liberal," Audrey hasn't been vocal about Trump since he took office, or on the campaign trail for that matter. She did spend time in Jordan and Turkey in college, both of which are majority-Muslim countries. I'd be curious to hear what she had to say about Trump's refugee ban.
Charlotte similarly parts with her father on his hardline conservative stance. She told the DePaulia, the newspaper of her alma mater, in June 2016 that her political views aligned more with independent or moderate rather than on the far sides of the spectrum. She did note, however, that though many of her friends aren't very political, if they are they're "very liberal."
Still, when it came to her own personal politics, Charlotte demurred when speaking to the paper. She said that thought she is interested in politics, she didn't firmly associate with either party, and expressed her belief that you can find politics fascinating without taking a view on it.
The most enigmatic of the Pence kids is the only son, Michael. Michael is in the Marines, and went straight back to his station in Mississippi after the inauguration. He hasn't spoken much about his political stance or if he believes in what Trump stands for. And though there is a certain tendency to put members of the military into the conservative category, it's worth noting that both Joe Biden's son and Hillary Clinton's running mate Tim Kaine's son were both in the military. Does that mean that they were liberal? No. But it's just a point to say that assumptions about military families shouldn't be rooted in politics.
So it's hard to gauge what Pence's children think about Trump. They haven't been openly hostile, nor have they openly embraced the president and his young administration. But, as all good political kids do, they're standing behind their dad.