Why Voiding These Obama Officials' Security Clearance Would Be Totally Unprecedented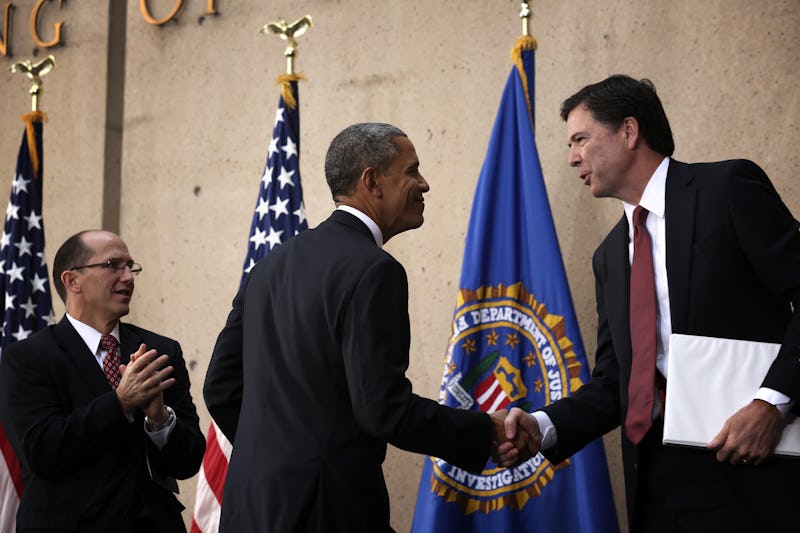 Alex Wong/Getty Images News/Getty Images
Rebuffing comments about the federal probe into possible collusion between Donald Trump's presidential campaign and Russia, White House Press Secretary Sarah Huckabee Sanders suggested the president has a new plan. Sanders said that Trump is looking into revoking former Obama national security officials' security clearances. Some observers might be curious to know: Do Obama officials still have security clearance? Trump's plan, if successful, would be an unprecedented move made by an American president.
As she spoke with the press on Monday, Sanders explained the reasoning behind a potential move like stripping security clearance of former officials. "They've politicized, and in some cases, monetized their public service," she said. "Making baseless accusations of an improper relationship with Russia is inappropriate."
"When you have the highest level of security clearance," Sanders went on to say, "when you're the person that holds the nation's deepest, most sacred secrets at your hands and you go out and you make false accusations against the president of the United States, he says that's something to be concerned with." The press secretary said that the White House was "exploring what those options are and what that looks like."
The White House press secretary's remarks came after Kentucky Sen. Rand Paul tweeted, "I restated to [Donald Trump] what I have said in public: John Brennan and others partisans should have their security clearances revoked." Those whose security clearance is in question include former CIA Director John Brennan, former FBI Director James Comey, former FBI Deputy Director Andrew McCabe, former Head of National Intelligence James Clapper, former NSA Director Michael Hayden, and former National Security Adviser Susan Rice.
In response to the White House, Clapper slammed the president's potential move and explained that some former security officials don't even possess in-depth clearance. Clapper told CNN, "The security clearance has nothing to do with how I, or any of us, feel about the president. I don't get the briefings, I don't have access to any classified information."
If anything, Clapper noted, the security clearance was more like a "courtesy" to those who worked for previous administrations. Above all, Clapper said, "I don't know what to say. I think this is just a very, very petty — a petty thing to do. And that's about all I'll say about it." If Trump decides to revoke the nominal security clearance these officials have, Clapper said, "I think that's a terrible precedent and I think that's a very sad commentary. And it's an abuse of the system."
As far as Comey is concerned, New York Times reporter Michael Schmidt tweeted that the former FBI director "has not had a security clearance for a year." Similarly, McCabe's spokeswoman, Melissa Schwartz, tweeted that McCabe's "security clearance was deactivated when he was terminated, according to what we were told was FBI policy."
Schwartz went on to add, "You would think the White House would check with the FBI before trying to throw shiny objects to the press corps."
So, how would Trump go about this move? If he wants to revoke whatever is left of these officials' security clearances, the president could raise the clause related to the administration's interest in national security. If not that, the president could give a written explanation for his move and then await a response from those targeted. The 1988 Supreme Court case Department of the Navy v. Egan set the precedent that presidents can decide "whether to agree to grant or continue a security clearance," attorney Sean Bigley told the Washington Post.
That said, national security experts say that such a move, never made before, could lead to institutional havoc. Former FBI Special Agent Frank Montoya told CNN, "It is absolutely unprecedented. In the end, the president is the final authority [on security clearances], but it's an abuse of power."