Here's Why We're Obsessed With Weather Apps — Whether Or Not They Actually Work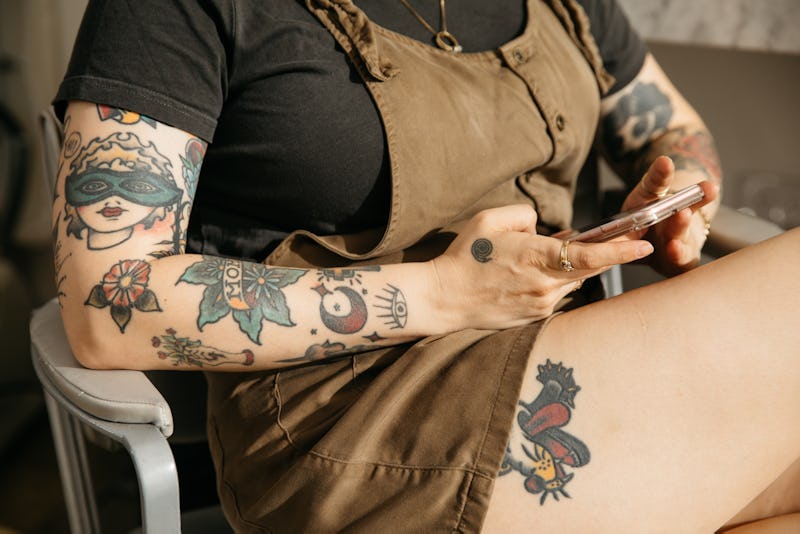 Ashley Batz / Bustle
Despite recently finding out that weather apps may not be all that accurate, when I heard a winter storm was rolling into my city today, the first thing I did was reach for my iPhone to see when the snow was expected to begin. Having weather information right at our fingertips when we're trying to plan our days or decide what to wear is comfortable and reassuring. Americans on average check our phones 46 times per day, according to one survey, and I know that for me, at least, a good chunk of those checks involve glancing at the weather. And even knowing that the info I'm seeing may not be correct, I'm probably never going to stop checking my weather app — and I'm willing to bet you won't, either.
The Outline recently published an investigation revealing that the weather apps we use on the daily rarely involve the input of professional meteorologists, and there are no guidelines to regulate how weather apps create forecasts. "Basically, there's no reliable way for users to get vetted weather information on their phones," Caroline Haskins writing for The Outline reported. On top of that, meteorologists Haskins spoke with "would like the world to know they have nothing to do with [weather apps], thank you very much."
If you're using the stock app that came with your Apple or Android phone, you're part of the majority. But those apps simply regurgitate computer-modeled forecasts, and they don't involve forecasts checked by people, Haskins wrote. By contrast, AccuWeather, which according to research is accurate about 75 percent of the time, employs more than 125 expert meteorologists who work with AccuWeather's computer-modeled forecasts and are "able to hone in on specific impacts and enhance those forecasts even further," AccuWeather vice president Jonathan Porter told The Outline.
Even knowing all this, though, the forecast for all of us ditching our weather apps is not favorable. Google search data from 2017 showed that searches for "weather" outnumbered searches for "sex" at a ratio of four to one, The Guardian reported. And a 2012 study showed that a whopping 47 percent of us say the number one thing we do with our smartphones is use them to check the weather.
Smartphone access to instant weather info is part of "meeting the appetite that smartphones naturally create for immediate information," Eric Floehr of ForecastWatch told The Outline. "Forecasts used to be a couple days ahead. Now, you're planning your outing for the weekend on Monday. And you're [also] just looking an hour out, a minute out. So it's changing the horizons. The horizons of forecasts are broadening."
As someone with generalized anxiety, checking the weather and knowing hour-to-hour details is a comforting habit — something that makes me feel prepared to face the world. But as a journalist, I find it a little disconcerting that it's comforting to arm myself with knowledge I know is probably not accurate.
If you want to update your phone with the most accurate app you can, there are a couple apps that have passed muster. In 2016, CNBC conducted an investigation that "looked at how eight services predicted temperatures and rain at nearly 800 weather observations stations across the country, based on data from ForecastAdvisor," and found information showing that AccuWeather's app, an app called MeteoGroup, and an app called Dark Sky are good options for accurate forecasting.
As for an insider's expert opinion, Floehr told CNBC, "In general, it's hard to say that one [service] is more accurate than another in all domains. But I would say that companies like the Weather Channel and AccuWeather are definitely interested in accuracy and invest in making sure that their processes and models and meteorologists are at the forefront of technology."
There's no denying that the weather is compulsively checkable, and thankfully, apps like these help change our forecasts from "sunshine with a chance of ehhh, who knows" to something we just may be able to rely on.