David Tennant & This 'Doctor Who' Fave Are Returning To The Tardis & I'm SHOOK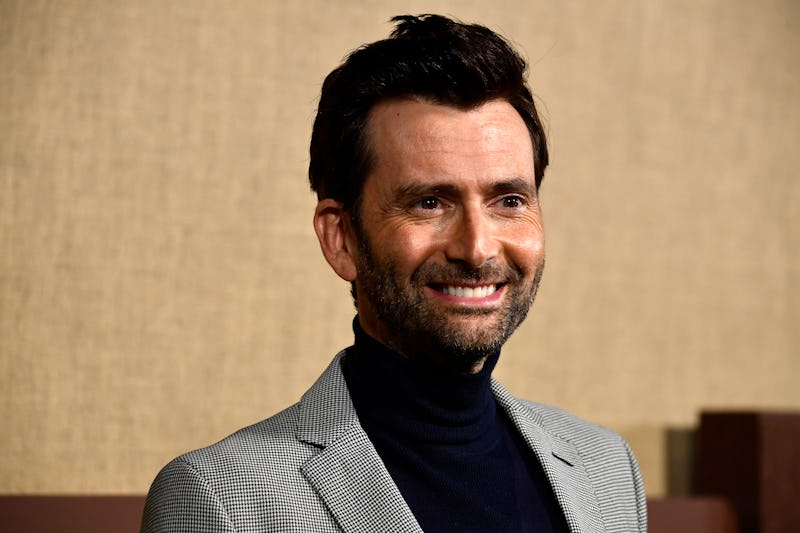 Frazer Harrison/Getty Images Entertainment/Getty Images
Strap in for an age crisis, Doctor Who fans: it's been eight entire years since Catherine Tate's Donna Noble last appeared on-screen. Tate's last appearance was in David Tennant's final episode, before his regeneration into Matt Smith's Eleventh Doctor — and an awful lot of Whovians have missed the witty back-and-forth between the Doctor and Donna ever since. Which makes the following news even more delightful: Doctor Who's David Tennant and Catherine Tate are reuniting for a brand new audio play, as Digital Spy reports.
The strictly platonic, absolutely-not-married couple will appear in three new audio plays created by production company Big Finish, in a box set titled The Tenth Doctor Adventures — Volume Three. The set will be released in May 2019 (which is entirely too long to wait). And there's a few more classic characters returning, according to Digital Spy: Jacqueline King will feature as Sylvia Noble, Donna's mother, while Bernard Cribbins will bring Wilfred Mott, Donna's grandfather, back to life. The cover of the box set, meanwhile, indicates that an old foe of the Doctor's will also make an appearance: the Judoon, the rhino-like interplanetary police who first featured in the debut episode of Freema Agyeman, playing Doctor Martha Jones.
Big Finish have released three mysterious titles: "No Place," written by James Goss; "One Mile Down," written by Jenny T. Colgan; and "The Creeping Death," written by Roy Gill. All sound very sinister, don't they? According to Digital Spy, the Doctor and Donna will "pop back into history where menacing threats lurk in 1950s London's smog, explore dangerous underwater worlds with the Judoon, and go on their most treacherous journey yet...into the horrifying world of reality television!" (I won't tolerate your reality TV judgement, Doctor Who.)
Another little Easter egg: they'll be directed by Nicholas Briggs, who Whovians might know best as the voice of the Daleks, the Cybermen, the aforementioned Judoon, and the Nestene Consciousness, to name but a few.
David Tennant and Catherine Tate have worked together outside the Doctor Who universe, after both actors' final appearance on the TV show. Back in 2011, they starred as wisecracking enemies turned wisecracking married couple in a West End production of Shakespeare's Much Ado About Nothing, to glowing critical reviews. The Doctor and Donna's bickering dynamic almost certainly prepared the pair to play the verbally dexterous Benedick and Beatrice.
And this isn't actually the first time the Doctor and Donna have reunited for an audio play, as Digital Spy points out. Both Tennant and Tate starred in The Tenth Doctor Adventures — Volume One; which came out in May 2016. In the box set, the duo faced a menacing foe at London's Technology Museum, confronted a lethal alien weapon, and once again saw Donna's wedding plans upended by an extraterrestrial terror. (Rose Tyler fans might also want to take note: Billie Piper popped up in November 2017's The Tenth Doctor Adventures — Volume Two.) If you'll excuse me for a moment, I'm just going to hastily delete every podcast from my phone so I can catch up on the whole series.