Jodie Whittaker Nailed Her First Outing As 'Doctor Who' & This Is Why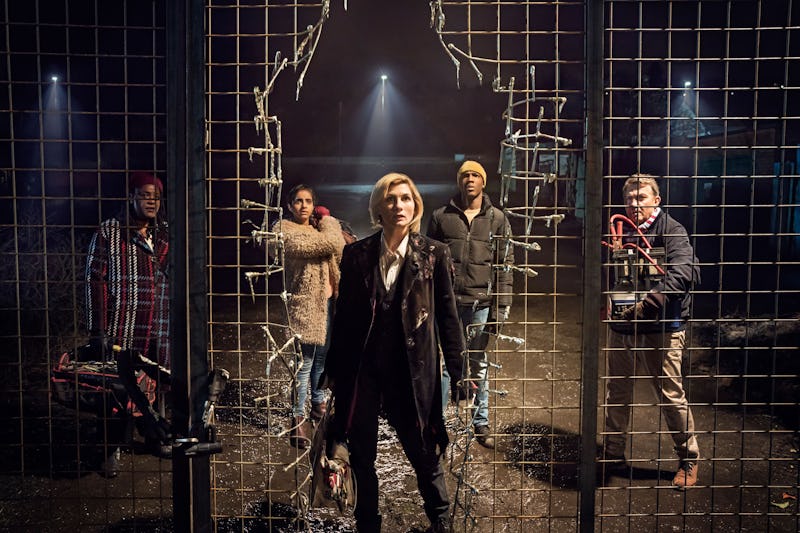 Ben Blackall/BBC/BBC Studios
Have you recovered yet, Whovians? Jodie Whittaker's first full episode of Doctor Who, "The Woman Who Fell To Earth," finally premiered, and there was an awful lot to take in. A host of new characters, for one: alongside Whittaker's Doctor, there's Tosin Cole's Ryan Sinclair, Mandip Gill's Yasmin Khan, Sharon D. Clarke's Grace O'Brien, and Bradley Walsh's Graham O'Brien. A new sonic screwdriver, handcrafted from Sheffield steel. And one of the more gruesome Doctor Who villains of recent years, who indulged in a spot of human teeth-related body modification. My verdict on the series premiere? I'm wholeheartedly on board.
First, a plot recap (thorough spoilers ahead). The episode begins with Ryan vlogging, because if there's one thing the BBC knows about the teens, it's that they can't resist a YouTuber. Ryan, he explains, can't ride a bike (he has dyspraxia, it's later revealed), hence his hilltop lessons with his nan, Grace, and step-grandad Graham. Ryan's the inadvertent catalyst for the events of the episode: when recovering his bike after flinging it into the woods, he touches some glowing gold squares, suspended in mid-air, that turn out to be a sort of intergalactic permission slip; subsequently, he encounters a strange, Hershey's Kiss-shaped vessel. One immediate benefit of the Hershey's Kiss? It brings him back into contact with old primary school friend Yasmin Khan, now a police officer.
Grace and Graham's train home, meanwhile, is held up by a giant, electric tumbleweed, which takes particular interest in passenger Karl. Enter the Doctor, through the roof of the train; she's disorientated, can't remember her name, and is missing her sonic screwdriver. The new team — the Doctor, Ryan, Yas, Grace, and Graham — ultimately piece together that the tumbleweed is in service of a significantly bleaker monster, a blue-faced alien named T'Zim-Sha, or Tim Shaw, who studs his face with the teeth of his victims. He's on an interplanetary bounty hunt to prove his worth as a Stenza leader, and his chosen target is Karl.
Unfortunately for the acrophobes, Karl is a crane operator, and the Doctor, Yas, and Ryan must manoeuvre the cranes to rescue him. After some bargaining and a sneaky switcheroo by the Doctor, T'Zim-Sha/Tim Shaw is incapacitated, and Karl swiftly kicks him off the crane. On the ground, Grace and a reluctant Graham tackle the tumbleweed (Grace: "Is it wrong to be enjoying this?" Graham: "Yes!"); though Grace succeeds, she falls from the side of the crane and dies.
After Grace's death, Ryan returns to his bike with renewed determination, while Graham delivers a heartfelt speech at her funeral. Then, it's time for the Doctor to leave in pursuit of her missing Tardis, using a reworked Stenza transport pod. But the technology backfires ever so slightly, and leaves her drifting in space — along with Ryan, Yas, and Graham.
So, first impressions of Jodie Whittaker's Doctor. Like her predecessors, she's determinedly non-violent, chastising Karl when he boots Tim Shaw to his presumed death. As Mandip Gill told Entertainment Weekly, she's also extremely high energy — "a similar energy to Matt Smith's Doctor," Gill pointed out. And she's deeply empathetic, too, consoling Ryan over the loss of Grace and even attending her funeral.
The Doctor's gender barely comes up in the episode at all, besides a quick exchange with Yaz that ends with the Doctor explaining, "Half an hour ago, I was a white-haired Scotsman." That's pretty much in line with Jodie Whittaker's comments about her role — she told Marie Claire, "I recently had someone ask me, 'Are you playing it [the Doctor] as a girl or a boy?' I replied, 'I'm just playing it.'"
While there are arguments for continuing this approach throughout the series, it's difficult not to find it a little incongruous with the way women move through the world. The Doctor typically enters perilous situations, commands almost immediate respect, and assumes a position of leadership, which few ever challenge. But in real life, female leaders are continually denied the same credit as men, as studies have demonstrated, and women are often overlooked for leadership roles simply because of their gender. Will the Doctor be faced with this bias at any point in the series? There's a hint of it in the second series trailer, when an offscreen voice asks Ryan, "Why are you asking her [what to do]?" Ryan responds, "She's in charge, bro," only for him to retort, "Says who?"
What other questions are we left with at the end of the episode? Well, there's the small matter of how the Doctor, Yaz, Ryan, and Graham will make it to the Tardis — the episode left them suspended in space, after all. And then there's the question of how the Doctor will persuade her new friends to become her companions. They're already closer than other Doctor-companion relationships at this stage in the series — the Doctor attended Grace's funeral, for instance, while the group subsequently took her outfit shopping. But while Yaz, tired of policing parking disputes, probably won't need asking twice to join the Doctor on an adventure through space and time, the reserved, hesitant Graham might take a bit more convincing.
The episode also establishes grief as a central theme, through the death of Grace. Both Ryan and Graham suffer a severe loss when Grace dies; plus, it's revealed that Ryan's vlog about the "greatest woman [he] ever met", which opens the episode, is actually about his nan, not the Doctor. It seems likely that loss will shape, at least to some degree, Ryan and Graham's journeys in the Tardis. Could Ryan's desire to make his nan proud influence his actions in the face of peril? Could it be Grace's memory that inspires a reluctant Graham to embrace extraterrestrial adventure?
Showrunner Chris Chibnall has confirmed that this series will move away from predecessor Steven Moffat's complex narrative arcs, and will instead be solely comprised of stand-alone episodes — so "The Woman Who Fell To Earth" probably didn't contain many clues to future series plots. "With stand-alone stories, you can come in and not need any knowledge," Chibnall told Collider. "If you come in on episode five, episode seven, or episode nine, you can really access that, but there will be rewards for people who've been there since episode one, and there will be rewards for people who are long-term fans." On Twitter, those long-term fans were out in force.
Still, there's a lot to analyse in the series premiere (my burning question: are the Thirteenth Doctor's yellow braces a nod to the Eleventh Doctor's red ones?) One matter on which I will not countenance debate, however: Jodie Whittaker was made to be the Doctor.