Does 3 Doors Down Support Trump?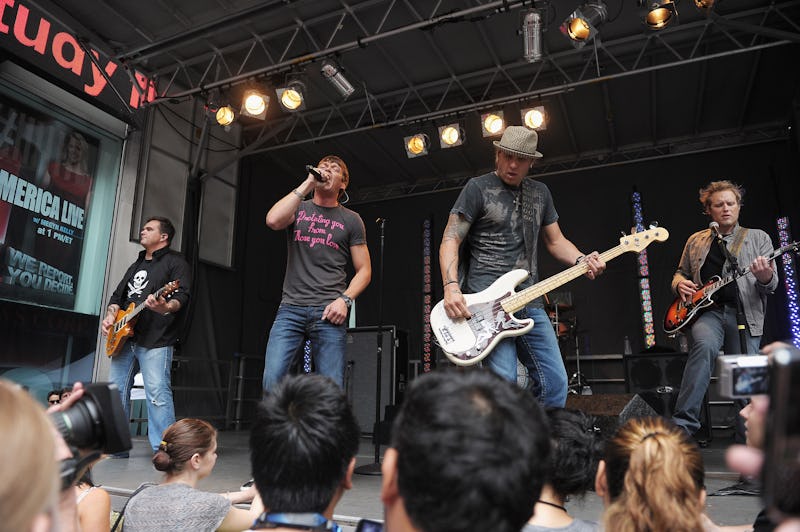 Michael Loccisano/Getty Images Entertainment/Getty Images
It's no secret that Donald Trump has had some difficulty securing musical acts to perform at his inauguration celebration. The Daily Beast has even compiled a long list of artists, who have supposedly refused the invite for a variety of reasons, from Elton John to Andrea Bocelli. Trump's party entertainment planning hasn't been entirely fruitless, though. In addition to Jackie Evancho and Toby Keith, 3 Doors Down is said to be performing at Trump's inauguration, per The Hollywood Reporter, which, begs the question, do 3 Doors Down support Donald Trump?
Bustle has reached out to a rep for the band for comment, but did not receive an immediate response.
Performing at an inauguration is not an official endorsement, but it is kind of curious that the band would step up when many others would not, likely out of fear that it would look like an endorsement. Case in point, The Daily Beast reports that Bocelli ultimately didn't do it, reportedly because of pressure from fans on social media.
The 3 Doors Down Instagram posted about the performance and in a caption, told fans out to find out info about attending:
The "'Make America Great Again!' Welcome Celebration" will take place Thursday, January 19th and will be broadcast live to the nation from the steps of the Lincoln Memorial. It will feature historic remarks from President-elect Trump and special appearances from Toby Keith, Jon Voight, Jennifer Holliday, DJ Ravidrums, The Piano Guys, Tim Rushlow ("Little Texas"), Larry Stewart ("Restless Heart"), Marty Roe ("Diamond Rio"), Lee Greenwood, and 3 Doors Down. Information for free public events can be found at 58PIC2017.org
But, while promoting the event, the caption doesn't specifically give away the band's political affiliation.
It seems that as of now, 3 Doors Down are only open about the performance, not about their politics. They haven't given a statement and aren't obligated to, so we may be left wondering or waiting until the band takes the stage at the inauguration to know whether they support Trump or not.