Donald Trump Is Speaking At The NRA Convention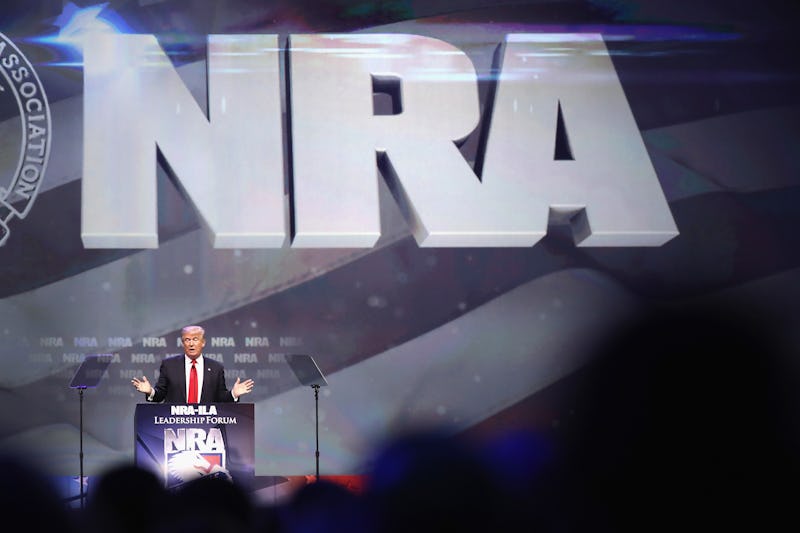 Scott Olson/Getty Images News/Getty Images
President Trump's relationship with the Republican Party is well known, but just what exactly makes him a conservative? Well, for one thing, it could be his love for the National Rifle Association (NRA). The president will address the NRA's annual convention on Friday in Atlanta and, as it turns out, Trump himself owns a gun or two.
Trump's NRA convention speech could take place in front of an audience of up to 80,000 Second Amendment supporters. In addition to the president, Texas Sen. Ted Cruz, Florida Gov. Rick Scott, Interior Secretary Ryan Zinke, and Agriculture Secretary Sonny Perdue are expected to attend the convention, according to The Atlanta Journal-Constitution. Of course, Trump's appearance seems to be the most highly anticipated.
The president has vocally supported the NRA before. His campaign website called the Second Amendment a "fundamental right." During a presidential debate last year, Trump said he was "very proud" of earning the NRA's endorsement and he called the NRA "very, very good people." According to Open Secrets, the NRA Institute for Legislative Action independently spent more than $8.7 million during the election cycle to support Trump. But Trump doesn't just support gun ownership — reportedly, he also partakes in his Second Amendment right by having a concealed carry license.
In 2012, Trump reportedly revealed to The Washington Times that he had a concealed carry permit and that he owned a "couple" of guns. "But I don't talk about it," he said. According to the report, Trump admitted to owning a semi-automatic pistol and a revolver.
Trump also reportedly voiced his support for policies that allow gun ownership. "The way I view it, if nobody has guns, then only the bad guys have them. And they aren't giving up their guns," the now-president reportedly said.
More recently, Trump even touted his concealed carry permit on the campaign trail. According to Newsmax, Trump told a Tennessee rally crowd during his race for the Republican nomination that he had a concealed carry license from the state of New York. "Somebody attacks me, oh, they're gonna be shocked," he reportedly said.
Attendees to Friday's NRA convention could be expecting similar rhetoric from the president. In a particularly ironic twist, though, they shouldn't be expecting to bring their own guns to the event. On Thursday, the Secret Service announced that individuals would not be allowed to carry firearms into the convention. In other words, the president's signature, fiery rhetoric will have to suffice.