John Stamos & His Fiancée Are Expecting, Cue The "Dad Jesse" Jokes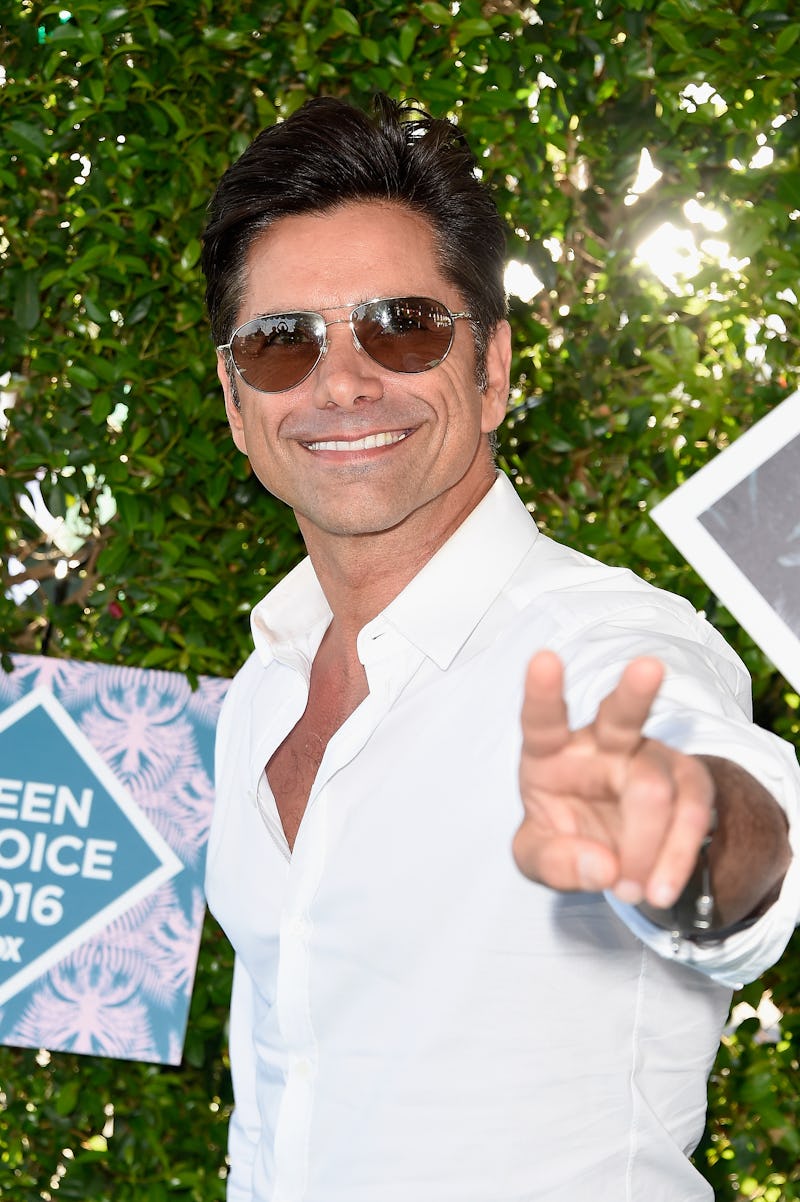 Frazer Harrison/Getty Images Entertainment/Getty Images
In news that would make Uncle Jesse say "have mercy!" (because, well, everything makes Uncle Jesse say "have mercy"), John Stamos and fiancée Caitlin McHugh are expecting a baby together. But this raises the question: Does John Stamos have children already?
The short answer is, no, Stamos and McHugh's imminent bundle of joy (whose existence the couple confirmed during a sweet interview with People on Dec. 13) will be their first. And, while Stamos professed that he has "always wanted to be a dad," the 54-year-old Fuller House star thought it might not be a feasible prospect for him anymore.
"People would say, 'You should have a child,'" Stamos said during the most recent episode of PeopleTV's The Jess Cagle Interview. "I was like, 'That ship has sailed.'"
Needless to say, when the couple found out they were expecting, it felt like a really, really, really big deal. (A few auxiliary really's to top the already tremendously "big deal" that is having your first child, amplified by the shock value that accompanies unexpected good fortune.)
"The look on John's face when I told him we were pregnant was priceless," McHugh told People. "It was the look of a man who has wanted a family of his own but wasn't sure it was going to happen for him. Now it is!"
Because, for Stamos and McHugh, who dated for almost two years before getting engaged this past October, this milestone has been a pretty long time coming. Stamos, in particular, has been periodically vocal about his perennial baby fever for a few years now. In 2015, he told Us Weekly that playing a parent on television has only ramped up his desire to have children of his own. Not a total shock for a man who has fashioned his vibrant, decades-long acting career out of playing charming dads on TV. "My ovaries are rattling. Do men have ovaries?" he asked the interviewer, jokingly. "They're jingling. I can hear them jingling now."
Stamos' gratitude for his baby-on-the-way (or, perhaps, his adorably genuine gratitude-disbelief hybrid) shone through in his sit-down interview with Cagle, People's editor-in-chief.
"I'm going full grown-up," a misty-eyed Stamos told Cagle, opening the interview segment. Cagle cut right to the chase, inquiring about the sex of Stamos and McHugh's forthcoming baby. To that end, Stamos kept a tight lip.
"We want to be surprised," he said. And then — in a move that might otherwise only be replicated in some kind of Hallmark commercial play-act of the world's most charming daddy-to-be — Stamos shed a tear. An actual, real tear. "I'm welling up," he said, ducking his head away from the camera to wipe his eyes.
When Stamos and McHugh had talked about having children in the past, Stamos told Cagle that his now-fiancée suggested they get going, potentially, before marriage.
"And I said, 'Why?'" Stamos recounted, before deftly sliding into her punchline: "Because you're old," she'd cracked.
But, for candidness' sake, Stamos mostly cast his quips aside. The real reason he finally felt the time was right to start a family? It was McHugh — the 31-year-old actor-model who doubles as a die-hard Disney enthusiast — that had him convinced.
"We have the same morals and the same values, that all clicked nicely," said Stamos. "So we said, 'Oh, well, maybe we should have a family."
And the rest, as they say, is history. As soon as McHugh found out she was pregnant, Stamos put a ring on it. (But not before asking her parents first.)
And, in a swoon-worthy gesture that might give Jesse Katsopolis a run for his money, the actor proposed to McHugh at Disneyland on Oct. 22, courtesy of a tear-jerker montage video featuring mushy, romantic clips from animated Disney films. Quite appropriately, Stamos closed the video with The Little Mermaid, a finale which prompted him to get down on one knee and "just ask the girl."
While this might be Stamos' first go-round as a real-life dad, he doesn't seem too stressed about learning the ropes. After all, he's gleaned quite a bit of experience fake parenting over the years. (Or, Mr. Katsopolis has, at least.) How different can it be?
"I'll be a fun dad. I've been practicing for a long time," Stamos said. "I've done every schtick you can do with a baby on TV … all the bits and jokes and diaper gags. I'll probably just do all that stuff."
Yeah, Stamos will probably still make a pretty good candidate for father of the year.