You Need To Subscribe To KVDB's YouTube Page Now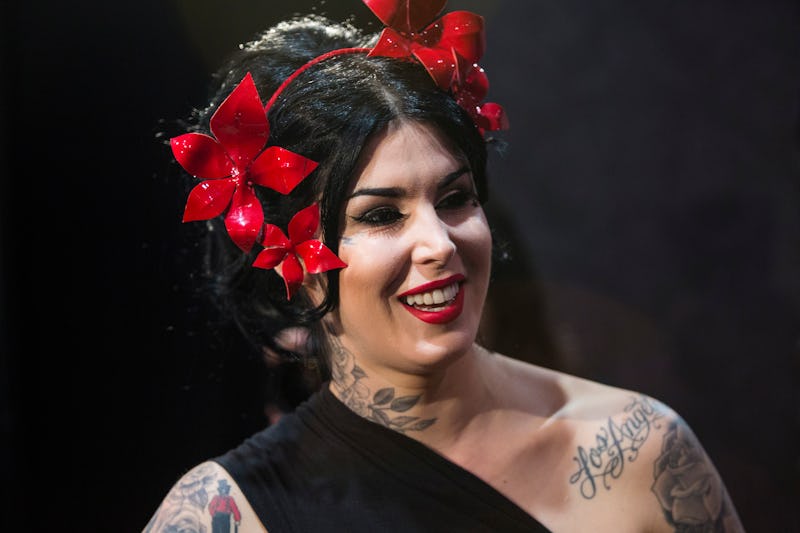 Jack Taylor/Getty Images Entertainment/Getty Images
Kat Von D-evotees have a new online space in which to congregate, share ideas, and gawk over/borrow intense makeup looks created by the brand's edgy, gothic, and rock 'n' roll-inspired repertoire of products. Kat Von D Beauty has just launched its YouTube page and yes, you can prepare to spend endless hours online, checking out the videos and tutorials on the page.
It makes sense that KVD Beauty now has an accompanying YouTube page. The brand's fearless leader Kat Von D has such a signature look, with her all-black ensembles, custom-cut rock tees, face tattoos, perfectly flicked eyeliner, and statement red lips. She is also a tattoo artist. Her entire brand is rooted in strong visuals and a YouTube page, stocked with tutorials and the work of other artists, is a no-brainer.
In the first video, which is just under six minutes but pulls you in and holds your attention, Von D offers an update on the expansion of her brand and introduces the Artistry Collective.
What's that? It's four makeup artists with unique and visually spectacular specialities.
Von D also noted that she is using the KVD Beauty YouTube page for beauty content. The update reads, "Hello, YouTube! FINALLY! Our official channel is here! I will no longer be uploading makeup videos to my personal channel, but instead gonna focus on uploading fresh new beauty content on THIS channel!"
On the KVDB YouTube page, you can expect tutorials, swatches, product reviews, sneak peeks, art performance, and all things KVDB. If you've not yet subscribed, you might want to do that, like, right now.
The Kat Von D Beauty Artistry Collective is comprised of Leah Carmichael, Steffanie Strazzere, Tara Buenrostro, and Kelsey Anna Fitzpatrick. In the initial video, Kat espouses each of their virtues.
Leah is a master of restraint and of flawless complexions.
Steffanie's work is beyond the goth x romantic aesthetic.
Tara caused Kat to rethink her "entire eyeliner life" — which is big, since her eyeliner game is already so on point.
Lastly, according to Kat, Kelsey can "school all of us on everything."
Why not throw each of these artisans an Insta follow?
Yeah, I am going to spend a lot of hours on this channel. How about you?
Images: Kat Von D/Instagram (1); Kat Von D Beauty/Instagram (4)