Kevin Spacey's Not-So-Secret Musical Past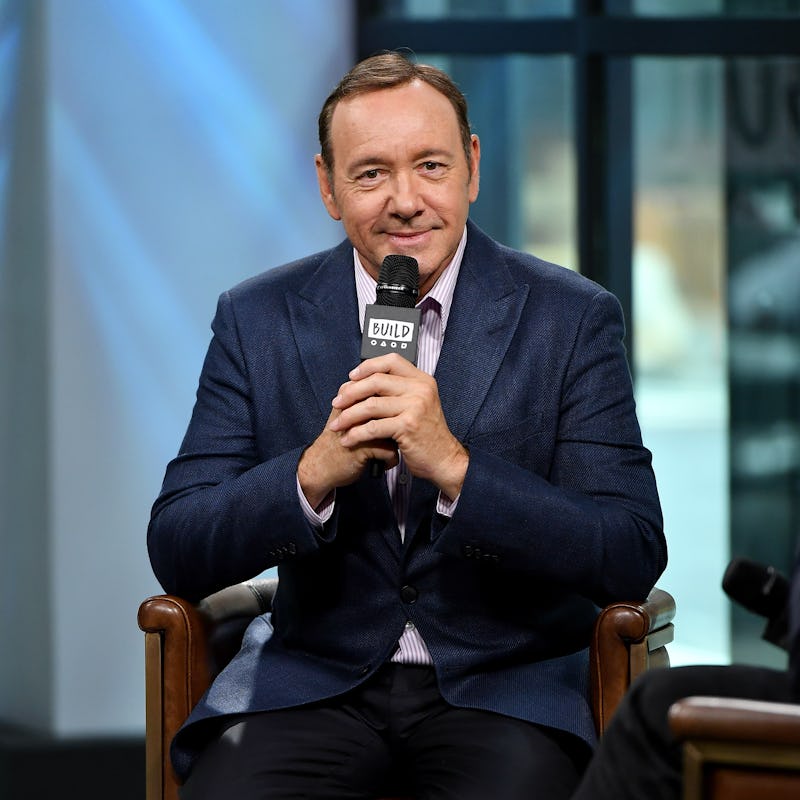 Dia Dipasupil/Getty Images Entertainment/Getty Images
Kevin Spacey is a man of many talents. He's an acclaimed actor, most recently in the spotlight for his Emmy-winning role of Frank Underwood on the Netflix Whitehouse drama House Of Cards, and has been in the business since the '80s. Still, many were surprised when Spacey was announced as the host of the 2017 Tony Awards, airing on Sunday, June 11. While he's not as known for his musical talents as past hosts Neil Patrick Harris and James Corden, Kevin Spacey can sing, and I have the videos to prove it.
The actor also has a Broadway pedigree, taking home the Tony for his role in Lost In Yonkers in 1991, and doing significant stage work before that. He went to school at Julliard, and he served as the Artistic Director of the Old Vic theater in London from 2003 to 2015.
But stage presence isn't the only requirement for hosting the Tonys — otherwise known as the biggest night in theater. Traditionally, the emcee does one or more big numbers, including a big opening, usually involving casts of the nominated shows.
If he's singing with nominees, Spacey needs to be able to hold his own. Does he have the musical chops? Check out these videos of the actor singing and decide for yourself.
2001 — An Emotional Lennon Cover
Spacey was one several of artists to perform at a 2001 John Lennon tribute. He was definitely the most surprising member of the line-up, which included artists like Nelly Furtado, Cyndi Lauper, and Dave Matthews. Spacey belted out Lennon's "Mind Games" after declaring his love for the singer.
2004 — Beyond The Sea
In the 2004 film Beyond The Sea, Spacey played "Splish Splash" singer Bobby Darin. The movie isn't a full-out musical, but still allowed the actor to show off his vocal talent. This clip of Spacey singing one of Darin's song with a live band prove that he doesn't need movie magic to sound great.
2011 — An Unexpected Black Eyed Peas Homage
The Tonys aren't Spacey's first hosting gig. In 2011, he hosted the Laureus Sports Awards, which honor individual athletic achievements. As part of his emcee duties, the actor surprised an audience full of athletes with a Black Eyed Peas tune. That's bold if you ask me.
2012 — An Impromptu Jazz Performance
Spacey made a surprise appearance at the Blue Note Jazz Club in New York City back in 2012. He took the stage to sing the Frank Sinatra tune, "Come Fly With Me" for an unsuspecting audience.
2015 — Simon & Garfunkel
The Oliver Awards is a prestigious UK theater ceremony, so it's no surprise that Spacey would be at the event as a representative of the Old Vic. But in 2015, the actor crooned Simon & Garfunkel's "Bridge Over Troubled Water" with a full orchestra behind him and the help of British soul singer Beverley Knight.
If any of you were nervous that Spacey wasn't musically prepared for the Tonys, this list ought to have given you confidence. The actor may have been a left field choice for the job, but he's plenty prepared to take that mic.