Look Out Bakers, 'GBBO' Star Manon Could Have A Major Advantage In The Tent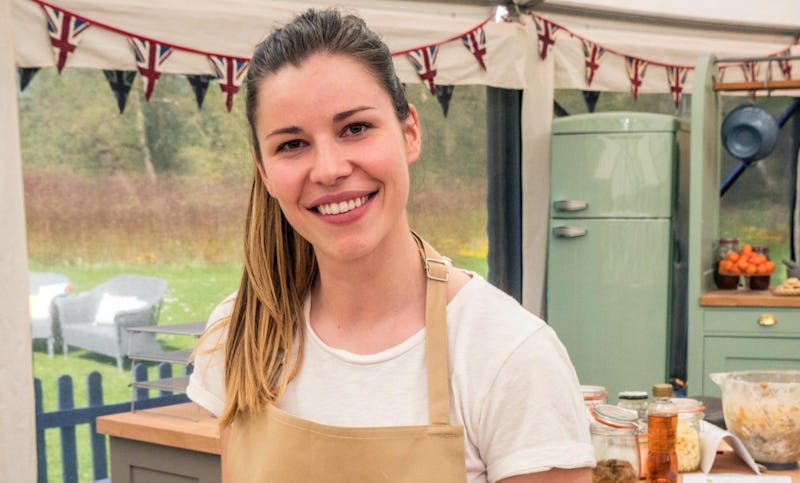 Great British Bake Off / Channel 4
The weather is back to being totally grim, duvets across the country have come out of cupboards, and the Great British Bake Off is back on telly — normality has returned to the United Kingdom. The first episode of the ninth series aired last night on Channel 4 and things kicked off with biscuit week, where things got incredibly silly with a giant selfie showstopper challenge. One baker breezed through all of the challenges without even breaking a sweat and clinched the first Star Baker accolade of the series, which left a lot of people wondering, "does Manon from Great British Bake Off have professional experience?" I've done a bit of digging and it's a bit of a controversial answer.
It turns out that GBBO isn't the French amateur baker's first time round the reality cooking show block, as The Sun revealed that she previously competed on a BBC1 show called The Box. Hosted by James Martin, the 2015 show was an "amateur cooking competition" in which three contestants "compete against each other as they try to make delicious dishes using the day's ingredient boxes" according to the official website.
The episodes have already been taken off iPlayer — believe me, I tried. If you think it sounds pretty similar to GBBO's technical challenge, you're not wrong.
Since the news came out, people have been a little disgruntled about it. Even though Manon doesn't have any actual professional baking experience — she explained on the show that her mother and grandmother taught her to cook — some fans think that she may have an unfair advantage over the others.
A source told The Sun, "Bake Off is all about normal people who enjoy creating food masterpieces being plucked from nowhere to try and become Britain's top amateur baker. It's meant to be a level playing field for all contestants in terms of stepping into that tent for the first time. For one person to have been in a TV environment before gives them a huge advantage. It's all a bit unfair."
According to The Telegraph, the Bake Off rules explicitly read that "contestants must not have gained a professional catering qualification within the last decade, and must not already derive their main source of income from baking". Given that Manon Lagreve works as a software project manager in the day and doesn't appear to have a professional cooking certificate, she still has every right to be on the show.
A Channel 4 spokesperson told The Sun, "We are fully aware that Manon appeared in one episode of The Box and this does not affect her eligibility to take part in The Great British Bake Off."
Come on, she literally appeared in one episode of The Box. A show that doesn't even exist anymore. In my opinion, it's really not the big hullabaloo everyone is making it out to be. And as for the other contestants on the show? I've looked into them too and none of them seem to have anything as glaring in their past as Manon does, though many of them do have pretty spectacular baking blogs and Instagram accounts.
Kim-Joy's Instagram in particular is an absolute treat, filled with beautifully decorated cakes, pies, and tarts that more than cement her place in the competition. Briony Williams, who taught herself to bake watching YouTube tutorials, also runs a very sweet baking blog called Briony Bakes in which she describes herself as a "home baker who loves to make yummy things for my family." You can still read it online, but it doesn't seem to have been updated since 2014.
Manon herself also appears to have had a food blog called Manon's Little Kitchen (which is still referenced in her Instagram bio), however it seems to either have been taken down or her website host has expired.
Viewers will just have to wait until next week to see if Manon's able to hang onto the the top spot as Star Baker or if somebody else usurps her throne. One person who unfortunately won't be making an attempt on her crown is Imelda McCarron, who sadly was sent home in tears after failing to impress the judges.
Great British Bake Off airs on Tuesdays at 8 p.m. on Channel 4.