This Underarm Primer Is The One Hack That Makes Deodorant Last All Day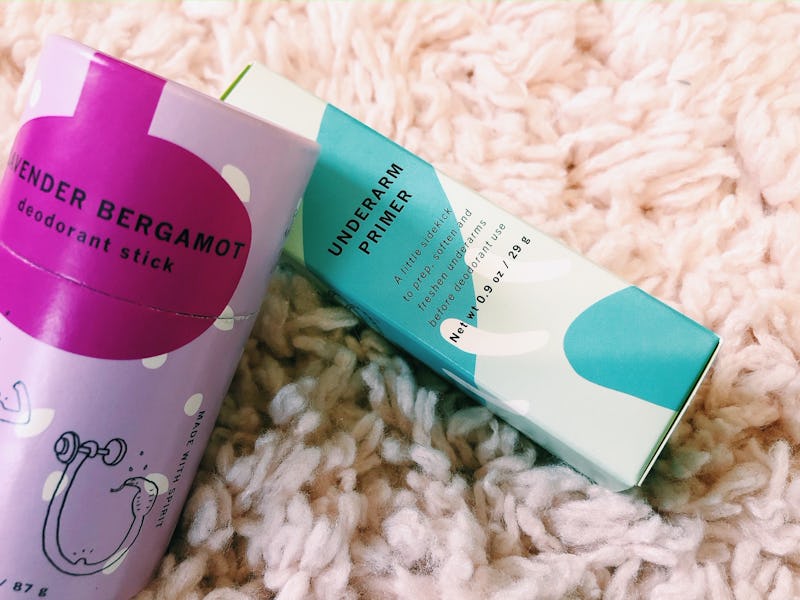 Kali Borovic
The appeal of living an all-natural lifestyle is great — until it's not. If you're anything like me, the switch to natural products can be challenging. Your skin is forced into a new lifestyle, which sometimes makes it freak out before it gets used to the natural products. That's especially so when it comes to deodorant. Meow Meow Tweet's Underarm Primer changes the game. It preps your skin for the new items, so you have a smoother transition.
You prime your face, you prime your walls, so why not prime your pits? The lotion was created by Meow Meow Tweet to do just that, prime your armpits and help transition to all-natural deodorant with ease. According to the product description, it's made with nourishing plant oils and anti-inflammatory plant distillates that balances pH, moisturizes, preps and maintain pits.
All of that is a fancy way of saying that it gets rid of the bumps under your pits.
The best part of it all is that it can be used by itself until your pits are ready to take the plunge. You just pump a pea-sized amount onto your finger, rub it onto your underarms, and call it a day. The formula lasts makes deodorant stay fresh all day long and acts as a protective barrier between your skin and the deodorant. It makes for a smooth transition with none of the itch.
Usually my all-natural deodorant journey goes a little like this; use it, get bumps, stop using it, repeat. No matter what formula I try, that's what happens — until now. This time I tried something different. I started using Meow Meow Tweet's primer and deodorant at the same time, and it changed everything.
It's been about three weeks now — the time that I usually get fed up with my all natural routine — and I'm still going strong. Every morning, I apply a little bit of primer in the morning and deodorant on top. After that I'm good for the day. It doesn't leave a weird smell on my arms or a discoloring on my clothing, either.
I used to carry my all-natural deodorant around with me during the day, because I knew it was going to fail. This duo has not let me down. So far it has passed the test on vacation, by the pool, and on high-stress work days. I'll be sticking with this duo for a while.
This Underarm Primer doesn't just work as a pit recuse though. You can actually use it as a face primer as well. Meow Meow Tweet shared the tip on their Instagram post, and I put it to the test on vacation. While it's not the greatest face primer that I've ever used, it did do the trick in a pinch.
"Like a makeup primer for your armpits, our Underarm Primer prolongs the life of your deo, helps with deodorant glide and gives the deo a little added odor-busting oomph. Oh, and you *can* also use it as a makeup primer for your face," the brand's Instagram caption reads.
On top of all of that, the deodorant packing is also completely waste free. The packaging of the stick deodorant is biodegradable and the glass jar of the cream deodorant can easily be reused or recycled. This brand has truly thought of just about everything.
The product is available on the Meow Meow Tweet website right now. Although the name of it sounds a tad bit gimmicky, this is anything but. This will make your transition to all-natural and even zero waste life easier than every, which makes the Armpit Primer worth every single penny.