What We Learn From Mike Pence's "Mother" Nickname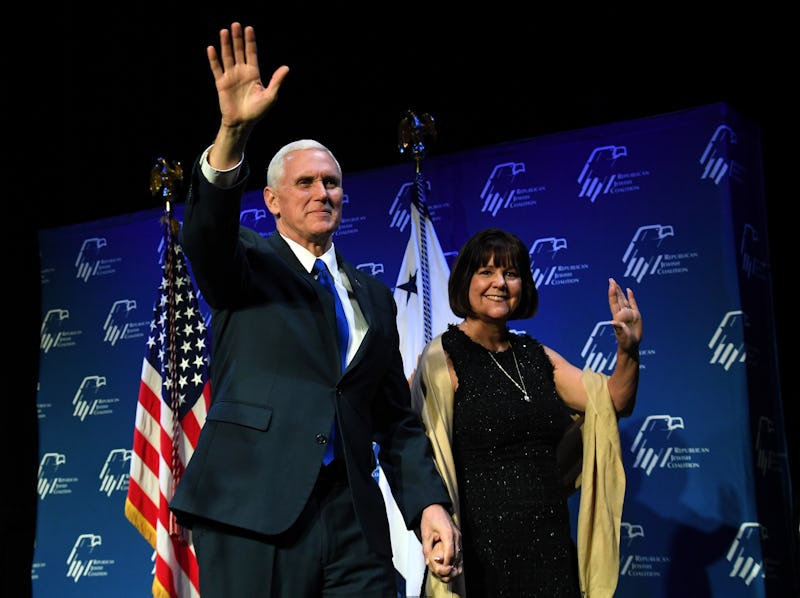 Ethan Miller/Getty Images News/Getty Images
Vice President Mike Pence is known for many things: the homophobic policies he instated while governor of Indiana, his fierce opposition to women's health care, his tendency to defer to the Bible over the Constitution. Yet another facet of the vice president emerged recently: his desire to never dine alone in the company of a woman other than his wife. This is odd enough — but things get even weirder when you consider that Pence allegedly calls his wife, Karen, "Mother." If the claims are true, why does he use this seemingly outdated nickname? There's no clear answer, but I can take an educated guess.
Pence's supposed penchant for calling Karen "Mother, Mother" (that's two "mothers" in a row, if you're keeping track), originally came to light in a January Rolling Stone profile on Mrs. Pence. The piece recounted a dinner Pence held for the Democratic minority while he was governor of Indiana. It was here, reportedly, that multiple members of the dinner party heard Pence refer to Karen as "Mother."
"Mother, Mother, who prepared our meal this evening?" Pence allegedly asked. He followed this up with another question later in the evening, supposedly asking Karen, "Mother, Mother, whose china are we eating on?"
According to Rolling Stone, his guests were sufficiently weirded out. However, the report does not identify its sources, making it difficult to confirm.
Flash forward to this week's profile of Karen in the Washington Post. The publication cited a long-buried 2002 interview with the Hill, in which Pence said he never eats alone with a woman that isn't his wife, and likewise never drinks alcohol without his wife present.
Could these seemingly outdated guidelines tie in with the alleged "Mother" nickname? I'm going to wager that yes, it's very possible.
The boundaries he sets in his own marriage are up to him and "Mother" (erm, his wife), of course. But these rules Pence has placed on himself are no great surprise when you consider his socially conservative take on women's issues at large, as well as his tendency to incorporate his own religious views into his political life. His tie-breaking Senate vote to allow states to withhold Title X funding from clinics that provide abortions, even though abortions are legal in the United States, is only the latest example.
And these policy decisions are what should really be catching America's attention. Some details of his personal life with Karen are definitely bizarre, but the way his draconian mindset affects policy is infinitely more important.