Mike Pence Doesn't Have Grandkids Just Yet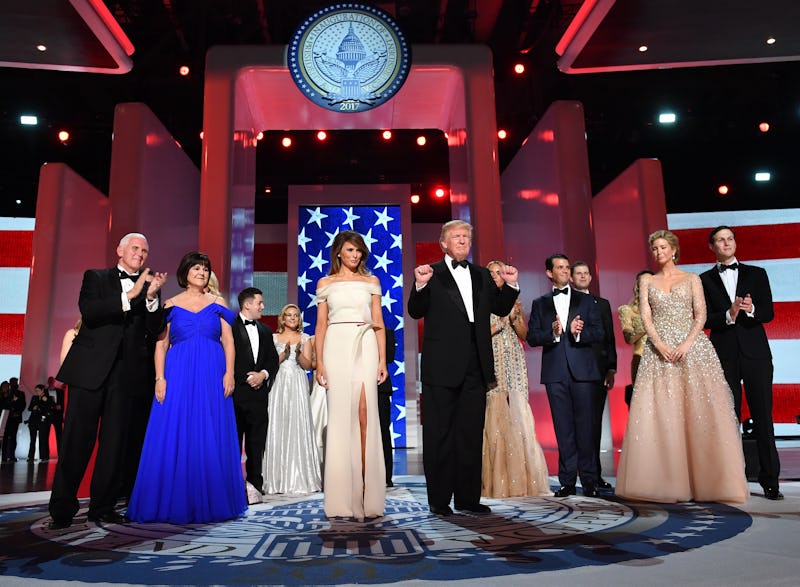 Pool/Getty Images Entertainment/Getty Images
Vice President Mike Pence has spent much of his career touting "family values." His own family includes his wife, Karen, and three adult children, Audrey, Charlotte, and Michael — and Michael is even married. Especially knowing that the vice president is traditionally conservative when it comes to social and family issues, some have wondered: does Pence have grandkids?
His commitment to and oft referenced close, team-like relationship with his wife has been a calling card of their partnership, "We've always been a team ... We've always approached it as a team," wife Karen Pence said to the Indy Star; to which Mike Pence echoed, "She's the best part of my life ... Everything we do in public life, we do together. I can't imagine it any other way."
The two met at mass while Karen was playing guitar at St. Thomas Aquinas church in Indianapolis. In an ad from his Governor's race, his wife explained, "When I first met Mike Pence, it was love at first sight ... on our first date, we went skating at the Pepsi Coliseum at the state fairgrounds. We skated around for a little while, then he reached over and took my hand."
But not every part of their relationship was a fairytale. She also admitted in an interview with the Indy Star that at first, the couple thought having kids might not be a possibility. "We didn't think we could have kids," Karen said. "We just thought maybe that's who we're going to be." But when the pair started the adoption process and made it to the short list for one of the birth mothers, it coincidentally was when the Pences found out they were about to have their first child, Michael J. Pence.
Their son was followed fairly quickly by daughters, Charlotte and Audrey. While the Vice Presidential family may be eager for some grandkids, though, their own children are relatively young. They are all in their early twenties.
Though Michael, 24, recently got married before his father became vice president, there are no reports of grandchildren on the way just yet. The two younger children, daughters Charlotte and Audrey, are still focused on career and school. Charlotte recently graduated from DePaul University in Chicago and Audrey is still in school at Northeastern University in Boston.
Grandkids aren't on the books right now for the Pences, but it wouldn't be exactly surprising if grandkids are in the future.