A Net Neutrality Repeal Could Completely Change How You Use Your Phone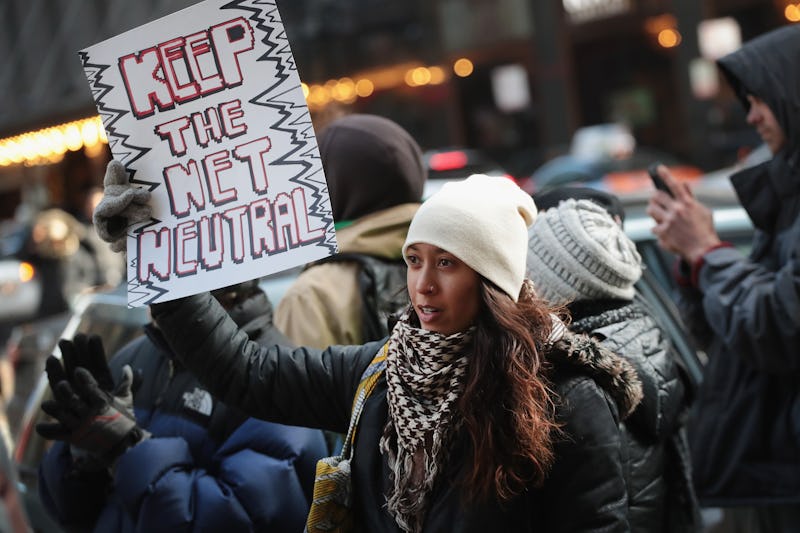 Scott Olson/Getty Images News/Getty Images
The Federal Communications Commission (FCC) is voting to decide whether or not to keep net neutrality regulations in place, and getting rid of these rules — which were enacted in 2015 by the Obama administration — would mean allowing Internet providers to control what content you can and can't access and at what speeds. For many, this is concerning for lots of reasons, but one that might stand out is how net neutrality affects your phone. Surfing the web, using Facebook, or online shopping could soon be completely different.
Pre-net neutrality in 2009, for example, Apple was blocking Skype calls at the request of AT&T because the wireless provider wanted consumers to pay for more expensive plans instead of accessing the cheaper alternative to placing calls oversees. While they eventually allowed Skype on iPhones, it was only after the FCC announced that it was planning to extend internet openness rules to mobile networks. A lot of wireless carriers, including AT&T, fought back against this decision, according to Wired, arguing that wireless networks weren't robust enough to function without network management. Verizon even sued the FCC, claiming its net neutrality rules were illegal. Meanwhile, the Free Press argued the rules weren't stringent enough to protect wireless customers.
"There are a lot of challenges facing us but I think one of the biggest is net neutrality," AT&T's then-president and CEO Ralph de la Vega told Fierce Wireless in 2010. He added:
We are very encouraged by what we have heard, but we know that the FCC chairman is in a tough position. We hope that he can recognize that wireless is different than wireline and spectrum is a limited resource, and so we have constraints that wireline business does not have.
In addition to having an agreement to suppress Skype, AT&T and Apple agreed to not allow apps on the iPhone that stream live television, because AT&T said it would strain its network. That means, once these regulations are gone, you might not be able to watch TV on your phone — which is half of all Netflix users. You wouldn't be able to watch Facebook Live or other live streaming services, and there would likely be a more expensive package you could purchase from your provider in order to do so.
No net neutrality would also mean less consumer choice, because "Internet service providers will be able to block or throttle bandwidth on sites they don't like," according to HuffPost. This could affect the way you shop online. In 2013, for instance, Verizon Wireless, AT&T, and T-Mobile blocked Google Wallet in an effort to get people to use their payment apps. And while Google and Amazon say they support net neutrality, Google is currently blocking YouTube from Amazon streaming products, according to CNBC. It's not hard to imagine, then, that without net neutrality rules, providers could limit your access to a company they're in competition with.
And while Facebook, Twitter, and Instagram have all spoken out in support of net neutrality, that doesn't mean providers won't charge for social media use on your phone, or restrict certain apps they're in competition with. In some countries without net neutrality, like Portugal, you have to purchase special packages in order to access social media.
Without net neutrality, there wouldn't be laws to prohibit the most powerful mobile carriers and internet providers from working together for the sake of their own financial benefit — and at the expense of their customers. A lot of people suspect similar things will happen again if net neutrality is repealed in the vote on Thursday, particularly because more than 90 million Americans use an iPhone, and Apple has been pretty quiet about its support of open-Internet regulations.
The company waited until the final day to comment on the FCC's net neutrality proceedings to release a statement. In it, Apple outlines several key principles that are vital for protecting the open internet, including consumer choice, transparency, competition, and a ban on paid fast lanes, which means companies could pay to have their sites load faster. But, the fact that they waited so long to speak up has people concerned, especially considering Apple was one of only a few tech companies that didn't sign an open letter in support of net neutrality in 2014. Other companies that did sign include Amazon, Google, Facebook, and Microsoft.
Apple also hasn't joined the Internet Association, which is a political lobbying organization that supports open internet rules. And the iPhone manufacturer didn't participate in the 2017 Day of Action — when hundreds of companies, like Facebook, Netflix, and Reddit, placed alerts on their pages encouraging people to send letters to the FCC asking the agency to keep net neutrality.
Most major network providers, including Verizon, AT&T, Comcast, Charter, and Sprint have all spoken out in support of weaker regulations. Meaning, no matter what provider you use, they could be utilizing new loopholes to control what content you access. And considering some companies' history of suppressing apps for financial gain, it doesn't look good for the more than 200 million Americans who use smartphones if net neutrality is repealed. Internet providers will have all of the power if these regulations are removed, and it will once again be legal for them to deny customers access to certain sites, apps, and technologies, so they can turn a profit.