Here's How Trump's Title X Changes Could Devastate Planned Parenthood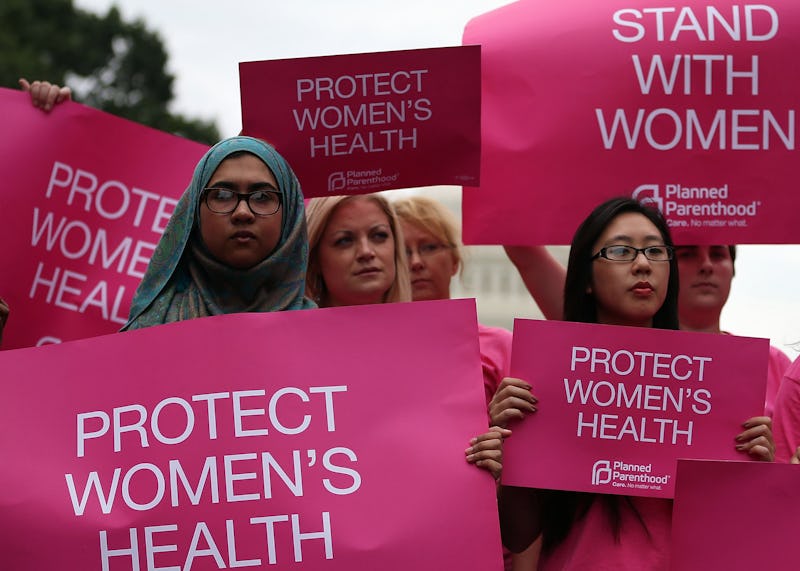 Mark Wilson/Getty Images News/Getty Images
The Trump administration sharpening its aim at Planned Parenthood, and health care advocates are scrambling. An announcement about changes to Title X funding is expected to come Friday, in a move that will effectively defund one of the country's largest reproductive health care providers by millions of dollars. But given that a large amount of taxpayer money Planned Parenthood gets comes from Title X funding, Trump's decision to change how those funds are doled out will have serious consequences for women — and men — across the country.
Title X is a family planning program that funds preventive health care services for low-income or uninsured people; these services include cancer screenings, birth control, and STD testing, among others. Zero Title X funding goes to abortion services.
Planned Parenthood receives receives $50 million to $60 million in Title X funds. More than 4 million people receive health care services at its centers through Title X each year, and Planned Parenthood estimates that it serves 41 percent of those 4 million patients. The organization has stated that it is the largest provider of Title X in the country.
The expected rule change from the Trump administration would strip Title X funding from any health care provider that supports abortion services, performs them, or even merely makes referrals for abortion. A Trump administration official told The Washington Post that the changes are meant to reflect that taxpayer funds should not go to abortion services, and that Title X is for family planning services — abortion, the official said, is not a family planning service.
This is not the first time anti-abortion advocates have pushed to defund Planned Parenthood by changing Title X rules. President Reagan enacted such restrictions in the 1980s until President Clinton did away with them years later.
Critics have called such restrictions — especially preventing health care providers from even talking to their patients about abortion — a "domestic gag rule"; it's similar to the "global gag rule" that every Republican president has put into place since it was introduced in 1984, again by Reagan. International health organizations have been vocal in their criticism of the global gag rule, and especially against Trump's further expansion of the rule. The Associated Press reported that critics point out how Trump's global gag rule has taken away crucial services like HIV and malaria treatment from poverty-stricken communities.
The same could happen here if his administration announces a domestic gag rule. Current laws already prevent reproductive health providers from using federal funding for abortion services, and the rule change would effectively bar any clinic that provides or offers information about abortion from receiving federal funding. This means that clinics that want to continue getting Title X funding would basically have to shut out even any mention of "abortion" in their centers.
For years, abortion opponents have directed their ire squarely at Planned Parenthood. The organization receives about $500 million from the government each year — none of which goes to abortion services — and federal funding amounts to nearly half of its total revenue. The federal funding it receives is largely through Medicaid and Title X, two grant programs that help millions of low-income and uninsured people get health care services.
In anticipation of the administration's announcement, reproductive health care advocates across the country have roundly criticized the expected rule change. Planned Parenthood and other reproductive health care providers are also gearing up for a massive battle over the rule change.
"I think this is an issue that should enrage the American public, particularly women, because it's an attack on them," Sen. Kirsten Gillibrand said on CNN on Friday morning. "I don't know why members of Congress think it's their job to tell women what to do with their health care."