Here's How Freddie Mercury's Legendary Voice Was Recreated For 'Bohemian Rhapsody'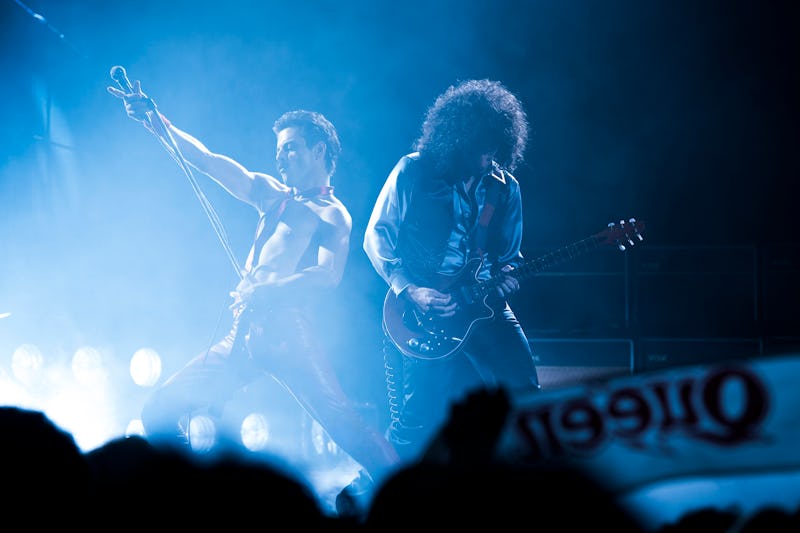 Alex Bailey/Twentieth Century Fox
It's one thing to look like Freddie Mercury, but it's a whole other thing to sound like him. This is why some fancy technology was used to bring Mercury's voice to life for the new biopic about the singer. Rami Malek does really sing in Bohemian Rhapsody, but not all the time and not entirely on his own.
In an interview with Metro, Malek explained of the voice audiences will hear in the film, "It is an amalgamation of a few voices. But predominantly it is my hope and the hope of everyone that we will hear as much Freddie as possible. I think that is the goal for all of us."
And in the film, that seems to be the case in a lot of the performance scenes. But, there are some scenes that show Queen practicing or Freddie interacting with the crowd at a concert. There's also one that shows Freddie singing "Happy Birthday" to himself accompanied only by his piano playing. With these it would be difficult, if not impossible, to only use edited versions of the real Mercury's voice. Yet, in all these instances, it still sounds exactly like the actual Freddie Mercury.
According to Rolling Stone, that's because the singing in the movie is an amalgamation of things: "Most singing scenes in the movie rely on either vocal stems from Queen master tapes or new recordings by Marc Martel, a Canadian Christian rock singer whose voice is practically identical to the late frontman's."
Indeed, there are videos Martel has posted on YouTube where he sounds eerily like Mercury. Bohemian Rhapsody producer Graham King told Rolling Stone, "Literally, you could close your eyes and it's Freddie. And that's a very tough thing to do."
A New York Times profile of Malek says that his voice was used, too. "For the singing, Mr. Malek's voice was mixed with Mercury's and that of the Canadian singer Marc Martel." Malek told the New York Times, "No one wants to hear me sing."
But, Malek did have to sing, including on set so that it could be dubbed over later. The real members of Queen also heard him sing. While appearing on The Late Show, Malek explained that Brian May and Roger Taylor heard him sing for the first time in right front of him when they watched him on a recording. Malek went into the experience thinking they'd already seen the tape.
While the singing was a mix of Mercury, Martel, and Malek, Mercury's speaking voice was something that Malek had to nail himself. As reported by Rolling Stone, the Mr. Robot star used a dialect coach to nail Mercury's accent even while wearing fake teeth so he would look more like him. He also used a movement coach to help his mannerisms become more like the late singer's. "I had some top choreographers come in and I realized a choreographer's not going to help me. I need a movement coach," Malek says in a behind-the-scenes video for the film.
While Malek is not actually singing on his own in the movie, aside from a couple places where the voice is a little too obviously dubbed (casually singing "Happy Birthday" wouldn't really sound that clear), the mixed up voices work out pretty well. And anyone looking to hear a lot of Freddie will definitely get it.