This Simple Daily Activity Can Help You Feel Less Lonely & You May Already Do It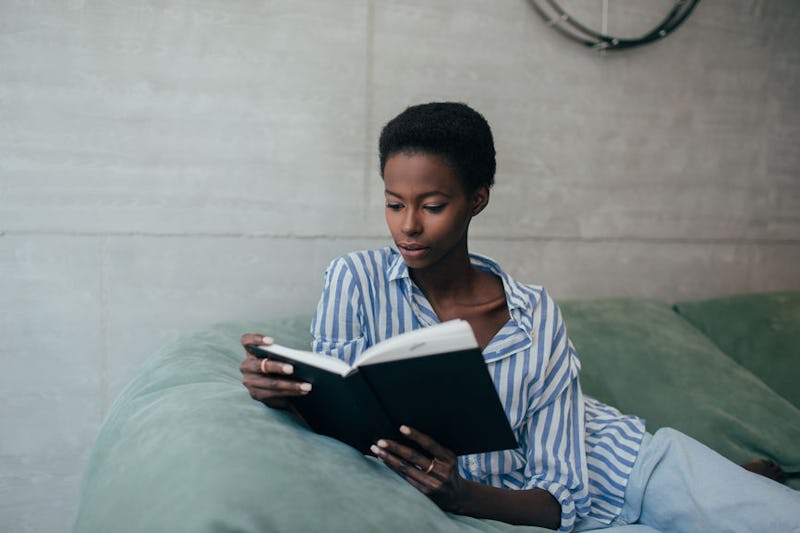 Studio Firma/Stocksy
The UK is a lonely society — and the isolation epidemic is growing, according to a new report by think tank Demos and charity The Reading Agency. By 2030, the report predicts, seven million people over 60 will be suffering from loneliness, while younger age groups also report high rates of social isolation. There is, however, a way to combat the problem: reading. According to Demos and The Reading Agency, reading has been demonstrated to "significantly reduce feelings of loneliness" across age groups. So how does reading help with loneliness — and just how lonely are we?
The report, titled A Society of Readers, says that the UK is accelerating towards a loneliness crisis. By 2030, almost two million people will see their lifespans shortened as a result of loneliness, while over two million will experience a related stroke. Over four million will develop dementia — a condition associated with loneliness, the report notes — while one in three children born in the UK this year will grow up to develop the condition.
Loneliness isn't just an affliction of the elderly, either. The report points to a 2018 survey from the Office of National Statistics which found that between 2016 and 2017, 5 per cent of adults reported feeling lonely "often" or "always." And the group with the highest reported rates of loneliness? 16 to 24-year-olds.
So where does reading come in? The report by Demos and The Reading Agency says that reading has been demonstrated to "significantly reduce feelings of loneliness" for people aged 18 to 64, while it's also associated with having more close relationships. A 2012 study from Tilburg University in the Netherlands found that reading is "one of the most important predictors for the number of close relationships an individual has," and that readers have "more close contacts they can talk to about important matters."
The Royal National Institute of Blind People released a report in 2012 indicating that 95 per cent of people who are blind or partially sighted read once a week or more, often to stave off feelings of isolation. And a study from Wilfrid Laurier University, Canada, highlighted the benefits of reading groups for young mothers, who experience high levels of loneliness.
To target the loneliness epidemic, the report by Demos and the Reading Agency concludes that the UK must become a "society of readers" — though books shouldn't be presented in an elitist manner as "the pinnacle of culture," the report warns. The government could launch a national book gifting scheme in which people receive books to mark significant life events, while the BBC could establish a "Book Relief" fundraising event akin to Sport Relief.
The report also recommends that the government invests £200 million in reading-based loneliness interventions. One such intervention? The Reading Agency's newly launched Reading Friends programme, which "empowers and engages older people who are vulnerable and isolated" by sharing stories in reading groups or individual sessions.
Reading, according to Demos and The Reading Agency, can serve as a lifeline in an age of chronic loneliness. For some, a reading group might offer much-needed interaction, while the latest publishing sensation could trigger conversation around the office coffee machine. And there's power in simply opening a novel on a lonely evening, too — as trite as it may sound, there's a whole world of people inside a book.