Stacey Dooley's Dance Experience Makes Her Time On 'Strictly' Even More Impressive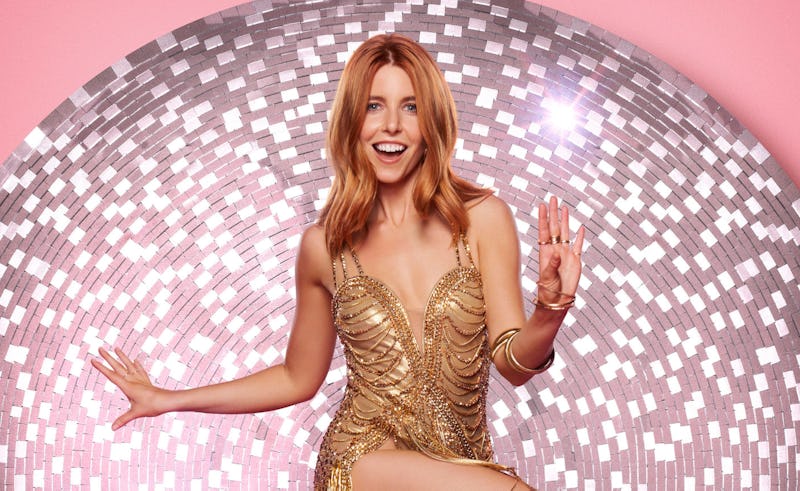 Ray Burmiston/BBC
Documentarian Stacey Dooley's doing a stellar job on this year's Strictly Come Dancing, so much so that she's secured a coveted spot on the series' annual Blackpool episode. She's danced through serious injury, topped the leaderboard with partner Kevin Clifton, and even become the bookies' favourite to win the entire series — no mean feat for a contestant who didn't rise to fame as a performer. So here's the big question: does Stacey Dooley have dance training, or any pre-Strictly history in the performing arts?
From the sound of it, Dooley was pretty much a novice before she first took to the Strictly Come Dancing dancefloor. Before the series started, she told the BBC that she was looking forward to "learning a genuine skill," suggesting a lack of prior experience. "The thing about my dancing is, I actually think I'm magnificent. I think I really look the part," Dooley said. Unfortunately, that wasn't an opinion shared by her friends and family before she started Strictly training. "Everyone else around me is like, 'You've got to be joking. You're so erratic, really over the top, and you've got no rhythm whatsoever,' so it's a bit of a split jury." It's probably safe to assume they've changed their verdict now, at least.
As most former dance kids will appreciate, a significant aspect of growing up in the dance studio is the non-stop onslaught of (frequently embarrassing) costumes, whether for exams or competitions or holiday shows. One would expect, then, that if Dooley had dance experience, she wouldn't exactly be excited about revisiting said costumes — for one, those scratchy sequins are intolerable. But Dooley told the BBC that she was "genuinely so looking forward to the costumes," explaining, "I never get to dress fancy at work, so it will be a welcomed difference!" Spoken like a true dance novice!
Dooley's apparent lack of dance experience makes her rapid rise to the top of the bookies' lists even more impressive — Dooley and Clifton have been scoring in the 30s since week three, and topped the leaderboard with 33 points in week four (with a charming, '60s themed foxtrot to Jeff Beck's "Hi Ho Silver Lining"). In fact, the pair have maintained a constant presence in the top five since week three.
Last week, Dooley and Clifton received 32 points for their waltz to "Moon River," inspired by Audrey Hepburn's Breakfast at Tiffany's rendition. The week before, Dooley danced through a major rib injury, but the duo ultimately scored a massive 36 points for their street/commercial routine to Jay-Z and Alicia Keys' "Empire State of Mind."
According to Oddschecker, second favourite to win after Dooley and Clifton are YouTuber Joe Sugg and his partner Dianne Buswell. He hasn't had quite as consistent a run as Dooley, though he has snagged some similarly impressive scores: he matched her score of 32 in week eight, as well as her score of 35 in week six. Sugg's also buoyed by a truly enormous online fanbase, with over 8 million YouTube subscribers as of November 16. But with just under a month until the Strictly final on December 15, there's plenty of time for the leaderboard to shift. Who knows who'll ultimately lift the glitterball?